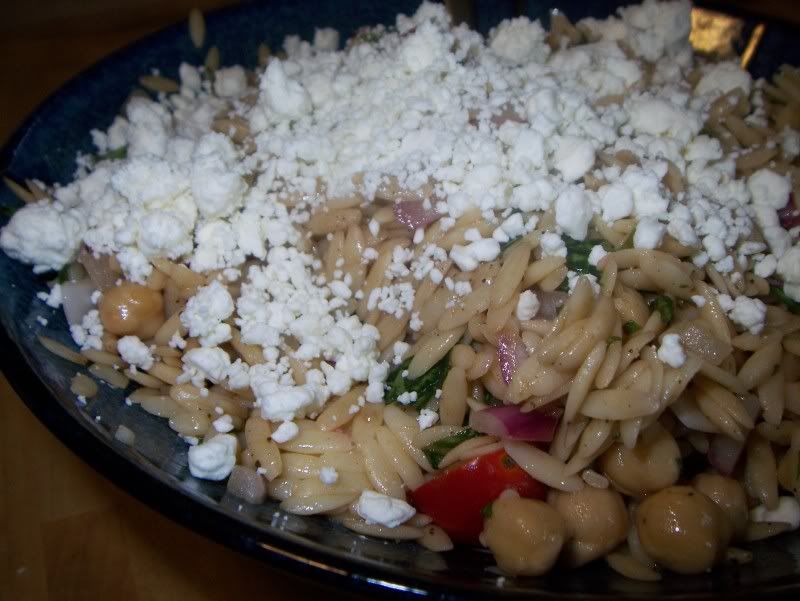 Summer school has been such a refreshing experience. Not easy, though. I'm taking 11 credits this summer, aka 3 classes. One is a 4-week intense class, and the other two are 8-week classes. I'm doing well (thankfully), but that means there is a lot of classwork (lecture and online stuff), lots of homework and LOTS of studying. It's been a long time since I've had to study. Right now it's about rough endoplasmic reticulum, eukaryotes and meiosis/mitosis.
And yesterday (pardon if it's tmi) but we had an explosively sick puppy yesterday. I had my biology class, and came home after about an hour of studying so I could get lunch and let the puppy out (I had a bio midterm this morning). I was sitting down upstairs, and all of a sudden I hear our puppy getting sick on the chair upstairs. Then on the floor, and the rug. I quick rushed him outside, but of course he was done. I put him in his crate to keep him from getting too worked up, and then had the glorious job of cleaning all of the mess up. (I'm pretty sure the chair is beyond salvage. Darn.) I had to leave again for another class in the afternoon, the whole time feeling so sorry that I had to leave a sick puppy behind. Thankfully he was ok in the two hours I was gone. We kept him off food for the last 24 hours, and tonight just reintroduced him to a small portion of his food. So far, so good. And I think I did well on my test (thank goodness I studied the past few days as well and didn't save it until the last minute!) So, if you have any spare vibes for the puppy, we could sure use them!
So if you have happened to notice slight downward trend of posting, that's why. (And also tuition/books really tends to cut into the 'baking for fun' budget!) I haven't stopped baking or cooking, don't get me wrong, but most of the time when I would be posting, I am studying or doing homework. These classes go so fast that it's near-impossible to catch back up after getting behind. My bio class ends in two weeks, so hopefully I'll have a little bit more free time with only two classes to manage!
I also now have a part time job in retail to start bringing in some extra bucks, so, while that has been fun, it's also one more thing to consider! Whew!
Anyway, there are days I don't really feel like making anything too complicated - I think you can see why now. This orzo salad is delicious and cool, perfect for these days where it is still 95 degrees at 7:30 pm. Like tonight. Craziness. If you notice, I went a little crazy with the feta - that's how much I love cheese. You don't have to put that much on!
Long gone are the days of heavy, mayonnaise-laden pasta salad made with elbow noodles, sitting on the picnic table under the sweltering sun. It seems that now, pasta salads are more and more taking advantage of the abundance of fresh and healthy ingredients available in the summer with only the lightest of oil and balsamic dressings serving only to enhance the natural flavors. This orzo salad has wonderfully fresh and light flavors, the basil adds a bright punch of flavor and the mint plays wonderfully off the sweetness of the tomatoes and the acidity of the balsamic. Even the textures in the salad were interesting. The red onion provided a slight crunch, the garbanzo beans were firm yet buttery little nuggets contrasting the softness of the tomatoes and orzo. I kept the salt at a minimum in the salad because the feta itself has a decent saltiness to it.

Summer Orzo Salad

Salad
4 cups vegetable broth
1 1/2 cups orzo
1 (15-ounce) can garbanzo beans, drained and rinsed
1 1/2 cups red and yellow teardrop tomatoes or grape tomatoes, halved
3/4 cup finely chopped red onion
1/4 cup chopped fresh basil leaves
1/4 cup chopped fresh mint leaves
salt and freshly ground black pepper
a few tbsp crumbled feta
Dressing
2 Tbsp red wine vinegar
2 Tbsp fresh lemon juice
2 Tbsp olive oil
1 tsp honey
1/2 tsp salt
a few pinches freshly ground black pepper

Directions
Bring the broth to a boil in a medium saucepan. Add the orzo and cook until tender, stirring frequently, about 9 minutes. Drain then transfer to a large bowl and cool completely.

Add the onion, beans, tomato, mint, and basil, toss well, and season with a pinch or two of salt and pepper.

Mix in dressing. Serve with a little feta sprinkled over the top.