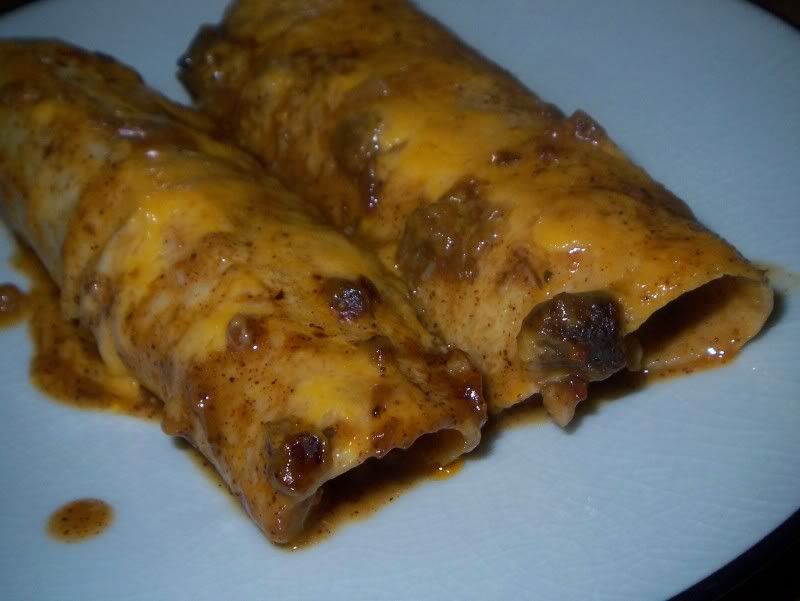 Mexican food is one of those things that I will eat out more often than I make it at home, simply because there are so many local places with delicious food at really reasonable prices. While I know it's definitely less expensive to make it at home, I still have a difficult time replicating my favorite flavors.

I finally decided to try my hand at homemade Mexican food. While it did taste really good, I will mention that I did have a problem with my flour clumping. Not sure what happened there, but no amount of whisking would get all the lumps out. Thankfully, with the help of a strainer, I was able to get out most of them, and it really didn't compromise the flavor of the dish at all – I guess it just meant my sauce was a little runnier than the recipe had anticipated. I think it was mainly because of the way the flour was added, so I may amend the recipe next time around to not add dry flour to a hot liquid. The resulting meal was saucy, cheesy, melty and absolutely delicious. It may not be the meal from my favorite restaurant, but it definitely curbed the craving (and probably three-day's worth of sodium!). We realized after this baked that our cilantro was no good, so we had to eat them without, I'd definitely recommend it if you have it, as that would add a nice, crisp flavor that would beautifully compliment the sauce and cheese.
I am notorious for halving recipes since we do not typically need food for four on our dinner table. This time, however, I made all eight, but reserved two for freezing and made six to eat that night. I froze the enchiladas along with a little container of sauce, with the instructions written on the tinfoil, so when it comes time to eat, there will be no lost sauce and no scrambling to find the instructions for reheating them.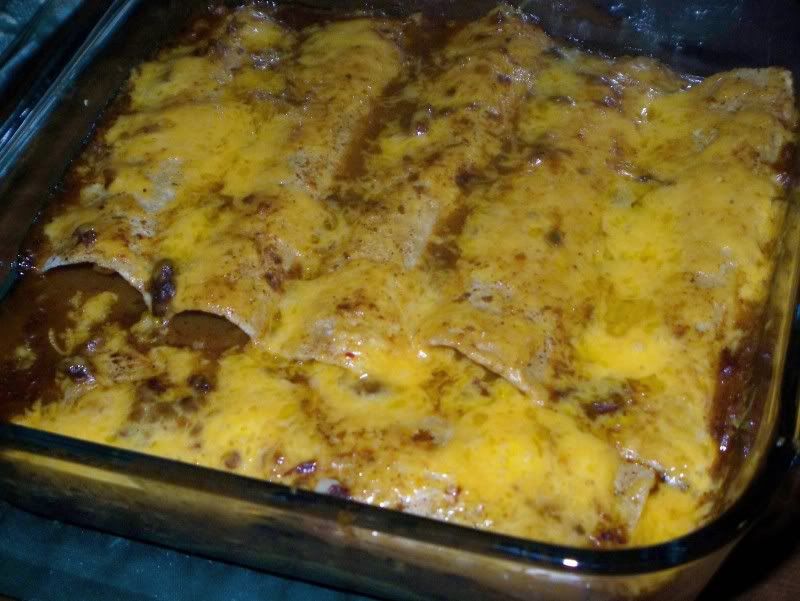 Tex-Mex Beef Enchiladas
Adapted from
Everyday Food
1 tablespoons olive oil
1/4 cup all-purpose flour (spooned and leveled)
1 1/2 tablespoons chili powder
1 teaspoon dried oregano
1 garlic clove, minced
1/2 teaspoon coarse salt
1 can (14 1/2 ounces) reduced sodium chicken broth
1 small chipotle chile in adobo, minced, plus 1 tablespoon sauce (from a small can)
1 tablespoon apple cider vinegar
1 small onion, finely chopped
2 garlic cloves, minced
3/4 pound lean ground turkey
1 teaspoon oregano
2 tsp cumin
2 tbsp chili powder
1 tbsp cayenne pepper
Coarse salt and ground pepper
8 flour tortillas
3/4 cup shredded cheddar cheese

Make sauce: In a medium saucepan, mix flour, chili powder, oregano, garlic, and salt into broth, then pour into pan, stirring to remove all lumps. Put the saucepan over medium heat and add chipotle, adobo sauce and 3/4 cup water, and vinegar; bring to a boil, whisking constantly. Reduce heat, and simmer until lightly thickened, about 10 minutes.
Make filling: In a 10-inch nonstick skillet, heat remaining 1 tablespoon oil over medium-high. Add onion, garlic, cayenne, cumin, chili powder, oregano, and beef; season with salt and pepper. Cook, stirring, until cooked through, about 8 minutes.
Preheat oven to 350 degrees. (If freezing, don't place any sauce in baking dish.) Spoon 1/4 cup sauce in bottom of an 8-inch square baking dish. Set aside. Make enchiladas: Stack tortillas; wrap in foil, and warm in oven, 10 minutes. Fill each with a heaping 1/4 cup beef mixture (and this was for 6-inch corn tortillas, which I don't even think I did for 10-inch flour tortillas, so do whatever works for you) and 2 tablespoons cheese; tightly roll up.
Raise oven heat to 450 degrees. Arrange enchiladas, seam side down, in baking dish. Top with remaining sauce; sprinkle with cheese. Bake, uncovered, until hot and bubbly, 15 to 20 minutes. (I sprinkled the cilantro on top a few minutes before end of cooking time) Let cool 10 minutes before serving. Serve garnished with cilantro and, if desired, a green salad.
To freeze: make sauce and enchiladas; arrange enchiladas in baking dish without sauce (so tortillas don't become soggy). Place sauce in an airtight container. Cover dish with plastic wrap and foil. Label, date, and freeze enchiladas and sauce. Use within 2 months; bake without thawing.To bake from frozen: Thaw sauce in refrigerator overnight. Preheat oven to 450 degrees. Remove foil and plastic wrap from baking dish. Pour sauce over top, and sprinkle with cheese; cover with foil. Bake 30 minutes. Uncover; bake until lightly browned and bubbly, about 15 minutes. Let cool 10 minutes; serve.If baking right away: Spoon 1/4 cup sauce in the bottom of baking dish; pour the rest over the enchiladas.