Happy Independence Day!!
If I know anything about myself, it's that history and geography are not my strong suits. It took me forever to learn the 50 states and their locations and, to this day, I still get Wyoming and Colorado confused – they are both sort of rectangle-
ish
! I am also very lacking when it come to any history predating the New Kids on the Block, A.L.F.,
Fraggle
Rock and the
Goonies
. I could tell you how many toothpicks Dustin Hoffman counted in Rain Man (246 and 4 left in the box), but I can't remember pretty basic United States history such as when and where the civil war ended (1865 at the Appomattox courthouse – sadly, I did a report on Appomattox and visited the very courthouse in middle school and still couldn't recall this without the help of Google).
Even so, I can appreciate Independence Day and the hard work and sacrifice from our armed forces to keep our freedoms alive! In honor of our Independence and our flag, I whipped up a batch of "Old Glory" Cupcakes. These were very pretty and delicious to eat, but there was an unintended side effect – to get the colors this rich, a lot of food coloring was used, that food coloring ended up dyeing tongues blue. As weird as that was to discover, it was kind of fun feeling like a kid again with one of those blue raspberry
popsicles
.
Hope everyone has a safe and Happy Independence Day, and many thanks to all of our soldiers, international and domestic, fighting for our freedoms every day.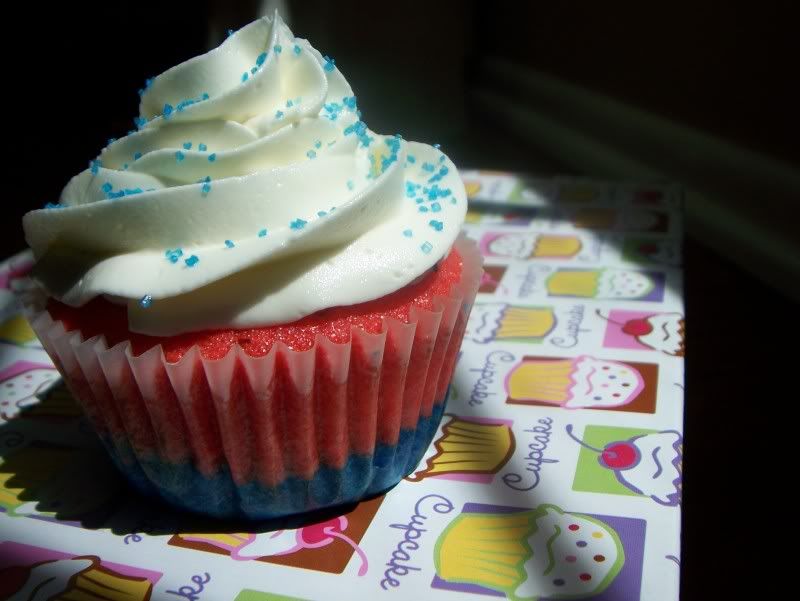 Vanilla Cupcakes
The Girl Tastes


Yields: 6 cupcakes

Ingredients

2/3 c. flour
1/2 tsp. baking powder
1/8 tsp. salt
2 tbsp. cream
2 tbsp. milk
1/2 tsp. vanilla extract
5 tbsp. butter, softened
1/3 c. sugar
1 egg

Instructions

Prepare your ingredients: In a small bowl, whisk together the flour, baking powder, and salt. In a liquid measuring cup, mix together the cream, milk, and vanilla.

Make the batter: Using a hand-mixer, whip the butter for about 30 seconds. Add the sugar, and cream until very light and fluffy. Beat in the egg, just until incorporated. Now, switch to a whisk to add the dry ingredients in three installments, alternating with the wet ingredients. (Add in this order: dry-wet-dry-wet-dry.) After each installment, stir just until combined. Batter will be thick.
Use batter as is, or you can separate into different bowls and color as I did.

Bake: Line a muffin tin with six liners. Distribute batter evenly between the liners; it should fill them about 3/4 of the way. Bake in a preheated oven until a toothpick inserted into the center comes out mostly clean. Cool on wire rack before frosting.