I love Virginia Tech. Even though I graduated nearly three years ago, I am still always yearning to visit again - especially
Lane Stadium
. Our football games are something else. With "Enter Sandman" by Metallica blaring in the stadium, 66,000 of your closest friends start jumping up and down and screaming at the top of their lungs in the bleachers awaiting the entrance of the football team. No wonder ESPN.com dubbed us #2 on their "Top 10 Scariest Places To Play.".

Despite being such a large school, Virginia Tech really does possess small-town charm. Blacksburg residents, Virginia Tech students, staff, faculty, and alumni all have strong sense of pride in the University. One of the main reasons I chose Virginia Tech was because I distinctly remember feeling as though I was in a community, not just on a campus. Even after graduates leave Tech for the 'real world,' their pride remains. I'm continually amazed at how many Tech graduates I run into in Chicago on a regular basis and how it is almost implied that we are already friends because of our one common denominator, Virginia Tech. I am forever blessed to be part of a school that has such a sense of community. I learned just how important that can be after the tragic events of April 16, 2007. At this point, most people know the story but, if you are curious, here is the Wikipedia link - April 16th.

Friday, April 16, 2010 marked the third anniversary of this event. While dealing with what happened is an everyday struggle for me, the anniversaries (and days surrounding them) are always the most difficult. During these days, I try to keep myself busy, but also try to slow down and take time to be incredibly grateful for my blessings. I also cook and bake – those are my main coping mechanisms. My husband and I had the day off work and planned a picnic in southwestern Michigan and planned to visit several of the local wineries. I prepared all the food for our picnic, including granola bars, stuffed buns, lettuce wraps and strawberry shortcakes on cream scones, but I still wasn't satisfied. My fellow Hokies were on my mind too much. So, I decided to make a cookie dedicated to them. Little did I know it would be one of my favorite things to ever come out of my oven.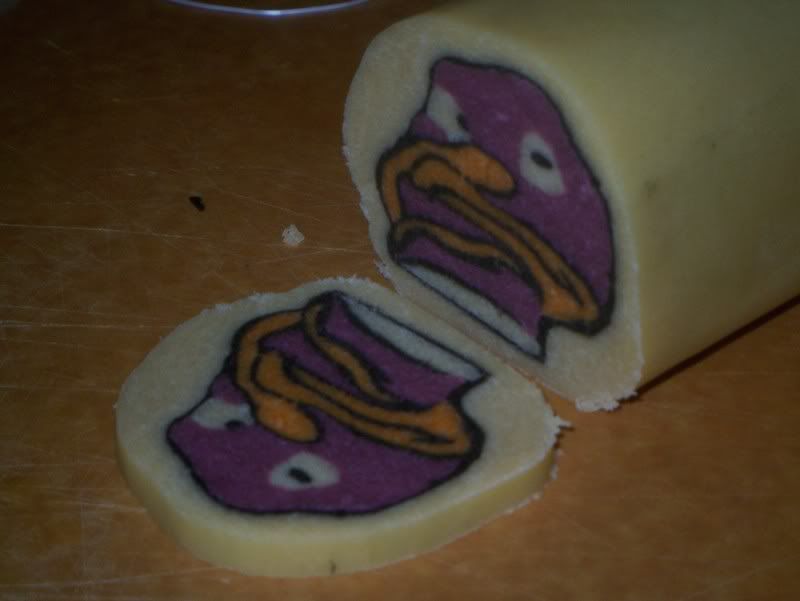 I knew I wanted to do something Hokie or Virginia Tech themed, and an orange and maroon swirl cookie would be too easy. If you know one thing about me, it's that I swing for the fences when I want to try something new. Eventually I decided to go with the iconic Hokie bird because it was a little more intricate than the VT logo. The real difficulty was figuring out how to translate a 2-dimensional image into a cookie without having to individually assemble each cookie like a puzzle. My solution? Slice and bake cookies! I have seen the pre-packaged slice and bake cookies in the store, and thought I would replicate the idea for my own creation.

I whipped up my favorite batch of sugar cookie dough – the same dough we used to make our wedding favors last year. It's so versatile and, better yet, tasty. I'm sure you'll be seeing it again in the near future. With my handy-dandy food scale, I weighed my dough, and then portioned it into four different bowls for coloring. The weights were based on the percentage of the total image that was a specific color (and yes, I actually measured, I didn't want to run out of a color and have to try and match it later). My palette: plain (1/2), black (1/8), maroon (1/4) and orange (1/8). This also let me try out my new black food coloring with which I am now totally smitten.

The first step is attempting to picture what a 2-D image would look like extruded into a 3-D shape. The process is essentially creating and stacking logs so that each cross section will result in your image on each side of the cookie. I worked for approximately 3 hours the first night - and that doesn't include making or coloring the dough. Did I mention how long that takes when using bright bold colors you don't want mixing and only have one bowl for your KitchenAid?
Yeah, that takes a while. After stacking 3 or 4 logs with a thin layer of black dough in between, I had to let them chill in the refrigerator overnight to let the dough harden again before adding more layers. I repeated this process, including the overnight chilling, 3 more times. This is not a fast cookie. It took me four days to assemble the dough of the cookie, with no guarantee that they would even look anything like I was hoping. The eyes were by far the most difficult part of the cookie to do – roll a log of plain dough, make a slice down the length of the dough and separate the edges, then roll another, smaller log in black, and try to fit that little snake in the plain dough slit. Not counting the black outlining, I believe there ended up being 14 different pieces to this cookie. I was a little worried because the ends of my Hokie logs looked a little distorted. Did I just spend 4 days on a cookie that will just look like a maroon and orange blob?

Something magical happened when I finally sliced the deformed ends off the dough – I saw a little Hokie bird face emerge. Soon, a small army of Hokie birds were lined up on my cookie sheets, ready to bake.

These are some of my favorite cookies to date, and I can't wait to apply this technique to other images! The possibilities are truly endless.



This is for all my fellow Hokies out there. Ut Prosim.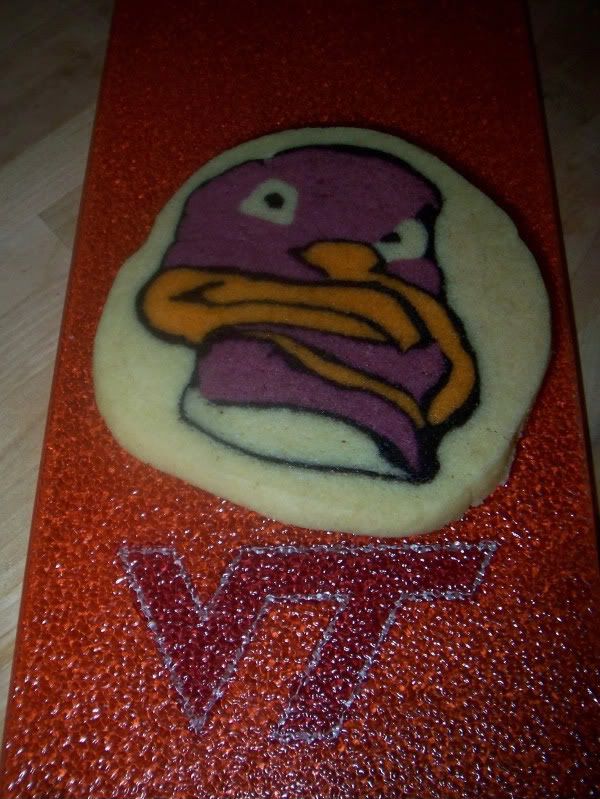 Live for 32.