I say "Philly" Cheesesteak because I've never actually had a true Philly Cheesesteak. From what I've heard, they typically have Cheese Whiz and peppers and onions on a soft, chewy bun. While it sounds good, it also sounds a little greasy for my everyday dinners. Therefore, my version is nothing like that, but it is a tasty combination of steak, sauteed peppers, onions, mushrooms and topped with melty provolone cheese. Even though it's not a true Philly Cheesesteak, it is still a wonderfully versatile steak sandwich that can be easily made on a busy work night to suit pretty much any taste.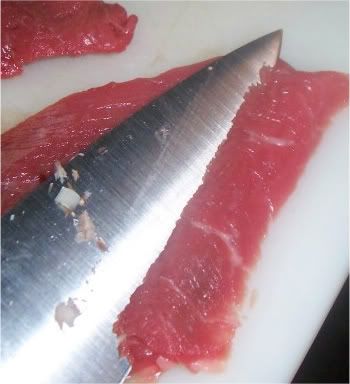 I made two sandwiches, but this recipe can easily be halved or doubled. My husband and I have a little different approach to veggies in our meals, but that's the beauty of this sandwich. This is a base recipe that you can change any night of the week to suit your personal taste. I was able to have my peppers, mushrooms and onions while my husband's sandwich had only mushroom. In the sandwiches below, the sandwich bursting at the seams would be more 'normal sized' if the husband wanted some of the peppers and onions I had prepared. There were definitely enough veggies for two. He also likes things a lot cheesier, so his sandwich had 3 slices of provolone while mine only had one. It is also important to very thinly slice your beef against the grain. This ensures your beef is nice and tender and you don't end up with little beef shoestrings in your teeth. The last step of letting them bake in the oven gets the cheese perfectly melty (though in a pinch, the microwave can work, too)

Ph-aux Philly Cheeseteaks

1/2 green pepper, sliced thin
4 slices of sweet or yellow onion
8 button mushrooms, sliced
1 tsp Worcestershire
2 tsp Cayenne pepper, divided
Salt
Pepper
1/2 lb beef thinly
sliced
2-4 slices provolone per sandwich, cut in half
2 chewy sub rolls

Preheat your oven to 275 degrees. Mix thinly sliced beef with Worcestershire and 1 tsp cayenne pepper.

In a skillet over medium heat start cooking the peppers and onion, stirring occasionally. Season with salt, pepper and 1 tsp cayenne pepper. Let them cook for 3 minutes or so. Add mushrooms, season again with salt and pepper, cook for an additional 5-7 minutes or until cooked through.

You'll go from this:
To this:

Heat a smaller skillet over medium heat with a little bit of canola oil. Saute the beef for 3-5 minutes, or until cooked.

Slice the rolls lengthwise, and line the buns with provolone. (I also dig a little bit of the bread out of the rolls to make a little larger cavity for the filling so that it doesn't ooze out after the first bite.) Fill your each sub roll with half of the beef and half of the vegetables.

Roll each sub in aluminum foil and bake in the oven for 5-10 minutes, or until the cheese is melted.

Unwrap, slice if desired, and enjoy!
Serves two.

We usually have a simple side like a salad or corn as an accompaniment.