I have a soft spot for all things chocolate. And caramel. And cookie. That's probably the reason one of my favorite candies is the Twix bar. A little shortbread cookie, topped with caramel and then enrobed in milk chocolate. I was really in the mood to make cupcakes recently, but I wanted to do something special. So I decided to make a chocolate cupcake topped with homemade caramel, chocolate ganache, and circular shortbread cookie with a caramel buttercream frosting. It's hard to see in that picture, but I promise you, it's all there.

Though I've made cupcakes before, this was my first time making buttercream, shortbread, caramel and chocolate ganache. And what an experience that was. First things first. When a recipe says "heavy cream" or "whole milk" DO NOT, I repeat DO NOT use fat-free half and half by mistake. Lets take a look at what happens, shall we?


Bad Ganache (top) versus Good Ganache (bottom)
Bad Caramel (top) versus Good Caramel (bottom)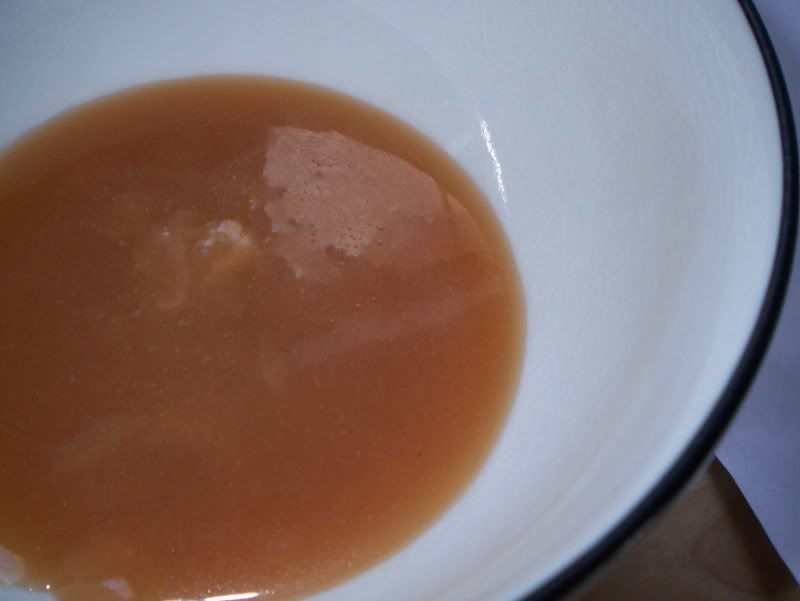 Fat-free half and half curdles much easier than its full-fat counterparts. The fat in real cream allows it to withstand both simmering and any acidity it may encounter in certain sauces, which is not true for the fat-free version. You can see the little flecks of curdled cream, especially in the caramel (not to mention the caramel may or may not have gotten slightly overcooked as well which was just another reason to start over). The second attempt was much better than the first, especially when I double-checked that I was indeed using heavy cream this time around. I also diligently watched my caramel this time; I did not want to make it a third time simply because I let it burn again. (As an aside, the amount in the above picture is what was left over after removing the 1 cup portion for the frosting.) My husband can attest to the fact I get ridiculously excited when things work the way they are supposed to. I must have made him look at my bowl five or six times because I couldn't believe I successfully made caramel. It even thickened like it was supposed to – which meant I called him over again to specifically point that out. He's a good sport.

The cupcake recipe was from Martha Stewart's website; I used the ever popular "One Bowl Chocolate Cupcake" recipe from the Cupcakes book. This batter was easy to throw together, though I had a really hard time figuring out how to transfer the incredibly loose batter from my bowl to the cupcake wrappers. They baked just fine, and surprisingly flat. While this was a good cupcake, I definitely will not stop looking for the 'perfect chocolate cupcake.' I have since found another recipe from one of Martha's Baking Handbook that is named the same thing, but has a different list of ingredients, and word on the street says it's even better than this recipe. I'll have to try it next time.

I do have to say that the cupcakes themselves were a little difficult to eat because of the shortbread cookie on top, but I don't think that discouraged anyone from digging right in. These are not dainty cupcakes. These are dive-in-head-first-get-frosting-all-over-your-nose-and-face cupcakes. Or, if you're civilized, you can definitely cut one in half and eat it that way. But why dirty more dishes than you have to?
I also tried making these as mini cupcakes, but the shortbread was so hard to make that small that the 'twix' aspect was mostly lost.
This recipe is incredibly long, I'm warning you now. Because there are five distinct components to this cupcake, it does take a while to make. But it is so worth it.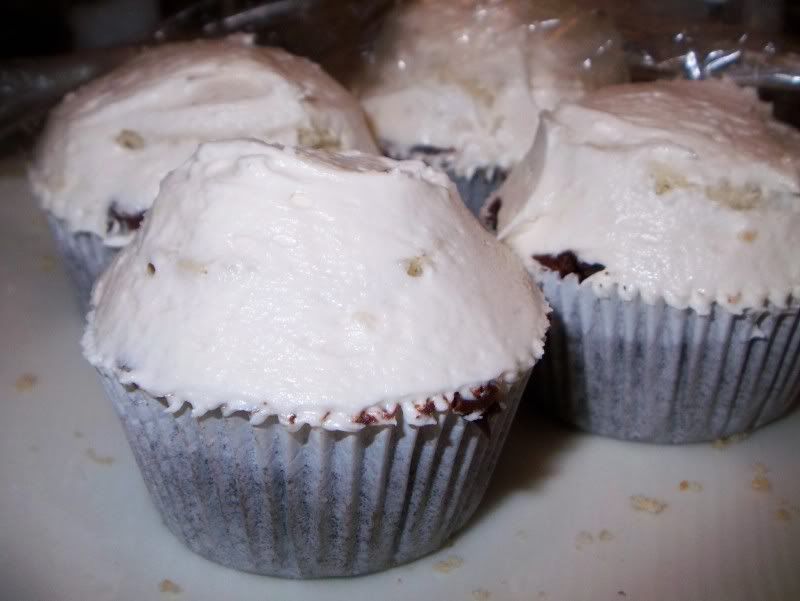 Twix Cupcakes

Caramel
Adapted from Cheryl Porro
4 Tbsp Water
1 c Sugar
2 Tbsp Light Corn Syrup
½ c Heavy Cream
2 Tbsp Butter
½ tsp Lemon Juice

Combine the water, sugar, and the corn syrup in a deep saucepan and cook over medium heat.
Stir together with a wooden spoon until the sugar is incorporated.
Cover the saucepan and let it cook over medium heat for 3 minutes.
After 3 minutes, remove the lid, increase the heat to medium-high, and bring to a boil. Do not stir from this point on, but it is important to carefully shake the pan so that one area of the caramel doesn't burn.
Continue to cook until the caramel turns an even amber color then remove from the heat and let stand for about 30 seconds.
Pour the heavy cream into the mixture. Wear oven mitts, stand away from the pan, and be careful. The mixture will bubble up significantly.
Stir the mixture, again being careful. Add the butter, and lemon juice. Stir until combined.
Measure 1 cup into a Pyrex measuring cup. Stirring occasionally, allow to cool until thick like molasses and warm to the touch, about 20 minutes. The 1 cup that was set aside goes into the buttercream frosting with leftovers will be used on top of the cupcakes themselves.

Caramel Buttercream Frosting
Adapted from Cheryl Porro
2 sticks Butter
8 oz Cream cheese
5-6 c Confectioner's Sugar
1 c Caramel

Bring butter to room temperature by letting it sit out for 1 or 2 hours.
Beat butter and cream cheese at medium speed until creamy.
Sift 3 cups of powdered sugar into the butter/cream cheese mixture and beat to combine.
Add 1 cup of caramel and beat to combine.
Sift 2-3 cups of powder sugar, in 1 cup increments and beating between each, until you arrive at the thickness and sweetness you desire. (I used 6 cups)

Shortbread
Adapted from Taste of Home
1 stick + 3 Tbsp Butter, softened
1/4 c Sugar
2 c Cake Flour
2 Tbsp Ground rice (processed rice grains in food processor or coffee grinder, do not use rice flour)

With a rack in the lowest portion of the oven, preheat to 350. Spray a 9×13″ baking pan with cooking spray, line with parchment paper, then spray the paper.
In a stand mixer with the paddle attachment, or with a hand mixer, cream the butter and sugar together on medium speed for about 2 minutes. It should be fluffy.
Gradually add in the flour and the rice until the dough comes together.
Press the dough into the bottom of the prepared pan and bake for 12 minutes. Rotate the pan and continue to bake for another 8 minutes. The shortbread should be a deep golden brown. Cool on a rack to room temperature, still in the pan.

Chocolate Cupcakes
Adapted from Martha Stewart's Cupcakes Book. Yield: 12 cupcakes.

Ingredients:
¾ c Unsweetened Cocoa Powder
1 ½ c AP Flour
1 ½ c Sugar
1 ½ tsp Baking Powder
¾ tsp Salt
2 Large eggs
¾ c Warm Water
¾ c Buttermilk (I substituted 3/4 c milk mixed with 2 ½ tsp lemon juice, after letting it sit for 5 minutes)
3 Tbsp Canola oil
1 tsp Vanilla
Directions:
Preheat oven to 350F. Line 2 cupcake tins with liners and set aside.
Sift together cocoa powder, flour, sugar, baking soda, baking powder, and salt into a large bowl. Add eggs, warm water, buttermilk, oil, and vanilla, and mix until smooth, about 3 minutes. Scrape down the sides and bottom of bowl to ensure batter is well mixed.
Divide batter evenly among muffin cups (I poured into a funnel with the end of a wooden spoon as my stopper, lifted the spoon until batter filled the cups then replaced it to stop the flow of batter.), filling each 2/3 full. Bake until tops spring back when touched, about 20 minutes, rotating pan once if needed. Transfer to a wire rack; let cool completely.

Chocolate Ganache
From Joy of Baking

8 oz. Bittersweet Chocolate
¾ c Heavy Whipping Cream
2 Tbsp Unsalted Butter
1 Tbsp Cognac or Brandy (optional)
Directions:
Place the chopped chocolate in a medium sized stainless steel bowl. Set aside.
Heat the cream and butter in a medium sized saucepan over medium heat. Bring to just a boil.
Immediately pour the boiling cream over the chocolate and allow to stand for 5 minutes.
Stir with a whisk until smooth. Add liqueur if desired.

Assembling the Cupcakes

Make caramel. Allow to cool completely.
Make cupcakes and allow to cool completely.
Cut out pieces of shortbread using a round cookie cutter that is slightly smaller than the diameter of the cupcake. Set aside.
Make Caramel Buttercream frosting.
Make chocolate ganache. Spread thin coating on each cupcake and let set up a little bit.
Spread thin layer of leftover caramel on each cupcake (this can be hard with the ganache already on the cupcake, but it's easier if you let the ganache set slightly first.)
Top each with a shortbread disk.
Frost each cupcake with your Caramel Buttercream.