It's hot as Hades out here right now and I'm posting a gingerbread recipe. Just bear with me, it's worth the heat of the oven.

This recipe is from bakingbites.com. It is so amazingly tasty. Definitely best once it's first cooled from the oven, but I've frozen it and eaten it after it's rethawed, and it's still good, just a little bit drier. I pretty much followed this recipe to a "t" and it's wonderful. This is probably one of my favorite quick breads out there - maybe because it's more like a banana ginger spice cake? Probably.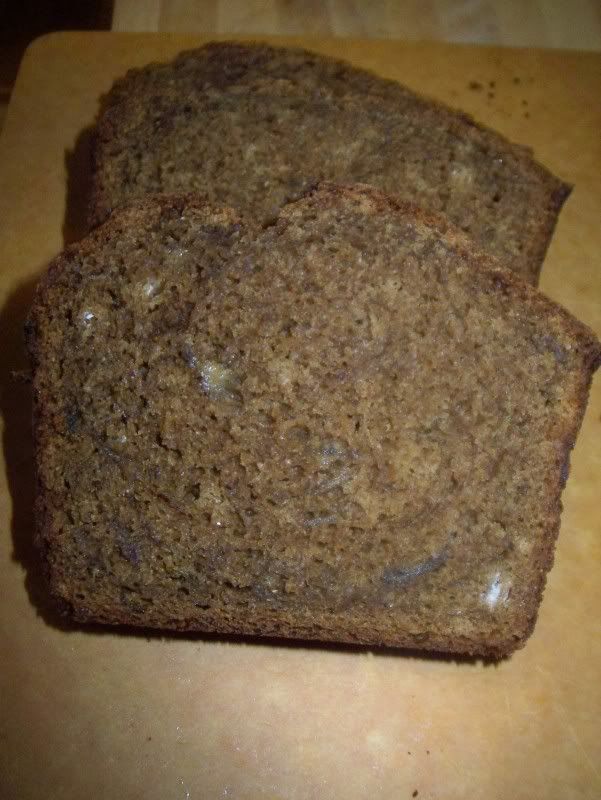 Banana Gingerbread
From Baking Bites

1 cup whole wheat flour
1 cup all purpose flour
1/2 tsp baking powder
1/2 tsp baking soda
1/2 tsp salt
1 tsp ground ginger
1 tsp ground cinnamon (sub for 1 1/2 tsp pumpkin pie spice)
1/2 tsp ground allspice
1/2 tsp ground cloves
1/4 tsp ground cardamom
pinch freshly ground nutmeg
1/2 cup brown sugar
1 cup banana, mashed (about 2 large)
1/2 cup molasses
1/2 cup buttermilk
4 tbsp vegetable oil

Preheat oven to 350F. Lightly grease a 9×5-inch loaf pan.
In a large bowl, whisk together flours, baking powder, baking soda, salt and spices.
In a medium bowl, whisk together brown sugar, banana, molasses, buttermilk and vegetable oil. Pour into dry ingredients and stir until just ombined. Pour into prepared pan and sprinkle with coarse sugar, if desired.
Bake for about 45 minutes, until a toothpick inserted into the center of the loaf comes out clean.
Makes 1 loaf, 8-10 slices.