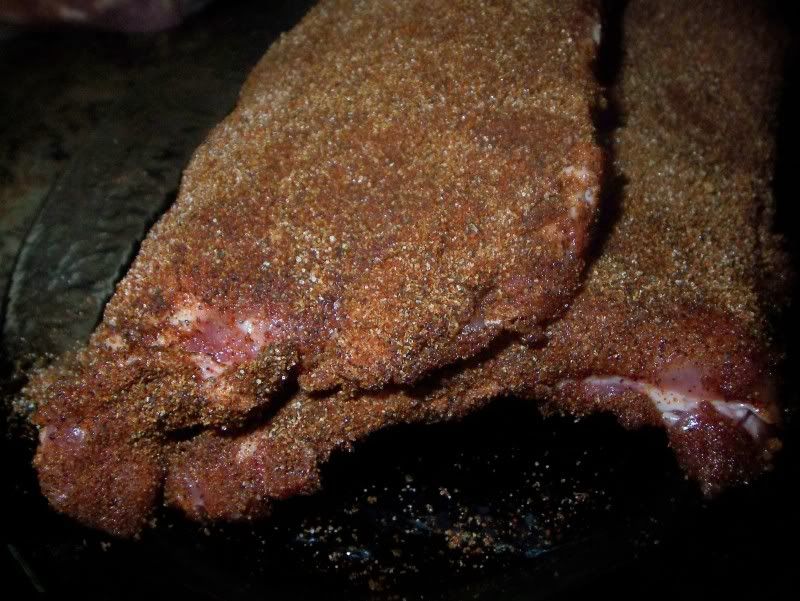 While most Marylanders know that it's not summer without Crab Feasts, I also think that barbecue and pit beef deserve their spot in the "It's not summer until you have..." category. Crab Feasts and barbecue seem to accompany most of my favorite memories. Now living in the Midwest, Crab Feasts are few and far-between but barbecue... that's one thing we
do
have.
Going to school in southwestern Virginia, ribs I remember going to some of my first college football games (when they were still in the Big East), and seeing the hard-core tailgaters with their smokers pulling behind their Winnebago as they drove into the parking lot to find their spots on game day. This was the first time I'd ever seen an entire pig in a smoker. While it was a little strange at first (I loved Wilbur from Charlotte's Web!), I gladly got my spot in line to try some. Walking up, I grabbed a bun, and the guy literally grabbed a piece of meat, pulled it off, and stuck it on my bun. It practically shredded itself on my sandwich it was so tender.
Even our rehearsal dinner was catered by a local barbecue joint (if you're in the area and want some delicious barbecue, look out for Andy Nelsons http://www.andynelsonsbbq.com/)
I have made shredded pork and chicken several times in the slow cooker, but had always been a little hesitant to make ribs. I think it was mainly because the time commitment for ribs is more than most other things I have tried. And while these baby back ribs did take seven-and-a-half hours in the oven, the only problem I had was smelling the ribs all day. I couldn't figure out why I was so hungry the entire day, until I would walk upstairs and hit the smell of the ribs. I also had not thought about how I would prepare a few of the other dinner items needing an oven. With a little bit of thinking and a lot of help for our countertop toaster/convection oven, we easily rectified the problem.
The fact that there are no "after" pictures, while sad, is truly a testament to how delicious these ribs were (and how hungry we all were after smelling them cook for hours!).
Slow Barbecue Ribs
Adapted From: Use Real Butter

4-5 lb. rack of ribs (I used 2 full racks of baby back ribs)
dry rub – recipe below
1 1/3 cup random store-brand BBQ sauce like Masterpiece or Bullseye (something with molasses in it – a sweeter type)

Dry Rub

2 Tbsp cumin
2 Tbsp brown sugar
4 Tbsp paprika
2 Tbsp chili powder
2 tsp cayenne powder
2 tbsp salt
2 tbsp black pepper, ground
1 tsp onion powder
1 tsp garlic powder

Mix together.

Dry off the rack of ribs. This is personal preference, but I cut my racks into three sections – they're easier to fit in my pans, and easier to pick up after cooking without breaking into bits.

Rub spices over all of the rack. Cover in plastic wrap and refrigerate for up to 24 hours, but at least 4 hours.

Preheat oven to 225F.

Place the rack in a large roasting pan lined with foil for ease of clean up.

Cover with foil. Bake the ribs for 8 hours (Mine baked for 7 1/4).

Remove from oven and set the ribs on a rack to let the excess fat drip off (to reduce the grease fire on the grill).

Heat the grill on high for ten minutes, then reduce heat to medium.

Place the ribs on the grill for 5 minutes, covered.

Flip the ribs and grill for another 5 minutes.

Flip again and brush the top side of the ribs with barbecue sauce and allow grilling for 5 minutes.

Flip one last time and brush the top side with more sauce.

Serve, preferably with a tub of Wet-Wipes.