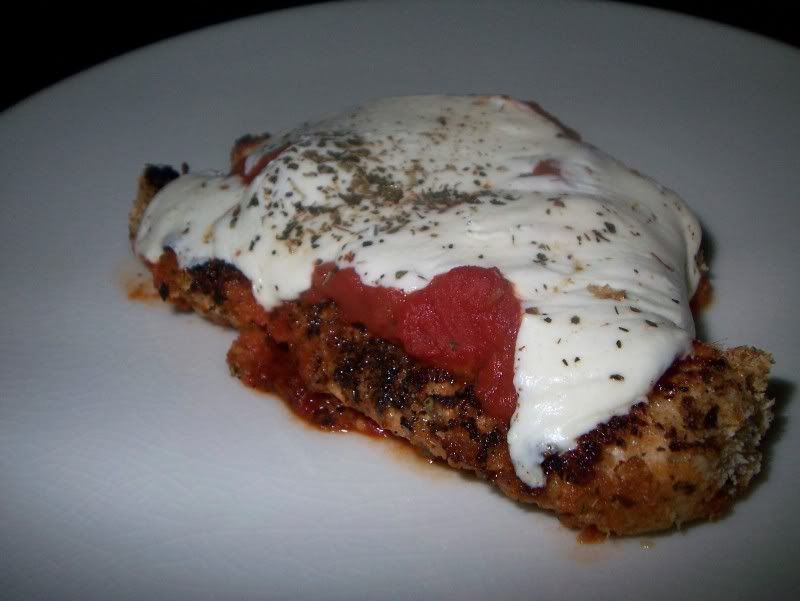 I finally saw "The Godfather" – parts one, two and three – for the first time recently. I see why these movies have such a following, they really sucked me in. In the first movie, it took me nearly the entire movie to finally accept that Michael Corleone was a young Al Pacino. I think it was a lack of wrinkles.

I did the math, and we watched Italian mobsters for nearly nine hours. No wonder I started talking like Marlon Brando with everything I said, and kept saying things about "an offer he couldn't refuse." Right?


Right?

Sigh.
Either way, this trilogy also really got me craving Italian food. This chicken parmesan recipe has been a work in progress for me. I usually get a decent crust on my chicken, but then when I bake it in the sauce, it loses its crispiness. By using less sauce when I bake it, and simply reserving some for dipping, I maintain the crispiness of the breading without sacrificing the sauce my husband loves oh-so-much. Also, by pounding the chicken thin, it cooks so much faster, so I can prepare this on a busy weeknight and feel like we're really indulging in something that took a lot longer to make.

Once I had my chicken parmesan and strained my vocal cords enough to keep myself quiet for a while, we finally decided it was time to watch another movie. Can you guess what movie followed such a cinematic classic?

Hot Tub Time Machine.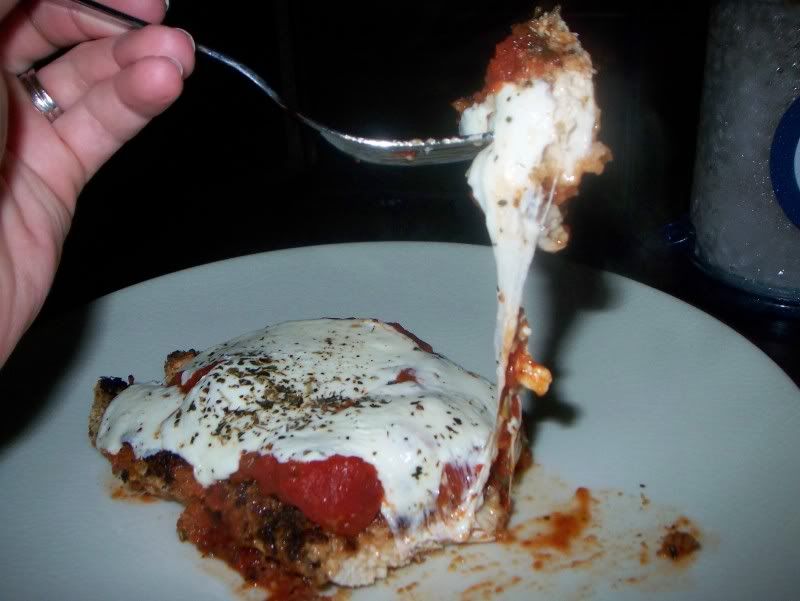 Chicken Parmesan

1/4 c panko breadcrumbs
1/4 c regular bread crumbs
1/4 c grated parmesan cheese
1 Tbsp and 2 tsp Italian seasoning, divided (or use dried oregano and basil)
1 tsp cayenne pepper
Dash each of salt and freshly ground pepper
2 boneless skinless chicken breasts, pounded to 1/4-1/2-inch thickness
1 1/4 c Spaghetti sauce, plus ~1/2 c more for dipping (this equates to most of a 14 oz jar)
Fresh mozzarella cheese
2 Eggs
1 Tbsp canola oil

Preheat oven to 350 degrees F.

In a wide, shallow bowl, mix together panko, bread crumbs, parmesan cheese, salt, cayenne, black pepper and 1 Tbsp Italian seasoning.

In another wide bowl, gently beat eggs.

Dip chicken in eggs and then dredge in breadcrumb mixture until completely coated. Set aside.

Heat oil over medium heat in skillet large enough to hold the chicken.

Cook 3 1/2 minutes on each side until nicely browned on both sides. (I've used both tongs and a spatula to turn my chicken and found I have a lot less risk of damaging the crusty coating if I use a spatula. I always end up having my chicken slip out of my tongs and ripping off some of the breadcrumbs.)

In an 8 x 8 or 9 x 13 baking dish, spread a thin layer of spaghetti sauce. Lay your chicken breasts into the sauce. Top with more sauce.

Layer on slices of mozzarella cheese and sprinkle a tsp of the Italian seasoning on each breast.

Bake at 350 for 20 minutes, or until cheese is melty and chicken is completely cooked through.

Once you chicken comes out of the oven, heat up the additional half cup of spaghetti sauce in the microwave for dipping.