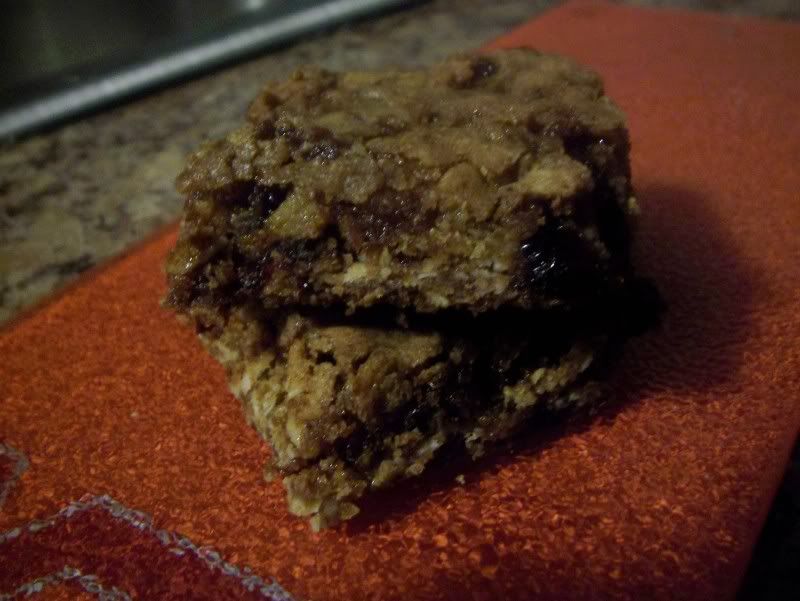 Another week of softball and another week of goodies. This week I was not sure what I was going to make. Thankfully one of my coworkers mentioned that he enjoyed oatmeal craisin cookies. It's been a long time since I've had a homemade oatmeal cookie and I realized that I had all the ingredients readily available in my pantry, so I decided that would be what I'd make. Because these treats commute by car, train, and foot to get to the office, I decided to make them into cookie bars, instead of individual cookies. The cookie bars travel well in my 9 x 13 pan carrier, and I don't have to worry about the cookie crumblies in the bottom of a bag if I used a ziplock instead.

I'm apparently becoming known as "the baker" on my morning train. Every week I board the train with my cupcake carrier or my 9 x 13 pan, and the regulars always ask two questions: 1) What did I make and 2) Did I bring enough to share with everyone. I told them I made Oatmeal Craisin Cookie Bars and before I could say another word, the engineer of the train popped out from behind the door of his engine room, looked back and said "COOKIES?!" It was so sudden and unexpected that it startled us as first. Then we all broke out into laughter - apparently the only other thing that gets a reaction from the conductor besides people running past the train gates are cookies. Yes, cookies will elicit that type of response from just about anyone.

While I did not have enough to share with them this week, I promised them, all of them, that in the near future that I will bring a treat especially for them.

I got this recipe off of AllRecipes.com, and adapted it based on the comments it has received. I'm still somewhat skeptical of the original 10-12 minute baking time in the recipe. I pulled the pan out of the oven at 12 minutes, and let the still-incredibly loose bars cool in the pan. I tried cutting them after cooling, and they were still soft and wet, on the verge of gummy, instead of chewy. I turned my oven back on and put them in for another ten minutes, part of that time while the oven was still preheating.

This time it worked. I was worried they would get too dark, but they finally set up once I added more bake time. The bars will still be quite soft once they are removed from the oven, but they will not be jiggly. And they will set up into wonderfully chewy bars once they get to room temperature.

I didn't have self-rising flour, so I used an AP flour/baking powder/salt replacement in this recipe.

I'm glad I made something that had oats and craisins and will stand up to the upper-90 degree temperatures we're expecting tonight for our game.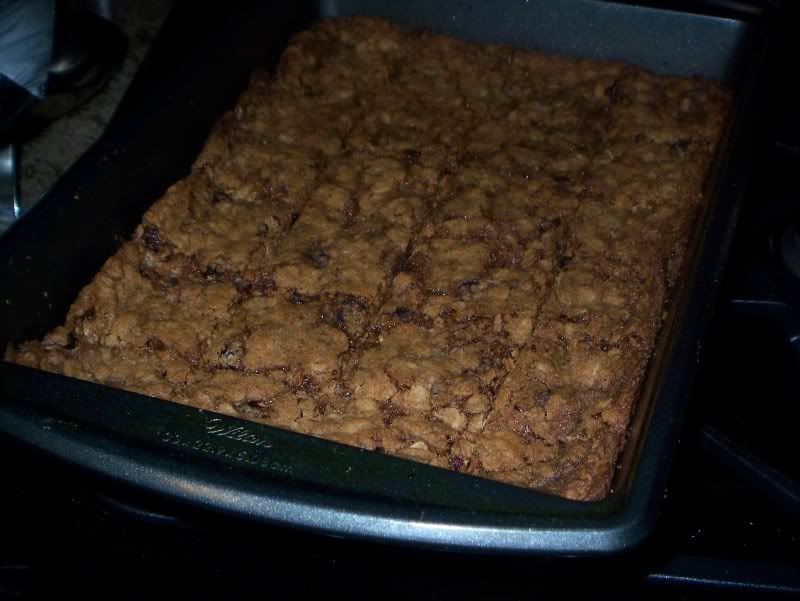 Oatmeal Craisin Cookie Bars
Adapted From
AllRecipes


Ingredients
1/2 cup butter, softened
1/2 cup white sugar
1/2 cup brown sugar
1 egg
1 teaspoon vanilla extract
3/4 c AP flour
1 teaspoon baking powder
1/2 teaspoon baking soda
1 tablespoon ground cinnamon
3/4 teaspoon salt
1 1/2 cups quick cooking oats
1 cup craisins
Directions
Put craisins in a bowl with about 1/2 – 3/4 c water. Cook on high for 5 minutes. When finished, let sit for another 10 or so while assembling rest of the bars.

Preheat oven to 350 degrees F. Grease a 9x13 inch pan.

In a medium bowl, cream together the butter, brown sugar and white sugar, until smooth. Beat in the egg then stir in the vanilla. Combine the flour, baking soda, cinnamon and salt: stir into the creamed mixture. Fold in the quick oats and raisins. Spread evenly into the prepared pan.

Bake for 20-22 minutes in the preheated oven. Let cool in pan before cutting into bars.