Few things remind me of summer more than s'mores and I thought it might be fun to create a miniature s'mores tart for a get-together we were having at our house. I've seen many versions of s'mores tarts, but since I don't own mini tart pans (or any tart pans for that matter) and knew I wasn't about to go out and buy them, I had to improvise a bit. I knew that my vision included little graham cracker cups (versus a more traditional graham cracker crumb crust like on my key lime pie), filled with ganache and topped with marshmallow, so I enlisted the help of my mini-muffin pan. Docking these crusts was extremely important to getting a shell, versus a muffin-shaped graham puff, but the end result was a perfectly bite-sized graham cracker tart shell perfect for filling with ganache and topping with homemade vanilla marshmallow.

My first batch of graham crackers cooked too long, and while they were nice and crisp like graham crackers, they were also a little too brown and crunchy – and tasted right on the verge of burnt. I cooked the next batch about 5 minutes less, and when they came out they were golden brown and still a little soft. Perfect. I know that graham crackers are typically drier and more crumbly, but I wanted a little softer graham to go with the marshmallow and ganache.I also think that next time around I will use a little more honey and a little less molasses, because I think the molasses was a little more pronounced than I would have liked in the plain cracker (though it was certainly more muted when the other components were added).

I tried a new marshmallow recipe this time around and noticed that it was much denser than the light, airy marshmallows I made previously. But these were delicious. They tasted like a sturdier version of marshmallow fluff, without all the preservatives. But boy, oh boy, was this stuff sticky. My other batch of marshmallows was sticky, but I was able to get it all into a pan, and most likely could have piped it without incident. This batch was much denser, and after two failed attempts at piping it delicately and artfully onto the tarts, I had to resort to slapping it on with a spoon before it totally set up. Anything the marshmallow touched was covered, including my hands and face – the telltale sign of sneaking a 'taster' bite. Oops.

I was worried that the chewier marshmallow was a bad choice, because in my impatience to try them while still warm, the ganache oozed out from the back of the tarts and marshmallow stuck to my lips, hands and face. The marshmallow also was stringy, so I could pull the tart back and arm's length from my face and still have a string connecting my face to the tart. I was a little worried that all this effort to make these from scratch was going to become one big disappointment.

But after getting the chance to set overnight, the combination of textures was perfect between the graham cracker shell, ganache filling and marshmallow topping. You could bite through the marshmallow easily, and it was more velvety, silky smooth than dry and airy like those Jet-Puffed store marshmallows. The ganache had also set up just enough that it wasn't totally solid, but also didn't ooze out of the tart anymore.

These were a lot of effort to get together, but I would definitely call them a success, and totally worth it. While I'm sad they're all gone now, I'm also happy because I think I might be addicted to them and the only way I would stop eating them is if they were not in front of my face.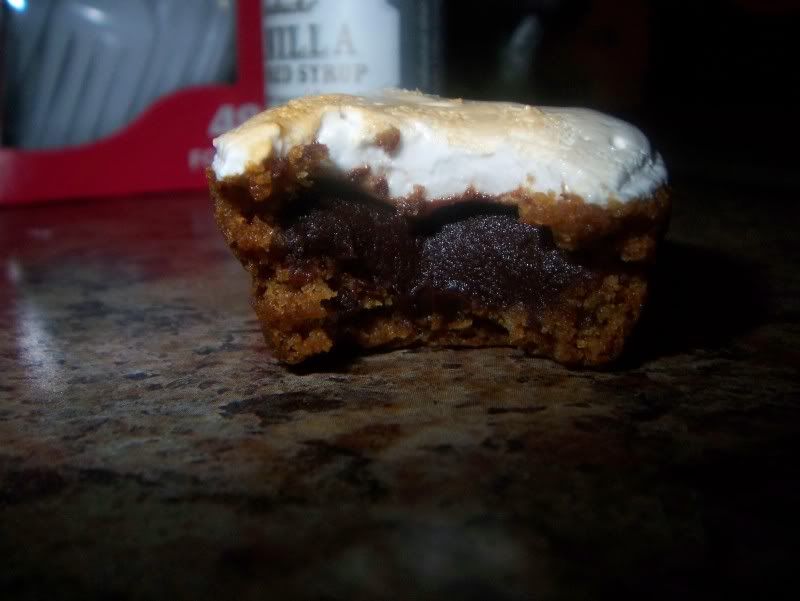 Homemade S'mores Tarts
Homemade graham cracker, dark chocolate ganache, toasted homemade marshmallow

For the graham crackers

Hands On Gourmet

2 ¼ cups all purpose flour
1 tablespoon whole wheat flour
1 cup brown sugar
1 teaspoon baking soda
1 teaspoon salt
¼ pound butter, chilled and cut into small cubes
2 tablespoons molasses
3 tablespoons honey
¼ cup milk
1 tablespoon vanilla extract
cinnamon sugar (1/2 cup sugar + 1 tablespoon cinnamon)

Combine all the dry ingredients except the cinnamon sugar. Work the butter into the dry ingredients to form a coarse meal. Combine the wet ingredients and add to the dough. Mix to combine. Flatten out the dough, wrap in plastic and chill until the dough firms up. Dust a work surface with flour and roll the dough out to 1/8" thick sheet, dusting with extra flour as needed. Chill the sheet of dough. Cut into squares and dock the dough with a fork. Sprinkle with cinnamon sugar.
Oil tartlet molds and form the graham cracker dough into them. Bake at 325 for 20 minutes. When cool, remove the shells from the molds.

Vanilla Marshmallow Layer

Couldn't be Parve


1/4 cup + 1 tablespoons (2.5 oz) cold water
2 teaspoons pure vanilla extract
1 1/2 tablespoons powdered gelatin
6 tablespoons (3 oz) cold water
10 tablespoons corn syrup
pinch of salt
3/4 cups granulated sugar
Combine the first three ingredients in a medium bowl and whisk until well blended and smooth. Set aside.
Combine second quantity of water, corn syrup, salt and sugar in a 4-quart saucepan and place over medium heat. When the mixture comes to a boil brush down the sides of the pan above the upper surface of the syrup with a clean, moistened pastry brush or paper towel to dissolve any remaining sugar crystals. Do not stir the syrup once it comes to a boil.
Place a candy or instant read thermometer into the syrup and continue to cook, without stirring, until syrup reaches 248F. Remove pan from heat and carefully stir in gelatin mixture.
Pour the mixture into the bowl of an electric stand mixer fitted with the whisk attachment. Starting at medium speed gradually increase the mixer speed to high. While the mixture is beating remove the tart with the ganache from the refrigerator. Beat the mixture for 10-12 minutes. When done it should look white and fluffy and the bowl will no longer be hot to the touch.
Using a wet spatula scrape mixture into prepared pan on top of ganache. Spread into a smooth even layer using a wet spatula (or well moistened hands). Set tart aside, uncovered, at room temperature for at least 4 hours or over night. (As a warning, this marshmallow is SUPER sticky. I couldn't pipe it at all. I ended up using a spoon to individually portion out the marshmallow.)
If desired, toast top of the tart with a kitchen torch or broiler. Press up on bottom of pan to release tart from the pan. If using the broiler let the tart sit for a little while before removing from the pan and cutting to allow time for the ganache to re-harden.

Chocolate Ganache Layer
8 oz heavy cream
8 of baking chocolate (Ghiradelli dark chips or Hersheys Semi-Sweet Morsels)

Place chocolate in bowl. Heat cream butter and sugar in small pan. Once cream is barely simmering, pour over chocolate and allow it to sit for 5 minutes. Wisk until smooth.

To Finish
Fill the shells with ganache, top with marshmallow and let sit overnight to set. If you're like me and don't have a kitchen torch, put them under the broiler for 30-45 seconds until slightly toasted. Make sure they get a chance to cool to room temperature before serving or else you'll get a melty, sticky mess.