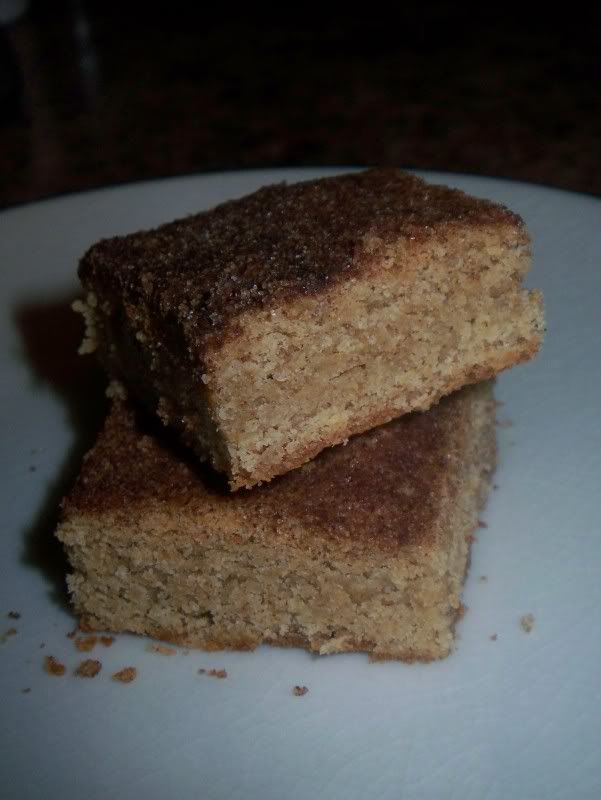 Snickerdoodles to me are classic cookies, right up there with chocolate chip. These chewy, sugary cookies have a delicate crunch attributed to the cinnamon sugar they are rolled into prior to baking. When I bake for a group, especially when what I make has to commute to work with me, I try to avoid making individual cookies unless they are sturdy. That leaves me typically with chocolate chip and sugar cookies, and even then there is a sacrificial cookie crumbled up in the bottom of the bag. So recently, I've been on a bar cookie/brownie kick. Not only do they bake and transport in the same pan, the pan has a lid and handle, perfect for protecting it on the go. Because of this, I thought I'd try out a snickerdoodle blondie recipe I've had bookmarked for a while.

The end result was a dense, chewy, cakey blondie that had a nice cinnamon sugar crust on the top. And while a lot of people who tried them had never had a snickerdoodle before (much less heard of one), they all enjoyed these bars immensely.

Snickerdoodle Blondies
Adapted From
Brown Eyed Baker


Yield: 24 blondies

Ingredients:
2-2/3 cups all-purpose flour
2 teaspoons baking powder
1 teaspoon salt
1 teaspoon cinnamon
¼ teaspoon ground nutmeg
2 cups packed brown sugar
1 cup (8 ounces) unsalted butter, at room temperature
2 eggs
1 tablespoon vanilla extract
2 tablespoons granulated sugar
2 teaspoons cinnamon

1. Preheat the oven to 350 degrees F. Lightly grease a 9×13-inch baking pan; set aside.
2. Whisk together the flour, baking powder, salt, cinnamon and nutmeg in a medium bowl; set aside.
3. Beat together the butter and brown sugar on medium speed until light and fluffy, about 5 minutes. Add the eggs one at a time, and then the vanilla. Beat, scraping the bowl, until thoroughly combined. On low speed, gradually add the flour mixture until just combined. Give the dough a final stir with a spatula or wooden spoon to make sure the flour is incorporated.
4. Spread the dough evenly into the pan (I found an offset spatula was the best tool for the job, as it's a thick batter). Combine the granulated sugar and cinnamon in a small bowl and sprinkle evenly over the top of the batter.
5. Bake for 25-30 minutes or until the surface springs back when gently pressed. Cool completely before cutting. Store in an airtight container at room temperature.