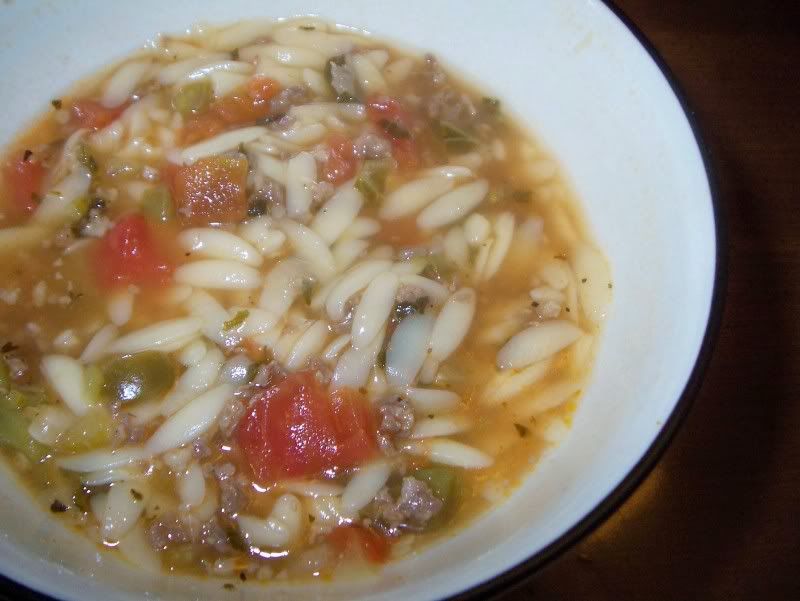 Soups are a great way for me to stay warm through the winter without packing on the pounds but, a lot of times, the soups that are the healthiest seem to lack a heartiness that I crave when the thermometer dips below 30 degrees (or 0 degrees, depending on the day). I want something that feels like stick-to-your-ribs comfort food without actually sticking-to-my-ribs (or worse yet, my hips).
This soup is the best of both worlds. The combination of orzo pasta and vegetables, including super-healthy kale, swimming around happily in a light chicken broth, leaves you satisfied without feeling guilty. The touch of light sausage and parmesan cheese really wakes up the flavor of this recipe. If you wanted to make this a vegetarian-friendly meal, all you would have to do is omit the sausage and sub out the chicken broth for veggie broth.
If at all possible, I would let this soup sit for a day after making it, as the flavors really seem to come together best after 24 hours but, if you simply can't wait (like me, typically), it still tastes wonderful fresh out of the pot!
I always have saltines on hand to dip in the soup, though oyster crackers would be equally as delicious!
Sicilian Sausage Soup
Family Recipe
Ingredients
1 lb. bulk sausage (we use lo
w-fat)
1 medium yellow onion, chopped
3 stalks of celery, chopped
1 tsp. pepper, 1 tsp. basil
1 small can condensed tomato soup
1 16 oz can diced tomatoes with liquid
6-8 c. chicken broth (up to 12 c. is fine) (or use 2, 49 ½ oz can)
up to 1 cup of kale (chopped, cooked, drained)
½ cup grated Parmesan or Romano cheese
Directions
Brown sausage in large stock pot. (if making a vegetarian option, use about a tablespoon of olive oil or another oil of your choice instead of the sausage fat).
Add onion, celery and garlic to pan and sauté a until slightly transparent, but it doesn't have to be cooked all the way through. (The sausage, if low-fat, will not render a lot of fat, but it'll be enough to give your veggies good flavor)
Add tomato soup, stir in spices, tomatoes, and broth.
Cover and reduce heat and simmer for 1 hr.
Stir in orzo and cook for 45 mins more.
Garnish with cheese to serve.
Enjoy!
PS. - Don't forget to come find me over on Facebook if you like what you see!