If you remember from my previous
pizza post
, I mentioned how me making pizza dough from the pre-packed mixes usually ends up in disaster. And it's typically because with mixes, I go on autopilot, figuring if I can make stuff from scratch, I don't need to pay attention to the mix directions all that much – how hard can it be? Apparently, even using homemade dough, I'm not immune to near-catastrophes in the kitchen. My autopilot really needs a tune-up. Sheesh.
I had made my dough and was letting it rest while I preheated my oven and pizza stone. I typically use a combination of flour and cornmeal on the cutting board I use as a pizza peel to help the dough slide off onto the stone without a lot of resistance. Not sure what I was thinking, but after liberally flouring my board, I got out the cornmeal and proceeded to put some on my cutting board and, stupidly, my pizza stone. Yes, the pizza stone that is in a 475 degree oven.
I started to merrily make my pizza, stretching out the dough and putting on the sauces and cheese, when my husband joined me in the kitchen. He asks "is the oven supposed to be doing that?" Not even turning around, I said "of course it is, it's preheating." Imagine my shock when he said "so it's supposed to be smoking like that?"
That got my attention, so I turned around and, sure enough, black smoke was pouring out of the oven vent. I opened the oven door to see a charred mass of what used to be cornmeal on the pizza stone. Grabbing the oven mitt, I tried to grab a nearly 500-degree pizza stone out of the oven and tried to dump the cornmeal into the sink. Fail. It was stuck. And I just realized that my oven mitt is not thick enough for a 475-degree pizza stone. Unfortunately, there is very few places in our house where you can put something that hot where it won't cause serious damage – and our stovetop was covered with pots and pans from my topping preparation. After a little more floundering, I finally got the stone on the stovetop, freeing up both hands for a simultaneous forehead smack.
I finally enlisted the help of the hubby to hold the stone while I scraped off the burnt cornmeal. Thankfully, the stone is resilient, and once it was scraped clean, it went back in the oven and went on to cook a perfect pizza.
This recipe is adapted from my Neopolitan Pizza dough from the Cooking Light magazine, but I took some liberties because I didn't have all night to let the dough slowly rise. I just let it hang out all day and just kept punching it down (every time it doubled in size or so) until I was finally ready to use it that evening. The pizza itself (as-in the topping combination) is something I've been making for a few years now, and never seems to get old. Whenever we're trying to figure out what we feel like eating for dinner, this is always one of the suggestions. There's probably good reason for that. This pizza is delicious and (especially if you use premade dough or a package of 'just add water' dough) easy.
I didn't mention in the previous post, but I add in semolina flour because I like the chew it gives to my crust, you can easily use all bread flour instead. The garlic powder is optional as well, but it does seem to give my crust a flavor I felt was lacking the first few times I assembled the crust.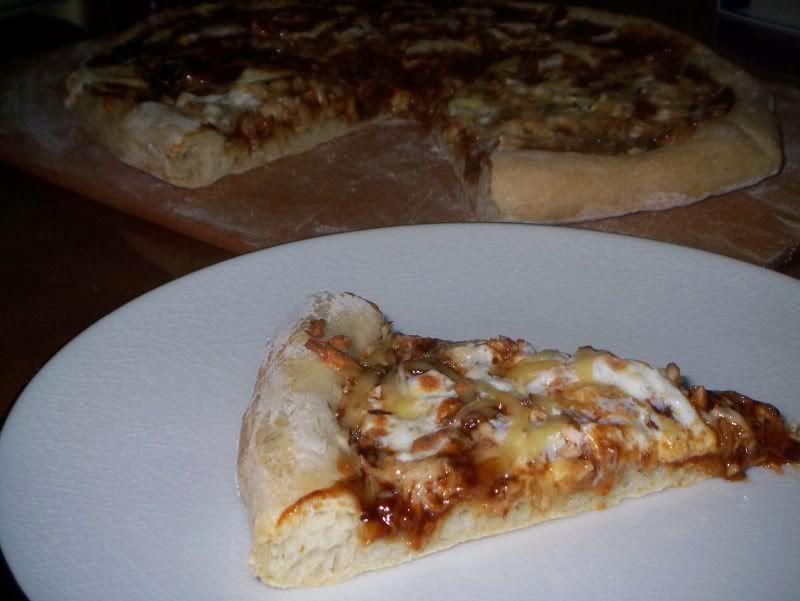 BBQ Chicken Pizza
Topping
3/4 c grated Smoked Gouda
Dough
1/2 c plus 2 Tbsp Semolina Flour
Directions
Salt and pepper chicken tenderloins and cook over medium heat, 3-4 minutes on each side, until cooked through. Remove to a cutting board and allow to cool. Chop chicken thoroughly once cooled. You can also add a tablespoon or two of the barbecue sauce to the chicken to impart a little more flavor as it's hanging out in your fridge waiting to be used.
Pour 3/4 cup warm water in the bowl of a stand mixer with dough hook attached. Weigh or lightly spoon flour into dry measuring cups and spoons; level with a knife. Add flour to 3/4 cup water; mix until combined. Combine remaining 1/4 cup water and yeast in a small bowl; let stand 5 minutes or until bubbly. Add yeast mixture, oil, and 1/2 teaspoon salt to flour mixture; mix about 10 minutes. You should have a soft dough that is somewhat sticky (If it is too unruly, I'll typically add another 2-3 Tbsp of flour and keep kneading). Place dough in a large bowl coated with cooking spray; cover surface of dough with plastic wrap lightly coated with cooking spray.
I turned my oven onto the proofing function (though on a draft-free countertop is fine as well) and just let my dough hang out for the day. If it got too puffy, I'd punch it back down. When you are about ready to use the dough, preheat your oven to 475 with your pizza stone on the lowest rack.
I use a big cutting board covered with a little flour and cornmeal as my pizza peel.
Form your dough into a circle, making a 1/2 inch rim around the edge for the crust.
Put on your barbecue sauce, chicken and three cheeses.
Bake at 475 for 10-15 minutes or until crust is cooked but still springy, and cheese is melted.
I *heart* pizza!