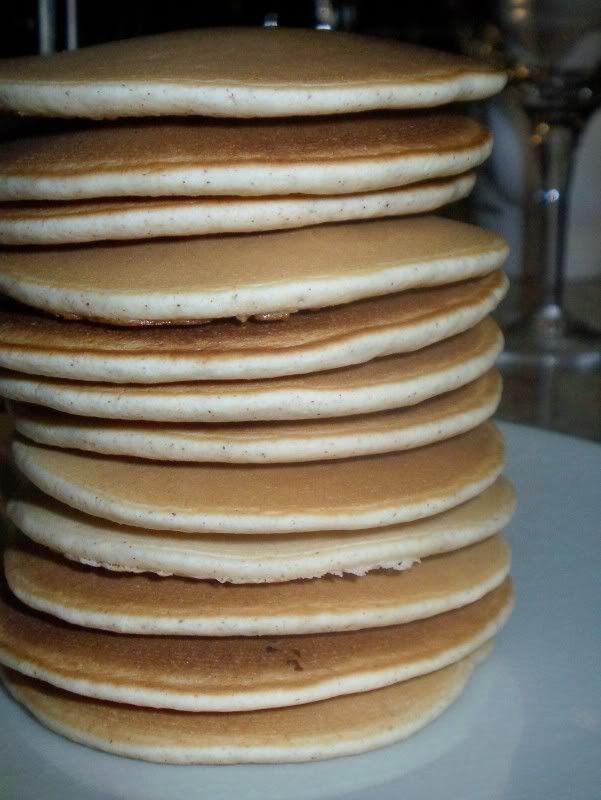 Breakfast. It's the most important meal of the day. Some people can get by simply by pouring some cereal into a bowl, dousing it with milk and calling it a day. I will typically eat cereal only when I have to. I love omelets, french toast, pancakes, waffles, crepes, cinnamon buns and all the other glorious baked goods with tons of butter that are only fit to eat because they are breakfast foods!
Every once in a while, I enjoy breakfast dinners. There is something so comforting to me coming home after a long day of work and having pancakes, eggs and sausage. And because I'm usually really exhausted after work (and after working out) my pancakes have been coming from *gasp* the box! I don't usually leave well-enough alone, though. I like jazzing up my pancakes, so it looks like I at least put a little effort into my dinner. Bananas, blueberries, nuts, chocolate sometimes just whatever I see laying around. My most recent discovery though, are brown sugar and cinnamon pancakes. Perfect for a late night or an early morning when you want something quick and easy on the table, but jazzed up enough that anyone eating them can feel the love.

Brown Sugar and Cinnamon Bisquick Pancakes
1 c Bisquick
½ c Milk
1 Egg
2 Tbsp Brown Sugar
2 tsp Cinnamon
Stir Bisquick, brown sugar and cinnamon together in a bowl. Add egg and milk, stirring until just combined. Batter will be lumpy. Do not overstir.
Cook on medium heat on one side until bubbles pop and top side appears to have dried out slightly.

Flip and cook on other side for 1-2 additional minutes.
Store, covered, in warm oven until ready to serve.