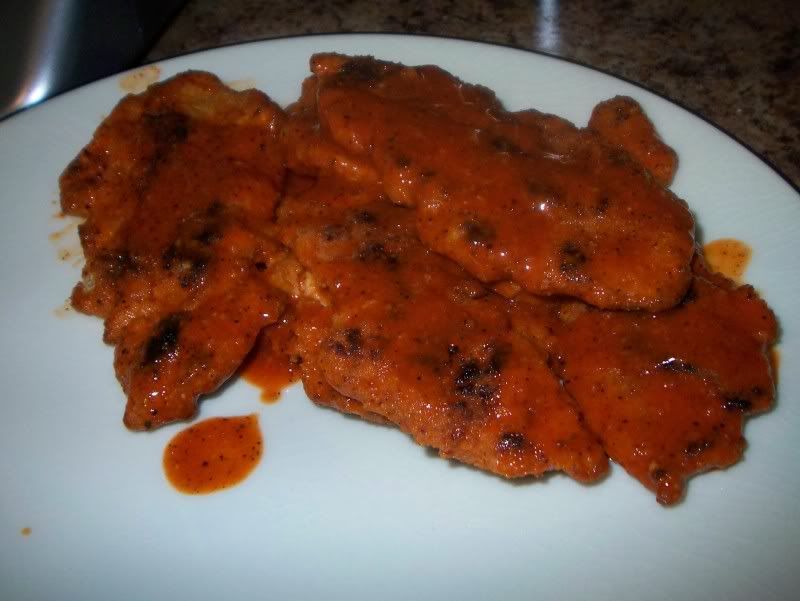 My husband and I are pretty predictable on our date nights. A trip to Buffalo Wild Wings consisting of a boneless wing appetizer spun in mango habenero sauce, a couple of beers and dinner. Our meal is then followed by a trip next door to the movie theater. It's the perfect night for us. We do enjoy fancy dinners on occasion, but when we want to relax and not worry about doing dishes, B-Dubs is the place for us.

We haven't been going out quite as much lately as we are saving for some pretty major home renovations, but that doesn't mean we have to go without our wings. I must say, I enjoy the homemade version also because they are not deep-fried like their restaurant counterparts. If I wanted to get truly daring, I could evensplurge and purchase sauce from B-Dubs to get the real flavor, but the Frank's Buffalo Hot Sauce fits the bill on a budget.

They do take a little time and prep-work to assemble, but I really enjoyed getting to have some hot wings at home. It's classic bar food, but upgraded. I don't feel quite as guilty after eating these, either.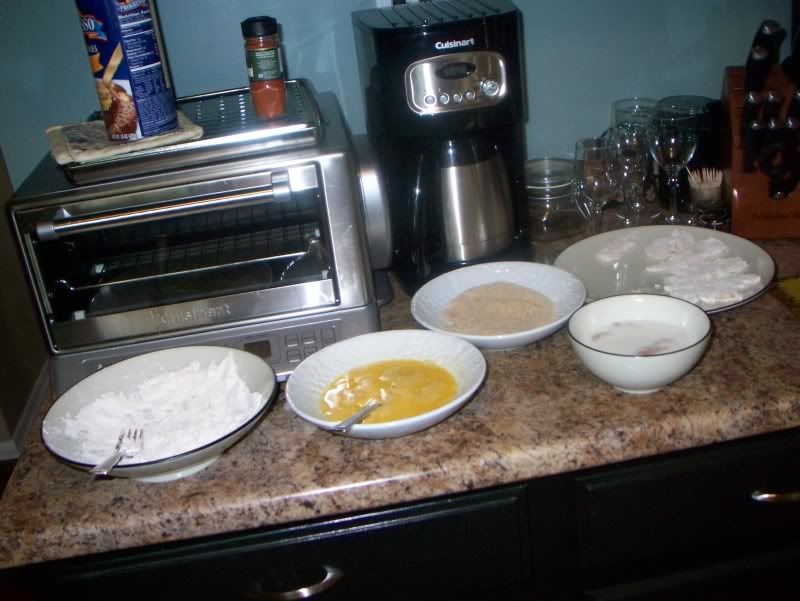 I've tried double-breading the chicken tenders, but I think the extra step is completely superfluous. These wings are just as tasty with only one dredge through the bread crumbs, and you'll get them on your table that much faster. If you want to double-coat, go ahead, but I'm sticking with a single layer from now on.


Buffalo Chicken Tenders
4 oz chicken tenderloins
1 c bread crumbs
3 eggs, lightly beaten
1/2 c flour
Cayenne Pepper
Salt
Pepper
1 c Franks Buffalo Hot Sauce
2-3 Tbsp Canola oil, for pan

Get out three shallow serving bowls. Put flour in one. Mix in cayenne pepper, salt, pepper and paprika. In second shallow bowl, put your eggs. In last bowl, bread crumbs.

With a dry paper towel, pat your chicken dry. I like to cut my tenderloins into 2-3 pieces each, so each portion is a little more bite-sized. Lightly coat chicken with the flour, shake off excess and dip into eggs. Finally, coat your pieces with the breadcrumbs and set aside on a plate.

In a medium pan, heat up canola oil. Lightly pan fry the chicken pieces until golden brown and cooked all the way through. While waiting for the pieces to finish cooking, put about ¼ c of your hot sauce in the bottom of a bowl big enough to mix your chicken pieces. Add about half of your chicken, and layer on more hot sauce. Add the rest of your chicken, followed by the rest of the hot sauce. Shake, rattle, roll and stir your chicken until well coated.
Enjoy!