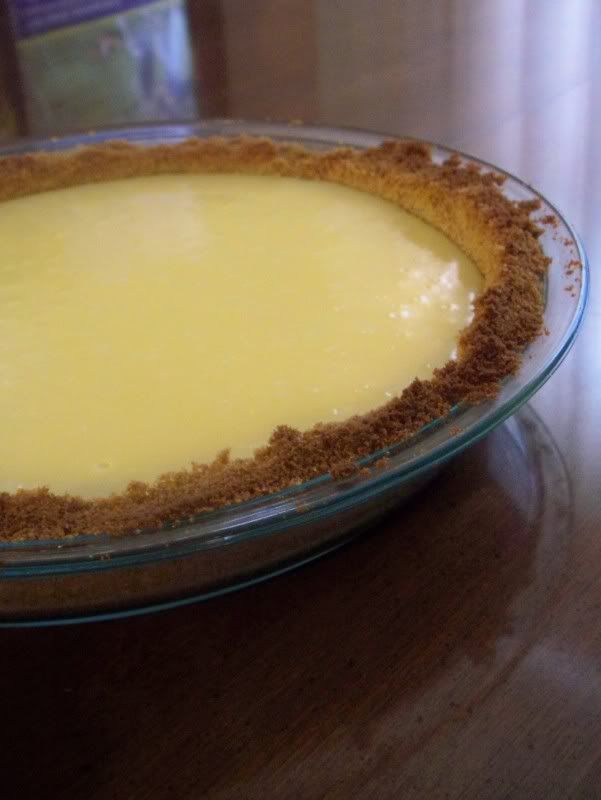 Ok, so I lied. It' not really a Key Lime Pie. It's a Persian Lime Pie. But that does not make it any less delicious. I also have yet to figure out how to make the perfect graham cracker crust. The ones I make taste great, but they tend to be very delicate and on the verge of crumbly. That is one of the perks of using the premade graham cracker crusts, I find them much sturdier than I could ever make mine. Even a crumbly crust could not stop me from finding homemade far superior than store-bought, however. I love having the freedom to make a crust as thin or as thick as I want, and I can control how much sugar I add.

For 2/3 cups of lime juice, I used all but five of my limes out of a pound of Persian limes. Those suckers are tiny. That afternoon, my juicer was my BFF for life. I did omit the lime zest that is originally called for in the recipe. Call me old-fashioned, but I love the homogenous color of a classic key lime pie. (It should probably also be noted that I do not have a microplane zester, and that is about the only way you're getting any zest off of those things. I tried using my mini grater, and after grating my fingers three times and having no zest to my name, I quit. That may or may not have predominately influenced my decision to love the classic key lime pie.)

My family tends to like the embellishments simple; just a nice, healthy dollop of cool whip. I prefer it plain, though. I added a little extra juice than called for in the original recipe. I like my pies tart. This one did not disappoint. This pie has a pronounced tartness that is perfectly balanced with the sweetness and richness of the graham cracker crust.

My only complaint I have is that literally takes 30 minutes to assemble and bake, you have to wait over an hour for it to chill before you can finally dig in. That's just plain cruel.


Key Lime Pie


Adapted from
The Pioneer Woman
Ingredients

Crust

13 whole Graham Crackers (the 4-section Large Pieces)
1/4 cups Sugar
1/4 cups Butter, Melted

Filling

2/3 cups Lime Juice
2 whole Egg Yolks
1 can (14 Oz) Sweetened Condensed Milk
Preparation Instructions
Preheat oven to 350 degrees

For the crust:
Crush crackers in a food processor or Ziploc bag. Pour them into a bowl and stir in sugar and melted butter. Press into a pie pan and bake for 5 minutes or until golden and set. Remove from oven and set aside to cool slightly.

For the filling:
Mix lime zest, lime juice, and egg yolks in a mixing bowl. Add in condensed milk and mix on high until smooth and thick. Pour mixture into crust and bake for 15 minutes.
Remove from oven, allow to cool, then refrigerate for at least 1 hour—more if possible.

Serve plain, with a dollop of Cool Whip, or the sweetened lime whipped cream as described in the original recipe.