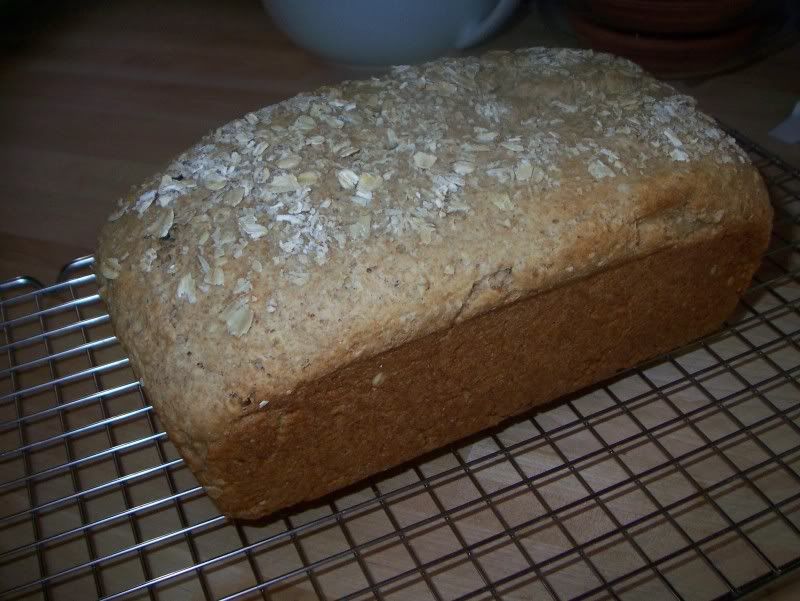 I've always wanted to make my own sandwich bread. We go through so much bread every week packing our sandwiches for work. Nutrition is not really my issue since migrating to High Fructose Corn Syrup-Free Whole Wheat breads; it's that I still find it hard to believe that bread is still as expensive as it is. And I do notice the unpronounceable ingredients acting as preservatives listed on a typical label. But finding the balance between nutrition and texture is difficult. I like dense, hearty breads for snacking, but for sandwiches, I prefer light and fluffy without being airy. Because I wanted to use whole wheat flour for my bread, I knew it would be tricky to find a recipe to produce the kind of bread I wanted.

I saw this recipe on the KAF website and thought it looked good, so I gave it a try. I enjoyed it immensely, but I found it much too dense and moist to be daily sandwich bread. This is a loaf where you'll toast a slice and slather it with butter and eat it with (or for) breakfast. I do want to find a good sandwich bread recipe, but I can also appreciate what we're purchasing at the store. It may not be made with love but I think we're making a good choice balancing nutrition and value based on what we have available.

There are only so many hours in the day and, with a full time job, I can't be whipping out loaves of bread like a bakery whenever I want. As much as I want to make my own bread for daily use, I am learning to appreciate convenience for the sake of sanity, but also to enjoy when I can relax, and have a loaf of freshly baked bread coming out of the oven.


Honey Oatmeal Bread
From KAF

3/4 cup lukewarm water
1 1/2 cups "quick" rolled oats
2 packets "highly active" dry yeast; or 1 tablespoon active dry yeast; or 2 3/4 teaspoons instant yeast
2 tablespoons honey
1 tablespoon brown sugar
6 tablespoons (3/4 stick) butter
1/2 cup unsweetened applesauce
1 1/2 teaspoons salt
1/2 cup instant mashed potato flakes
2 1/4 cups King Arthur Unbleached All-Purpose Flour
2 tablespoons oats, to sprinkle on top, optional

Directions
1) Combine the 3/4 cup water and oats, and let rest for 20 minutes. This gives the oats a chance to absorb the water and soften up.

2) If you're using active or "highly active" dry yeast, dissolve it in 2 tablespoons of the lukewarm water with a pinch of sugar. It should start to bubble as the oats and water rest.

3) Add the remaining ingredients to the oats (including the yeast/water/sugar mixture, if you're using active dry yeast), and mix and knead—by hand, electric mixer, or bread machine set on the dough cycle—until the dough feels springy; it will be quite stiff.

4) Place the dough in a lightly greased bowl, and allow it to rise, covered, for 2 hours; it's a slow riser.

5) Gently deflate the dough, and shape it into an 8" log. Place it in a lightly greased 8 1/2" x 4 1/2" loaf pan. Cover the pan loosely with lightly greased plastic wrap.

6) Allow the dough to rise at room temperature for 1 3/4 to 2 hours, till it's crowned about 1 1/2" over the rim of the pan. Towards the end of the rising time, preheat the oven to 350°F.

7) Brush the top of the loaf with milk, and sprinkle with oats, if desired.

8) Bake the bread for 20 minutes. Tent it loosely with aluminum foil, and bake for an additional 25 to 30 minutes. When the bread is done, it'll be golden brown, and an instant-read thermometer inserted into the center will register 190°F.

9) Remove the bread from the oven, wait 5 minutes, then turn it out of the pan onto a rack to cool. Cool completely before slicing. Store well-wrapped at room temperature.