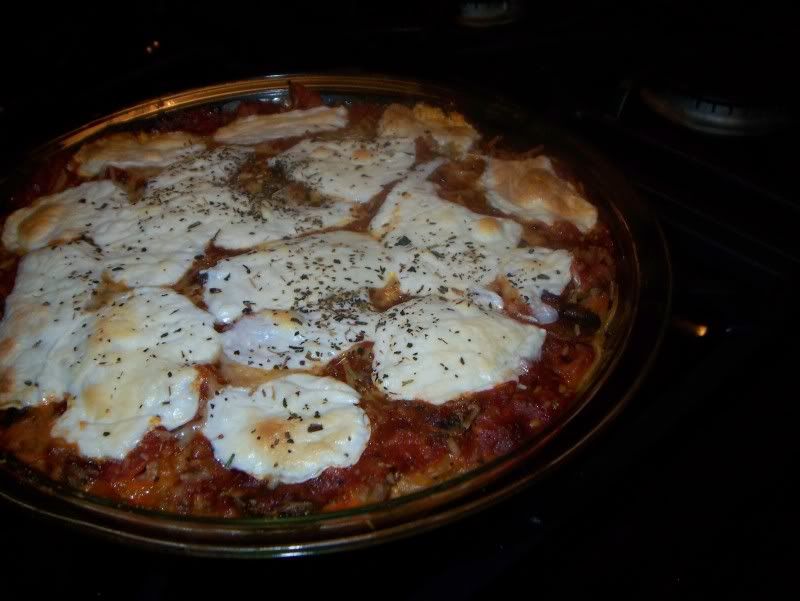 On the night of another one of our Pasta Tuesdays, I decided I wanted to try something different. I'd see spaghetti pie done before on cooking shows, and knew it was just typically leftover spaghetti, eggs, and whatever fillings you want in it. I figured it didn't look that difficult when I saw Giada, or Rachel, or Paula (or whoever it was) make it – so I'd just wing it and try to finally make my own spaghetti pie.
(It looks like it was Giada after all - in 2007 nonetheless.)
For something that was a total experiment based off of a vague memory, this turned out really well. I am pleased with the fact I essentially threw something together with whatever was in my fridge and the result was what I was expecting, or at least was hoping for. It definitely adds a little flair to our typical pasta nights.
Spaghetti Pie

4 oz spaghetti, slightly undercooked
1 egg
Italian seasoning
Mozzarella
Parmesan
4 oz Ground Turkey
1 Tbsp Butter
2 tsp chopped adobe peppers in chipotle sauce
6 button mushrooms, sliced
Salt and pepper, to taste

Mix everything but spaghetti together. Add in spaghetti and put in a lightly buttered 9" glass pie dish.
Bake at 350 for 20 minutes, let sit for 5. Slice and serve.