Happy Thanksgiving everyone!!!
Hope you have a wonderful Thanksgiving filled with good food, delicious drinks and fantastic friends and family.
Since this year we are having Thanksgiving over at my in-laws, I figured now would be a good time to share the story about my first time hosting turkey day, which was just last year. This was our first major holiday we were hosting, our first as a married couple, and the first in our new house! Needless to say, I wanted everything to be perfect. We had put a lot of money into home renovations (heck, we still are to this day!) but that meant that our funds for any decorations were somewhat limited. So, I decided I would make the necessary decorations for our house. I was a busy bee a few weeks before the holidays so that I could finish all my projects on time.
I made:
Festive plush pumpkins for the house:
Turkey trivets for the table: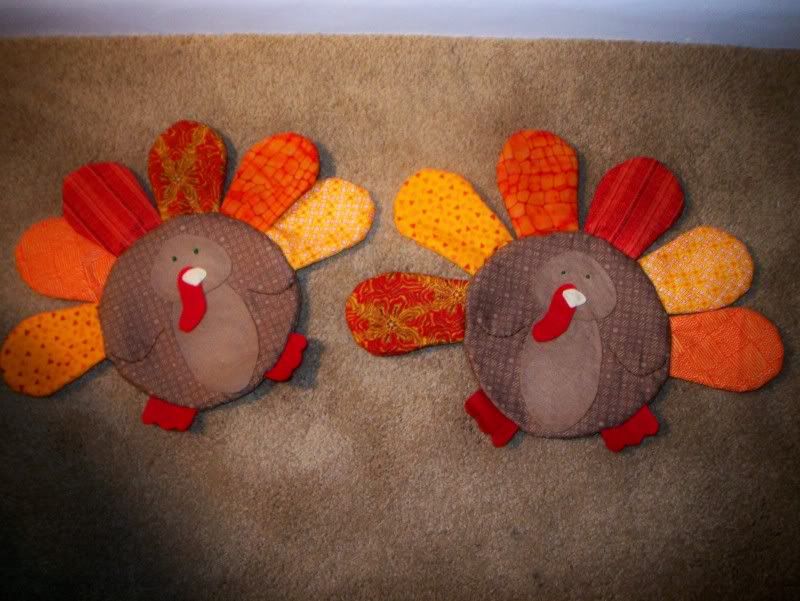 and embroidered napkin rings for our table.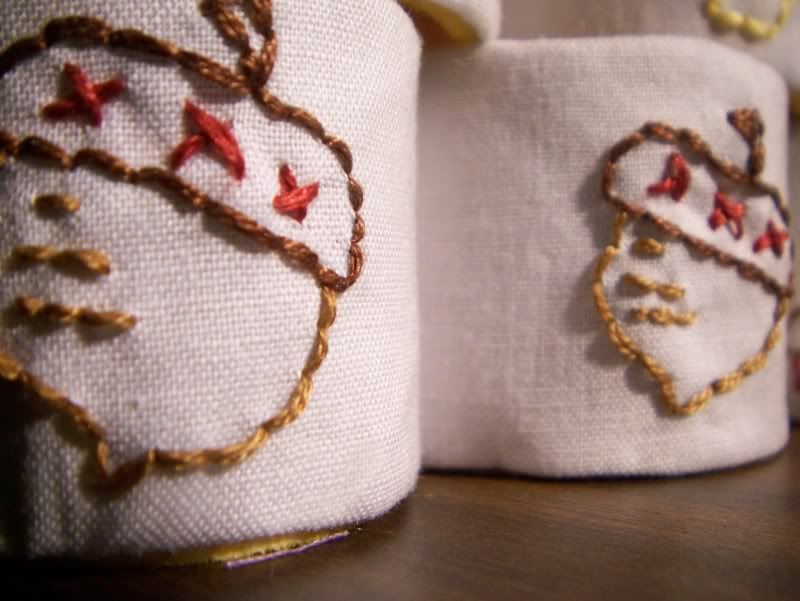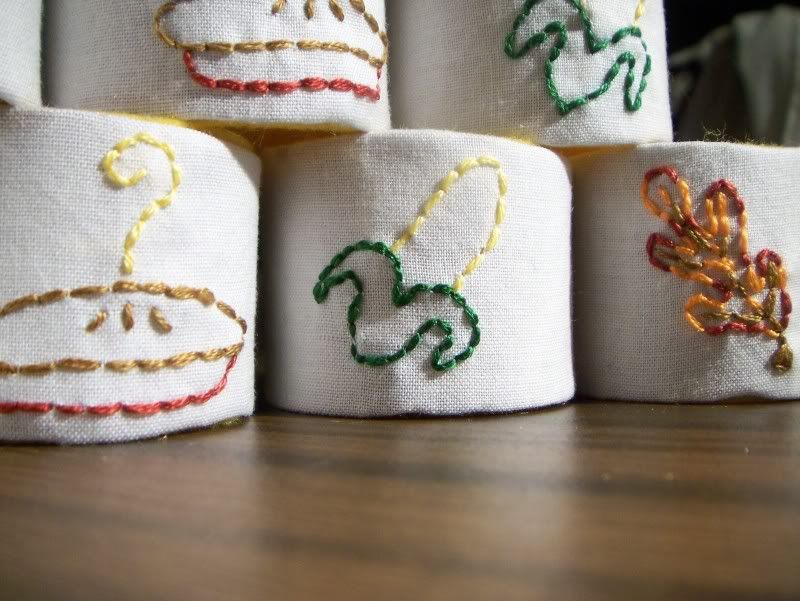 I am lucky enough that I have a set of fine china that was passed down from my grandmother, to my mother, to me. They really are beautiful. And you can also see the reversible Thanksgiving/Christmas placemats I made to go underneath each place setting here.


Once the non-food items were taken care of, the few days leading up to thanksgiving was filled with a lot of planning and preparation. Our entire oven would be in use most of the day to roast the turkey, so I had to have a plan in place as to how to schedule everything else that needed oven-time.

Enter the turkey day prep-schedule.

My schedule started the Saturday before thanksgiving, planning out the dishes I could prep beforehand and freeze or refrigerate so that I could make sure that everything would be complete by the time Thanksgiving rolled around. I also had a pretty detailed schedule for the day of, to make sure I wouldn't forget something important like gravy or reheating a dish. So you can really get a grasp of how much of a planner I am, I'll give you a snapshot of the schedule. This doesn't even include the hand-written one that details the day by time. That was my master list for the day.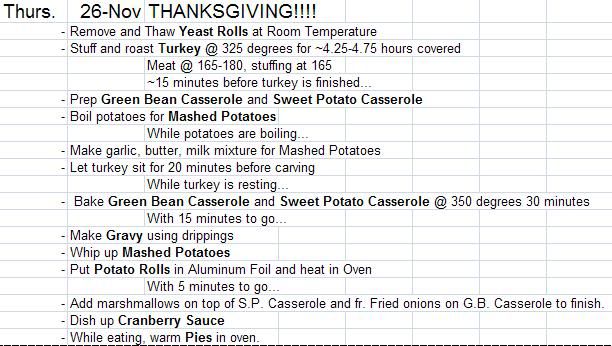 Why yes, I am a list person. Why do you ask?

The turkey was the first thing to be taken care of in the morning. I had to get it out of the brine, rinsed, stuffed, and in a 325 degree oven before 8 am if I was to stick to my schedule. And be advised, my schedule is based on having a fresh turkey. If you get a frozen turkey, be sure to give it plenty of time to thaw in the fridge before T-day. And I don't mean hours, I mean days. Nothing is worse than realizing your turkey is still 80% frozen when you go to stuff it.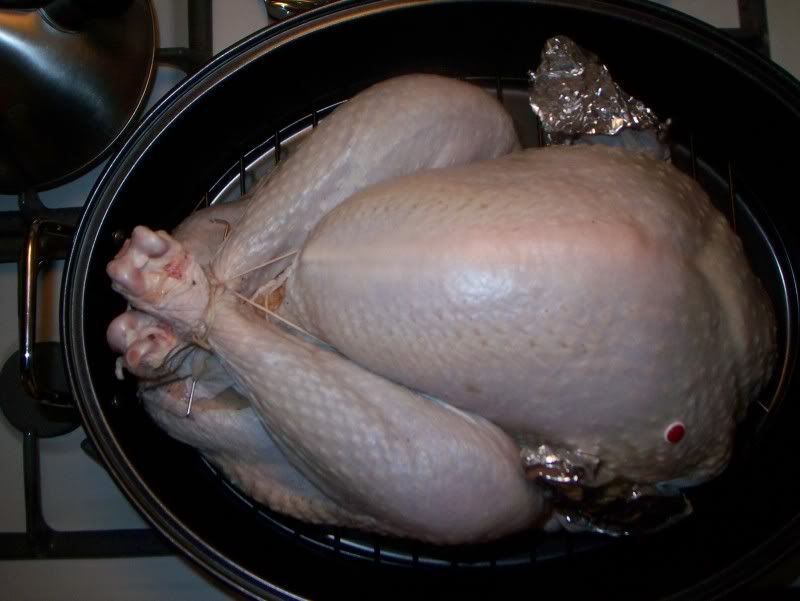 After the turkey was in the oven, things went pretty smoothly. I checked the bird around 9:30 am, and noticed it was already looking pretty browned. I figured I would let it go a little longer and see what happened. Sure enough, 10 am rolls around and the turkey is getting even darker, not burnt, thankfully, but dark. I decided to loosely tent the bird with foil to protect the skin from getting much darker, especially since it wasn't even halfway finished. I had planned to have the turkey come up to temperature around 12:30-1:00 pm, but when I checked the temperature at 11:45, it was still only at about 140 degrees.


The meat (and stuffing if you stuffed your bird) should register at a temperature of 165 degrees to be considered safe from any food-borne illnesses. At 12:30 pm, I finally increased the oven temperature to 375 degrees, hoping to speed up the process.
It still took another one and a half hours for the bird to come to temperature, and by that point, I was starting to have visitors in the kitchen every few minutes – they made it seem like they were coming in to chat, but I know they were checking on the status of the turkey! We were all starving!

At 2:00 pm the bird is finally out of the oven, but it still has to rest before it's carved, and I still had to finish up the gravy, mashed potatoes, sweet potato and green bean casseroles and reheat the dinner rolls I had made earlier in the week.

We ended up eating right around 3:00 pm, about two hours later than anticipated. The wait was worth it, though. Despite having spent longer in the oven than anticipated, the brine kept the turkey - even the white meat - moist, juicy and flavorful. This definitely converted me into a brine supporter. I was so proud that the turkey turned out as good as it did.




Hosting my first Thanksgiving was a success, but definitely not without its challenges. I felt terrible that the turkey was so late coming out of the oven, but there are only so many things that are under your control. Just always make sure to have some snacks or appetizers ready, just in case!

In the end, I do not dwell on the fact that things didn't go exactly according to plan. I was just thankful that we were able to spend time as a family in front of a wonderful (albeit late) meal and truly appreciate the good things in life. I am looking forward to many more Thanksgivings, Christmases, dinner parties and yes, even dinner disasters, because even when everything else goes wrong in the kitchen, I at least know I'm surrounded by friends and family (and that we have lots of wine in our house – that always helps!)
Have a Happy Thanksgiving!!!