If you remember, in an earlier post I made a
"Fired Up" Lemon Chicken Pasta
with a specialty habanero noodles from a pasta retailer called Pappardelle's. The day I picked up those noodles, I also opted to purchase a Garlic and Chive Shell Pasta. The cashier told me she has used this in cold pasta salads, which I am sure is delicious, but I wanted to do a warm dinner dish with the noodles. Pappardelle's is great, not only for their pasta, but also because their website has recipes for nearly any type of noodle or product you can purchase from them. It is fantastic when you're suffering from a "cooking block" and have no idea what to do with what you've bought.
When I saw the recipe for these noodles, I had a bit of a 'duh , why didn't I think of that?' moment, but it was the inspiration I needed to make dinner. I quartered the recipe since I was only cooking for two people, but I will include the recipe as written on their website This sauce would be good with a basic shell pasta as well, but I would probably add some garlic and chive to the sauce to embrace the flavors of the pasta.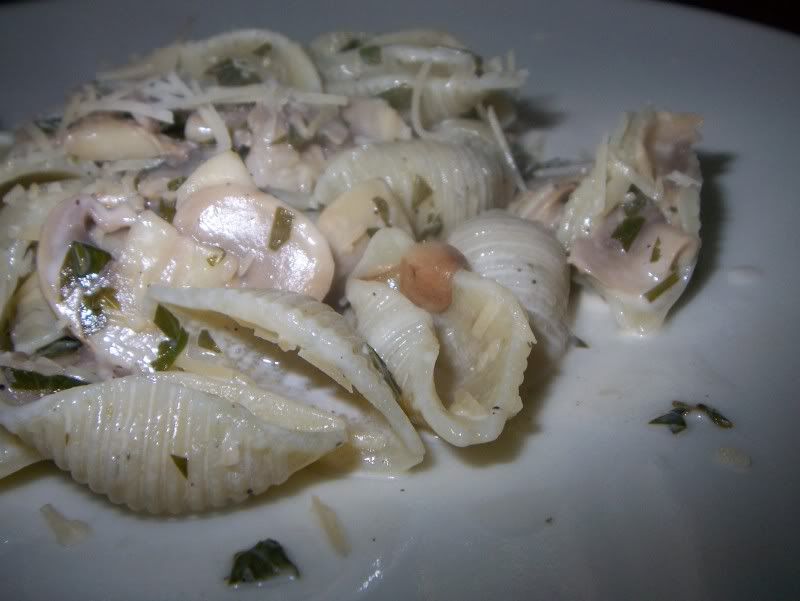 Garlic Chive Sea Shells with Sauteed Mushrooms
From Pappardelle's


1 lb. Pappardelle's Garlic Chive Sea Shells
2 tablespoons fresh chopped parsley salt and pepper to taste
1 pound fresh mushrooms sliced evenly
1/2 cup white wine
1/4 cup butter
grated parmesan cheese
1 cup heavy cream
1. Saute mushrooms in melted butter until golden.
2. Stir in wine, parsley, salt and pepper.
3. Cook for 10 minutes on medium heat.
4. Add heavy cream and take off heat.
5. Serve over hot pasta with cheese on the side.
Serves 4 - 6
http://www.pappardellespasta.com
Copyright © 2010 by Pappardelle's Pasta Co.