Is there anyone else out there who is very particular about their cranberry sauce? Or is it just me?

I didn't even realize I liked cranberry sauce until I finally had homemade sauce – and not the stuff out of the can. Don't get me wrong, the canned stuff has its place (my favorite stuffing recipe incorporates it), but to eat with my turkey just seems wrong. That turkey spends eight hours in the oven, cooking to perfection. I feel like the least I can do is top it with a sauce I made at home, in about 10 minutes, instead of just opening a can of what reminds me of jell-o. There seems like something slightly unnatural about a cranberry sauce that maintains the shape of the can once it's on the plate.

This recipe was passed along by a friend who said she got rave reviews every time she makes it. Understandably. This relish is as easy as it is tasty. Just make sure the bowl you use is big enough to handle the swelling berries. That's a sticky mess to clean up if your bowl overflows.

You could also make this one your stovetop, letting the mixture simmer until the berries pop and the sauce thickens slightly, but I prefer simply nuking my berries.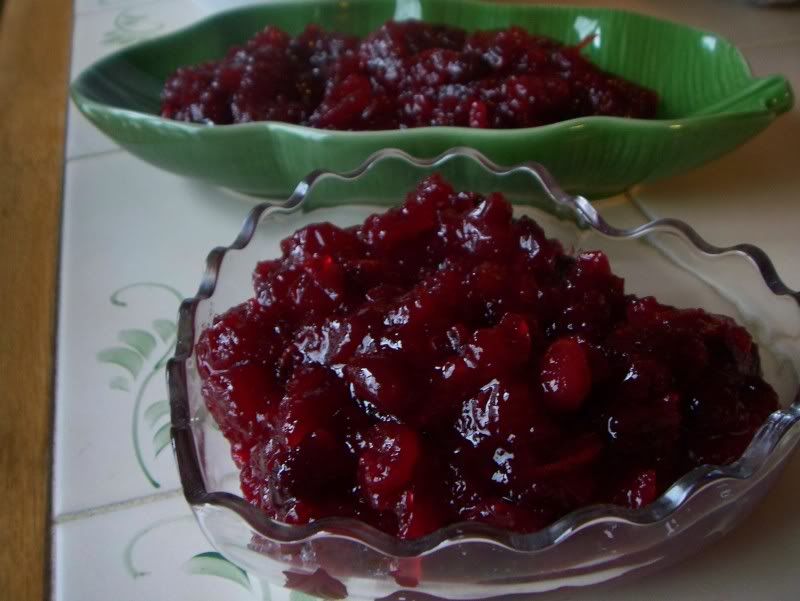 Easy Cranberry Relish
Ingredients:

Yield: 3-4 cups
16 ounces cranberries, fresh or frozen
1 1/2 cups sugar (a little more sugar, if you prefer it sweeter)
1 cup orange juice
1 tablespoon grated orange rind

Combine all ingredients in a 3-qt microwave safe bowl; mix well.
Cover with wax paper.
Microwave on high for 5 minutes.
Stir well; recover with wax paper.
Microwave on high for 5 minutes again.
Stir well; recover with wax paper.
Microwave another 5-7 mins longer until cranberries pop, and sauce has thickened.
Let stand, covered until cool.
Transfer to serving bowl and chill for 3-4 hours.