This year, Thanksgiving was hosted by my in-laws. I say that with a little sigh of relief. As much as I love preparing Thanksgiving dinner for a group of people, I do also enjoy being able to socialize with my family, instead of being paranoid about how much longer the turkey is going to need in the
oven
. Just because I'm not hosting doesn't mean I come empty-handed. As of last year, we have a new favorite cranberry relish (recipe coming!) which I made, and I had really wanted to find a dessert that I could bring that wouldn't duplicate what was already there.

With the classic pumpkin and apple pies spoken for, I had the chance to find something a little different to prepare from our usual desserts. My mother-in-law and her mother make fabulous pies – who wants to compete with that?

One early Saturday morning Food Network was having their Thanksgiving show extravaganza. A show called Dessert First came on, and the host, Anne Thornton, prepared a cheesecake that looked like a winner. What better time than Thanksgiving to try it out? This cheesecake still encompassed the autumn spirit, but wouldn't be too similar to the already-delicious desserts there.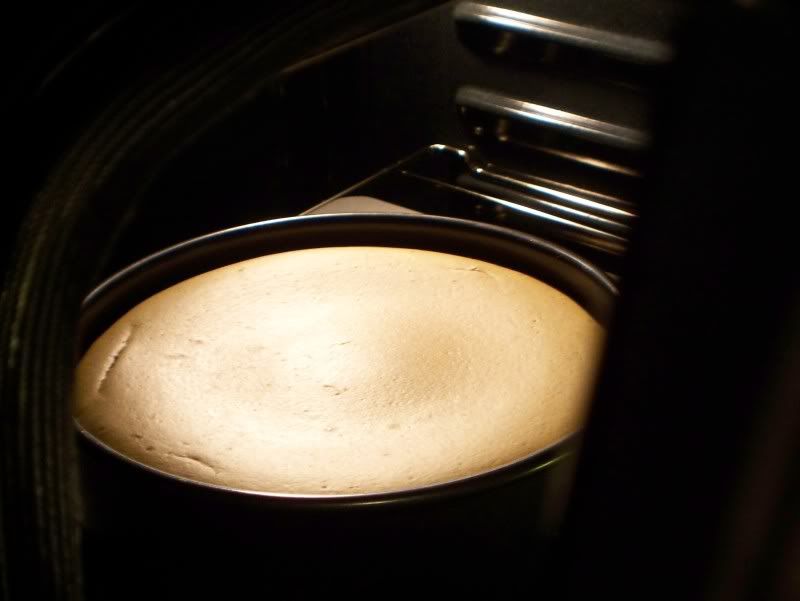 A peek into the oven with the cooling cheesecake!


The cheesecake itself wasn't cloyingly sweet, with a slight tang from the cream cheese and the warmth from the spices complimenting each other nicely. The topping was fabulous, it added the extra sweetness without overwhelming the entire cake. I decided to tweak the recipe by substituting a gingersnap crust for a graham cracker one, and I'm glad I did. The spicy gingersnaps added a little zing to the crust that the graham crackers would have lacked. But, if graham crackers are the only thing in your pantry, they would make a fine crust, too.

My only issue with the recipe was that when I baked the cheesecake, butter from the crust seeped out of my springform pan. I am not sure how to avoid that happening again other than using less butter.

The flavors only improve after a couple of days, so this is one dessert you don't have to wait until the last minute to prepare.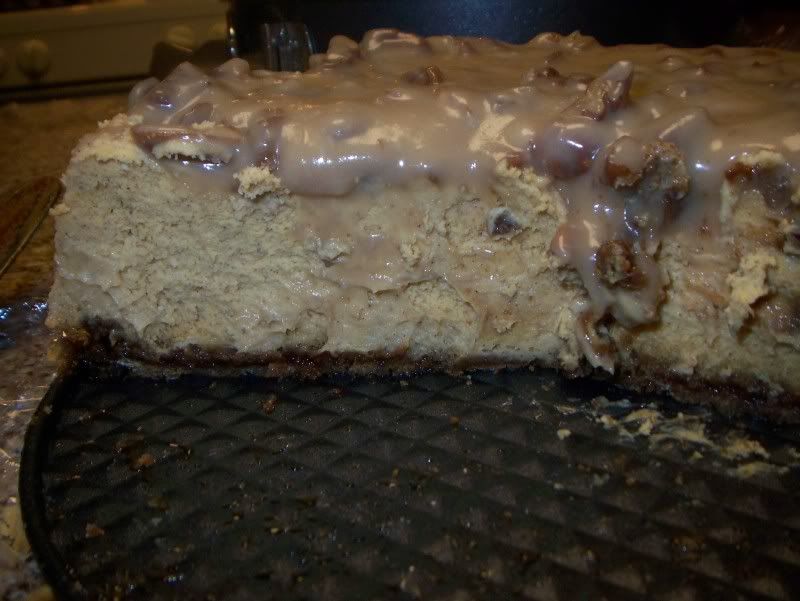 Maple Pecan Pumpkin Cheesecake
Adapted from Anne Thornton via
FoodNetwork.com
(there is also a very similar version on the Eagle Brand
website
)

Cheesecake:
1 1/3 cups gingersnap crumbs (from approximately 25 gingersnaps)
1/4 cup sugar
1/4 cup butter, melted
3 (8-ounce) packages cream cheese, softened
1 (14-ounce) can sweetened condensed milk
1 (15-ounce) can pumpkin
3 large eggs, at room temperature for 30 minutes
1/4 cup pure grade B maple syrup
1 1/2 teaspoons ground cinnamon
1 teaspoon ground nutmeg
1/2 teaspoon fine sea salt

Maple Pecan Glaze:
1 cup whipping cream
3/4 cup pure grade B maple syrup
3/4 cup chopped pecans
Directions
Preheat the oven to 325 degrees F.

For the cheesecake: Finely crush the gingersnaps in a plastic bag with a rolling pin or use a food processor. In a large bowl, combine the gingersnap crumbs, sugar, and melted butter and firmly press into the bottom of 9-inch springform pan.

Cook the crust for 10 minutes at 325 and let it cool completely in pan. Stack 3 large sheets of foil on work surface. Place same cake pan in center. Gather foil snugly around pan bottom and up sides to waterproof.

In a standing mixer with a paddle attachment, mix the cream cheese until fluffy. Gradually mix in the sweetened condensed milk until smooth. With the mixer on medium, add the pumpkin, eggs, maple syrup, cinnamon, nutmeg, and salt. Mix well and pour into the springform pan.

Place wrapped cake pan in large roasting pan. Pour enough hot water into roasting pan to come halfway up sides of cake pan. Bake cake until filling is slightly puffed and moves only slightly when pan is shaken gently, about 1 hour 25 minutes. Remove cake pan from water bath; remove foil. Cool cake in pan on rack 2 hours.

Bake until the center appears nearly set, but jiggles a little when shaken, 1 hour and 15 minutes. Cool for 1 hour. Cover and chill overnight, or for at least 4 hours.

For the glaze: In a medium-sized saucepan, combine the whipping cream and pure maple syrup and bring it to a boil. Boil until slightly thickened, 15 to 20 minutes, stirring occasionally. Stir in the chopped pecans. Cover and chill until time to serve. Stir before serving.

To serve: Spoon the Maple Pecan Glaze over the cheesecake.