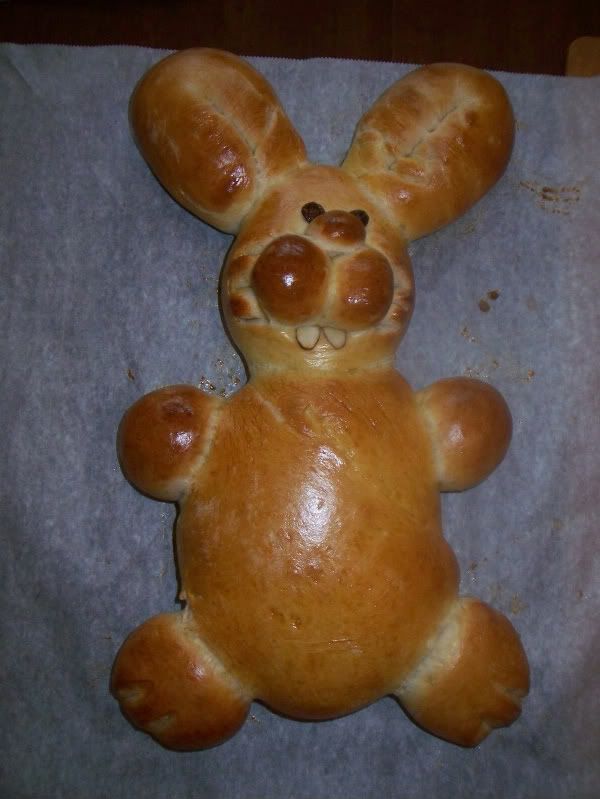 It's been nearly two years since we've owned our house, and I am still shocked at how few decorations we have. Aside from some Christmas lights, my homemade thanksgiving decorations and an Easter serving platter, we have very few things with which to adorn our house for specific holidays. It's true that the money we saved on decorations has most likely contributed to the fact we've been able to afford new appliances as we need them, but I definitely enjoy the feel of a home that is lovingly decorated for each season. Unlike Thanksgiving, I didn't have a lot of time to make decorations this time; so I figured I'd adorn our table with something that is not only cute, but multi-purposed - an Easter-themed decoration that is also our table centerpiece, appetizer and bread for the meal.

The original recipe for the Easter Bunny bread called for using one-pound tubes of frozen bread dough. I did not even know there was such a product, not to mention I did not know where to look for it in the store. So I just decided to make my own bread and just measure off the necessary amounts of dough for the recipe.

This Easter Bunny was fun to make, and my family got a kick out of me lovingly sculpting him out of bread dough. He so cute coming out of the oven that I felt incredibly guilty cutting the midsection out of the poor bunny, but you have to do what you have to do. I can promise that covered his eyes beforehand and that he didn't suffer. The cavity was then lined with lettuce and filled with a garlic, lemon and dill dip and fresh veggies (as well as the cubed bread cut from the midsection) were laid out on the platter to serve as an appetizer prior to the meal being served.

Once dinner was ready, it was time to dig into our little bread bunny. To be honest, I was a little worried how my family would react to ferociously dismantling an innocent rabbit to get a dinner bun, but my fears were soon put to rest as soon once husband asked for the left ear. Everyone else started asking for cheeks, arms, legs and portions of the head. They were rewarded with soft bread that had a relatively tight crumb and subtle sweetness from the honey.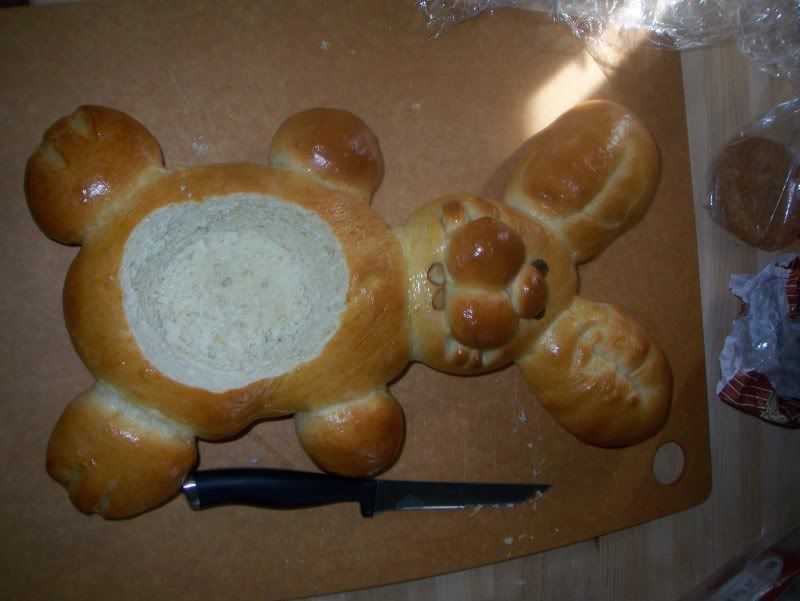 Even if you don't have to heart to make, bake and eat an Easter Bunny, you can make this bread as per its original instructions and have a wonderful braided loaf to proudly serve with your Easter dinner.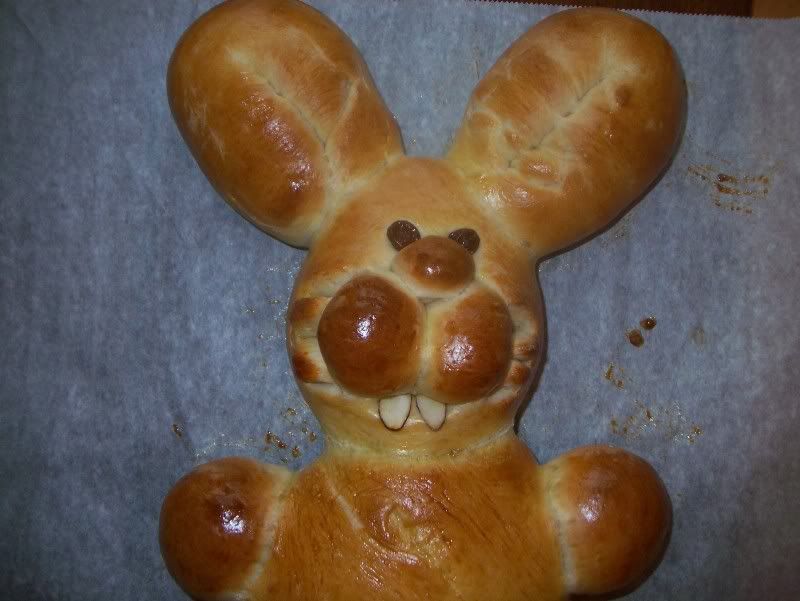 Honey Buttermilk Bread
Adapted Slightly From
NY Girl Eats World


1/2 cup warm water
1 packet of yeast
1 tsp sugar
1 ½ cups buttermilk, slightly warmed
2 Tbsp butter, melted
1/4-1/2 cup honey
6 cups flour, separated
egg wash (1 beaten egg with 2 Tbsp water)
sesame seeds, optional

Pour the warm water into the bottom of a large bowl and add the yeast. Then sprinkle in the sugar and then let it sit for 10 minutes. It should be foaming by this point.

Once the yeast has foamed and frothed, add the butter, milk and honey, whisking it all together vigorously.

Add 2 cups of flour and mix with a wooden spoon until incorporated. Add two more cups and mix well. Once the dough is pulling away from the sides of the bowl, add a cup more to soak up the rest of the moisture.

Scatter the remaining cup of flour on your kneading surface. Dump the shaggy dough from the bowl and begin gathering it into a ball and kneading it. Knead the dough for 5 to 10 minutes until you have a smooth, firm pale-yellow ball of dough that gives a thud when you slap it.

Grease the bowl you mixed the dough in and put the dough back in. Let it sit and rise for an hour and a half in a warm place.

Preheat the oven to 350 degrees. When the dough has risen to double its original size, gently punch it down and turn it back out on a lightly floured surface.

If you plan on making the easter bunny bread, skip this last part and start with the Easter Bunny Bread directions. Otherwise, continue this recipe to get a delicious loaf of bread that doesn't look like Bugs Bunny.

Easter Bunny Bread Directions
From

Taste of Home

published in Quick Cooking March/April 2001, p13

Ingredients
2 pounds of bread dough (one batch of the recipe above should suffice or you can use two 1 pound frozen loaves, thawed)
2 raisins
2 sliced almonds
1 egg, lightly beaten
Lettuce leaves
Dip of your choice (I used the Creamy Garlic Dill Dip found below)

Directions
Cut a fourth off of one loaf of dough; shape into a pear to form head. For body, flatten remaining portion into a 7-in. x 6-in. oval; place on a greased baking sheet. Place head above body. Make narrow cuts, about 3/4 in. deep, on each side of head for whiskers.

Cut second loaf into four equal portions. For ears, shape two portions into 16-in. ropes; fold ropes in half. Arrange ears with open ends touching head. Cut a third portion of dough in half; shape each into a 3-1/2-in. oval for back paws. Cut two 1-in. slits on top edge for toes. Position on each side of body.
Divide the fourth portion of dough into three pieces. Shape two pieces into 2-1/2-in. balls for front paws; shape the remaining piece into two 1-in. balls for cheeks and one 1/2-in. ball for nose. Place paws on each side of body; cut two 1-in. slits for toes. Place cheeks and nose on face. Add raisins for eyes and almonds for teeth.

Brush dough with egg. Cover and let rise in a warm place until doubled, about 30-45 minutes. Bake at 350° for 25-30 minutes or until golden brown. Remove to a wire rack to cool.

Place bread on a lettuce-lined 16-in. x 13-in. serving tray. Cut a 5-in. x 4-in. oval in center of body. Hollow out bread, leaving a 1/2-in. shell (discard removed bread or save for another use). Line with lettuce and fill with dip.

Yield: 1 loaf.

Creamy Dill Dipping Sauce
Adapted from

AllRecipes.com



Ingredients
3/4 cup sour cream
2 tablespoons chopped fresh dill (or 2 tsp dried dill)
1 teaspoon lemon juice
1-2 cloves finely diced (or pressed) garlic
salt and pepper to taste

Directions
In a small mixing bowl, combine sour cream, garlic, dill, lemon juice, and salt and pepper. Cover and refrigerate at least 1 to 2 hours before serving.

Flatten and shape the dough into a rectangle, then cut it into three equal strips, lengthwise. Cross the strips into a braid and tuck the ends under. Move the bread to a greased baking sheet and let it rest for 15 minutes.

Brush the egg glaze over the top of the bread, which will give the finished bread a nice sheen, and sprinkle the bread with sesame seeds, if using. Finally it's time to perfume the house with the sweet scent of this golden loaf: Bake in the oven for 30-40 minutes and let cool.