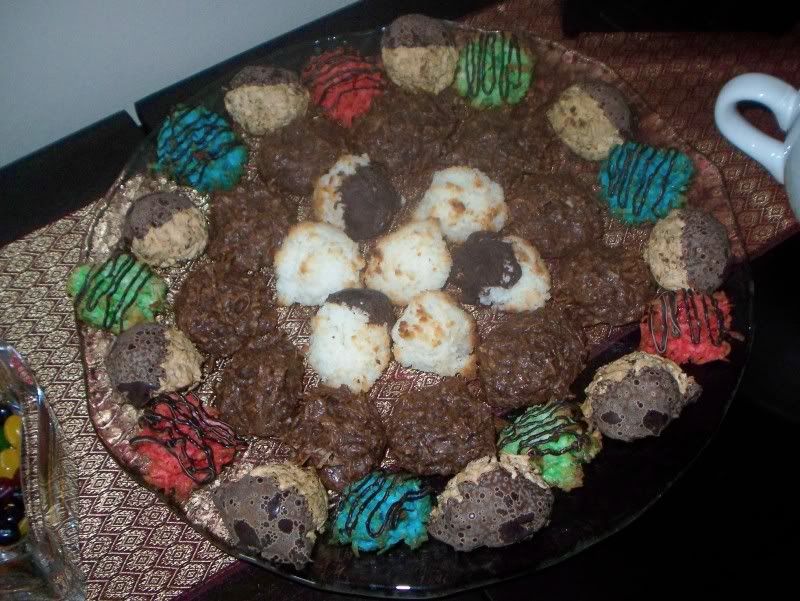 With a week to go before Easter, I figured it might be fun to delve into some Easter goodies! For some reason, even with all the chocolate bunnies, Cadbury Crème eggs, jelly beans and assorted other Easter candy, I always look forward to the macaroons the most. Don't get me wrong, I won't ever turn down the opportunity to chomp the ears off of an unsuspecting chocolate bunny, or stuff myself to the gills with Jelly Bellys, but, if I want an Easter tradition that I can truly savor and enjoy, it's the macaroon. I wanted to find a good macaroon recipe to share with my family and was not really surprised that an internet search for 'macaroon recipe' returned a ton of results. I was surprised, however, at the many different types of macaroons out there. Because I was intrigued by the results of my search, I pulled four macaroon recipes to try. Yes, four. And if you can believe it, these cookies were all made in one evening. I know, it's crazy. But sometimes we do crazy things in the name of food.
Part One: Classic Macaroons
I figured the best place to start would be the beginning, with the cookie that started this process. The classic coconut macaroon. Just by hearing the word macaroon, I envision a very specific cookie. To me, a macaroon is creamy colored and slightly toasted on the outside, not sticky, and when you bite into it, you get the slight crispness on the outside coupled with a soft, melt-in-your-mouth center. It should have a slight chew, but if I can't swallow it after about four or five bites, it is too chewy.
This recipe from Baking Bites fit the bill. The picture featured with the recipe look exactly like the cookies I was imagining, so I gave this recipe a try. Everything about making these cookies went pretty smoothly, I only had a slight issue when trying to put the cookies on the baking sheet. The cookies themselves are either very delicate, or else I manhandled them, because fell apart pretty easily as I was trying to spoon them out. A quick fix stuck them back together and then into the oven they went.
The end result was exactly what I envisioned a perfect macaroon. I had hit coconut bliss but, I wasn't done. There were three more recipes that caught my attention, and I had to see if there were any macaroon versions I liked more than the original. And don't let the fact that you need a food processor discourage you - these are worth a little extra cleanup!
Up Next: Macaroon Mania! Part Two: Chocolate Drizzled Macaroons
4 cups shredded, sweetened coconut (unsweetened is fine, too)
1 tbsp rum (or 1 tsp vanilla extract)
Preheat oven to 350F. Line a baking sheet with parchment paper
Place shredded coconut into a food processor bowl and pulse several times until coconut is finely chopped (not into coconut flour, but into approx. small, rice-sized bits).
In a large bowl, whisk together egg whites, sugar and salt until smooth. Whisk in cornstarch and rum. Stir in coconut, making sure the entire mixture is an even consistency.
Drop by rounded teaspoons (so roughly 2 tsp balls, if using a standard measure) onto a parchment lined baking sheet.
Bake for 15-20 minutes, until golden on the bottom and top.
Cool on baking sheet for 5 minutes, then transfer to wire rack to cool completely.
Makes about 3 – 3 1/2 dozen
Linked to: