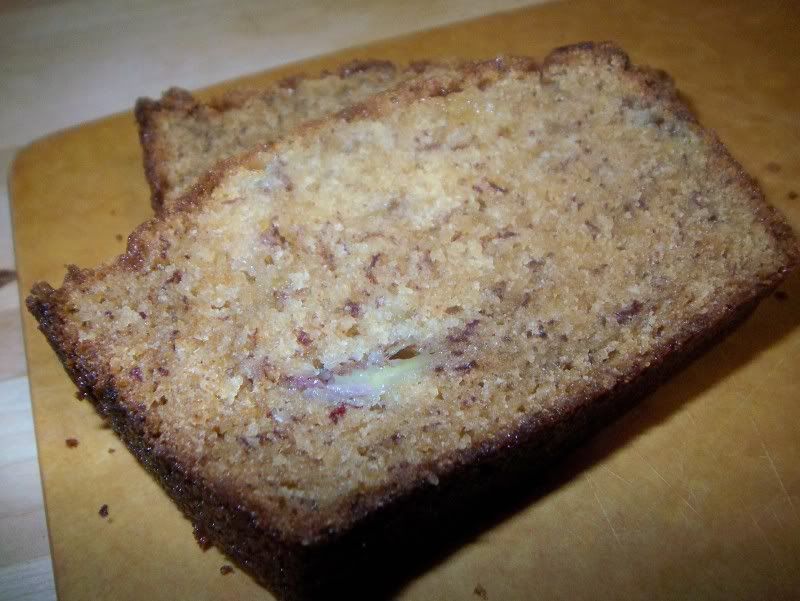 So many incarnations of banana bread have exited my kitchen that for once, I wanted to try just a basic banana bread recipe. No frills, no gimmicks, no healthyfying. Good old banana bread. I scoured through many of my cookbooks, and found two options. One was in a Southern Living cookbook from 1985 which included a half cup of shortening in the recipe. Hmm. Though I am not looking for a 'healthy' version (aka applesauce instead of oil, whole wheat flour, etc) a half cup of shortening in one loaf is a little too much for me to be comfortable eating. The other recipe was in a Bride and Groom cookbook from our wedding. It was called Unbelievable Banana Bread. Sounds promising, right? From the recipe, there are two main changes. First, because I did not need two loaves of banana bread sitting around my house, the recipe was cut in half. Second, the nuts were omitted because I was just too darn lazy to go to the store and buy them. How's that for honest?

Another honest truth? This banana bread was delicious. Like, I-keep-sneaking-pieces-even-though-I-know-no-one-is-watching delicious. And despite my resolution not to 'healthyfy' it, this recipe isn't all that terrible for you. I was a little concerned watching it bake because it doesn't get a lot of lift, and I was half expecting to pull a banana brick from the oven. I was also noticing how quickly the outsides of the loaf started to brown, and thought it would burn on the outsides before it set up inside. I was expecting to be writing a post about 'The Ultimate Banana Bread Failure.'

Instead, the loaf came out of the oven and had a wonderful somewhat chewy/crunchy crust on the outside resulting from the banana and brown sugar caramelizing in the oven. It didn't burn. Nor did rise up like I expected, but it was a dense yet soft intensely banana-flavored loaf. I love that I cut through it and can see little chunks of banana.

This is definitely my go-to Banana Bread recipe.


Ultimate Banana Bread
Adapted from Bride and Groom Cookbook

1 c and 2 Tbsp AP Flour
1 tsp Kosher Salt
1/4 tsp Ground Cinnamon
1/4 c and 1 Tbsp Vegetable Oil
1 c and 2 Tbsp Sugar
1 egg, lightly beaten
3/4 tsp vanilla
3/4 tsp Baking Soda
1/4 c buttermilk or 1% milk mixed with 1-2 tsp lemon juice
1 c very ripe mashed bananas (about 2 medium)

Position a rack in the center of the oven and preheat to 350 degrees.

Spray a 9 x 5 pan with vegetable oil cooking spray.

Stir together flour,salt and cinnamon in medium bowl. Set aside.

Combine the oil and sugar in a bowl until combined. Add egg and vanilla and beat until incorporated, about 1 minute.

Stir baking soda into buttermilk(or milk and lemon mixture)in measuring cup or small bowl. Add one third of the dry ingredients, followed by half of the buttermilk mixture. Mix until combined. Add next third of dry ingredients and rest of buttermilk mixture. Stir until combined. Add last of dry ingredients and combine.

Add banana and mix until just incorporated. Don't overmix.

Pour batter into prepared pan. Bake until the bread is golden brown and a toothpick inserted in the center comes out clean. 55 minutes to 1 hour.

Let pans cool on racks for 5 minutes. Then remove loaves from pan and let sit on racks for at least 10 minutes until serving.