This is a fantastic dish that almost had a tragic ending.

I made this meal for a picnic appetizer, since you need relatively few utensils to enjoy this dish. The only time I had to make it was the night before we were to leave for our picnic, and due to other obligations that night, I was able to start cooking around 10 pm. I started off frying up the maifun rice sticks. Let me tell you, at 1030, watching those suckers puff up is one of the coolest things I've seen. I never imagined that little translucent noodle would become those curly, puffy sticks.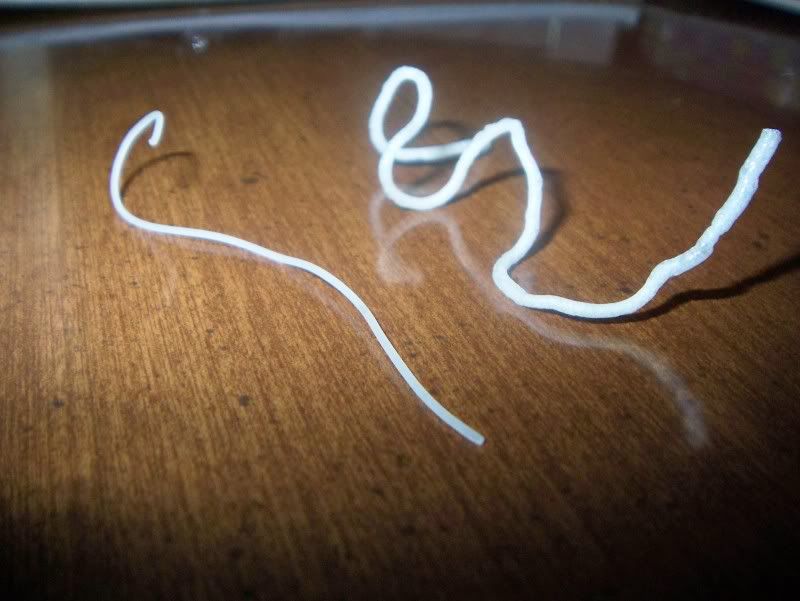 Before (left) After (right)



After setting those aside, I then started cooking the chicken. This was where the fun began. We have a terrible blower on top of our stove, and it pretty much does nothing when you turn it on. Therefore, it typically receives very little use in our kitchen. This evening, however, I decided I'd turn it on, because sautéing the chicken was a little smoky, and I wanted to try and clear out the fumes from the kitchen. I'm not really sure what happened, but when I turned on the blower, bright pink insulation from our attic started shooting out the front of the blower housing into the kitchen. It looked like a cotton candy was snowing from our stove. Amidt cries of "Nooooooo!" and my furious attempts to cover my saucepan so that the insulation wouldn't ruin my food (or be set ablaze by the gas burner), the smoke alarm in our living room was triggered.

The rest was a bit of a blur. My husband stepped in and managed to turn off the first smoke alarm, only to have another one down the hall start going off. He turned that one off, while I opened the window and the patio door to start airing out the kitchen. I turned off the blower and managed to get most of the insulation cleaned up.

Amazingly, the dish didn't suffer at all. The smoke was only because I used olive oil by accident, which has a much lower smoke point than the vegetable oil I had intended on using. I guess that's what happens when you're cooking late at night. And when you have blizzard conditions in your kitchen thanks to insulation.
With all the excitement in preparing the dish, I hadn't really thought about what to expect once the dish was finished. I was pleasantly surprised when I tasted it that it was reminiscent of the lettuce wraps at P.F. Changs. Truly a delight.
I have already made these a second time and thankfully had much less excitement. These are most likely becoming staple appetizer whenever we need one. Minus the smoke alarms and insulation, it is a relatively simple dish to prepare.

Enjoy!

Asian Chicken Lettuce Wraps
serves 2-3 as appetizer
Frying up Maifun Rice Noodles

Pour two inches of vegetable oil in a pan and heat until around 400 degrees F. Add maifun noodles, a little at a time and remove to a paper towl once puffed.

Filling
2 tsp Minced Ginger root
2 Tbsp Vegetable Oil
1 Large chicken breast, cut into small pieces(dime-sized)
1 c water chestnuts
2/3 c canned straw mushrooms
3 Tbsp green onion, chopped
3 cloves garlic, minced
Stir-fry sauce (see below)

Mince water chestnuts and straw mushrooms until the size of small peas. Set aside.
Bring two tablespoons of vegetable oil to high heat in wok or large frying pan. Saute cut up chicken until cooked through.
Add garlic, ginger, water chestnuts, straw mushrooms and green onion.
Add stir fry sauce to pan and saute 2-3 minutes or until hot.

Stir Fry Sauce
2 Tbsp Soy Sauce
2 Tbsp Brown Sugar
1/2 tsp Rice Vinegar

Mix in small bowl and set aside until needed.

Serving Sauce
1/4 c sugar
1/2 c water
2 Tbsp soy sauce
2 Tbsp rice vinegar
1 Tbsp lemon juice
1/8 tsp sesame oil

Dissolve sugar in water over low heat. Add soy sauce, rice vinegar, ketchup, lemon juice and sesame oil. Transfer to bowl and refrigerate until ready to use.

To serve:
Serve filling on top of a bed of fried maifun rice noodles. Have lettuce cups ready. To eat, spoon filling, noodles and sauce into a lettuce cup, roll like a burrito and eat. And for what it's worth, it's usually pretty messy - Go with it!