I'm a potato lover. Fried, baked, stuffed, scalloped, mashed, tater tot-ed..?... you name it, I love it.

The humble potato is a master of disguise, transforming from a lowly tuber into a variety of dishes, suitable for any time of the day. I love all types of potato, but the most common type on my table is either baked or mashed. The preparation is easy, and it takes little time to prepare. Not to mention I always seem to have a potato or two in my pantry threatening to sprout if I don't use them soon.

If your basic baked potato is an ugly duckling on your plate, the Hasselback Potato is your swan. A few slices of a knife, lots of garlic, some olive oil and seasoning, and you have a potato diva that refuses to take a back seat to your main course.

The easiest way to actually slice the potato without going through it is to either put chopsticks down on either side of the potato as 'stoppers' or to put the potato in a wooden spoon and use the edge of the spoon to stop your knife. It's a little strange and takes some getting used to, but it does work. And I inevitably slice one or two slices a little too close, and I end up cutting out a small wedge or two of potato. I usually just look around to make sure no one saw me, stick it right back in, and just don't tell anyone (except you, of course).
As another tip, my hubby and I love garlic. So much so that every crevice in the potato has garlic in it. If you don't like a lot of garlic, or have any desire to be in public within the next few hours, you can dial it back. I do think it's pretty how the garlic holds the slices of the potato open, though.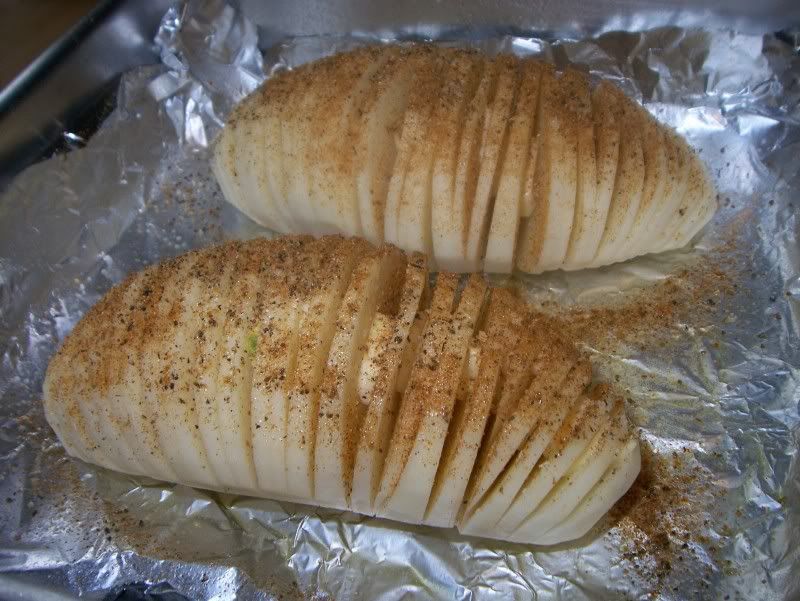 Here you can see the potatoes just before sticking them into the oven. Some olive oil, salt, pepper and of course, my version of these potatoes wouldn't be complete without a sprinkling of the magical fairy dust of the east. The east coast that is - Old Bay. That's another love story, for another day.

Hasselback Potatoes
2 Medium Russet Potatoes
4 cloves of garlic, thinly sliced
Olive Oil
Salt
Pepper
Old Bay
Parmesan (optional)

Preheat oven to 425 Degrees.

Put the potato on a cutting board (or wooden spoon) and cut nearly all the way through the potato, at about 3-4 mm intervals.

Arrange the potatoes in a baking tray and insert garlic between the slits. I used Pam Olive Oil spray to lightly coat the potatoes. Sprinkle with salt, pepper and old bay.

Bake for approximately 40 minutes or until the potatoes turn crispy and the flesh is soft.