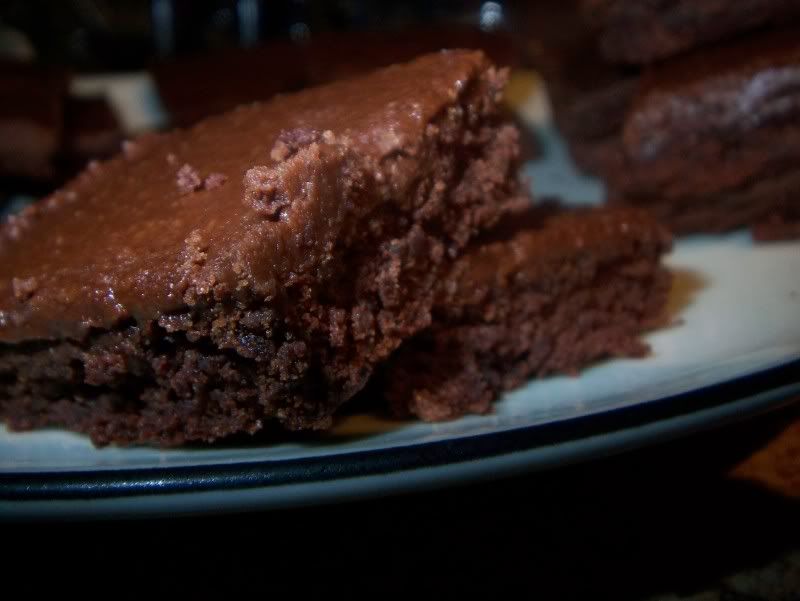 Which brownie camp are you in? Fudgy? Cakey? Plain? Iced? Nuts? I am definitely in the fudgy, no nuts camp. Jury's still out on whether icing is needed. I feel like a good brownie for me should be dense and fudgy and can hold its own without needing any icing. But I also know my affection for the Little Debbie brownies, you know the ones with nuts on top ? They were perfect, and they did have icing. I do have lots of brownie recipes, lots of good ones, however, I have yet to find the replacement for those treats.

I found this recipe for a chewy cocoa brownie and figured I'd give it a try. Well, two. After my first attempt at this recipe, I had to try again. Curious why?



I present to you, Exhibit A:



Remind you of anything in particular?
(Does anyone remember this show?)



Seriously? What was this nonsense? I could not believe what was happening in front of my eyes when I went to frost these brownies. The chocolate set up so fast that I couldn't even cover the brownies. My solution was simple, heat the oven up to 250 degrees, put the pan in to soften up the chocolate and keep spreading until the brownies were covered. Mind you, this took about 20 minutes until I was happy with how they were covered.

I then let them sit on the counter like a patient little baker so that they would set up and I could slice and remove them from the pan. What a disaster. The chocolate was so hard and brittle that as soon as I'd try to cut through with my knife, huge chunks would break and fall right off the top of the brownie.

Big. Fat. Fail.

Not to be deterred, I tried again the next weekend. I baked the brownies just a tad shorter, and they were noticeably softer and slightly chewier. The biggest difference was in the frosting. It's amazing how overcooking the frosting for even the shortest amount of time transforms it from a soft, luscious icing to the Agro Crag.



Take 2: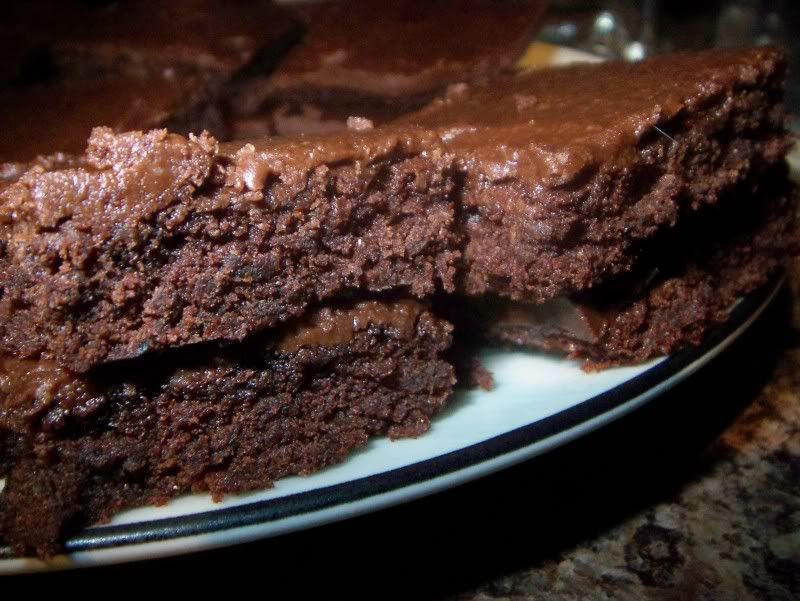 These still aren't the perfect brownies, but they are pretty darn good. I'm not sure I'd make them a third time, but they were delicious while they lasted.

The search continues...



Julie's Chewy Cocoa Brownies
From Laura Flowers

1 ½ cups granulated sugar
½ cup unsalted butter, softened to room temperature
½ teaspoon salt
4 large eggs, lightly beaten
1 teaspoon real vanilla extract
1/2 cup unsweetened cocoa powder
1 cup whole wheat flour or white whole wheat flour
1 cup chopped nuts of your choice (I use walnuts), optional

Preheat the oven to 325 degrees. Grease a 9x13 inch pan lightly with butter.
In a stand mixer or with a hand mixer, cream together the sugar, butter and salt. Add the eggs and vanilla extract and beat until combined. Mix in the cocoa powder and flour just until incorporated, then mix in nuts if using.
Spread the mixture into the pan. Bake for 35 to 40 minutes until the sides start to pull away from the pan and the brownies are no longer wet looking.
Cool brownies to room temperature before icing.

Brownie Icing Two Ways
3 tablespoons milk
3 tablespoons butter
1/3 cup granulated sugar
½ cup semi-sweet chocolate chips
A small pinch of salt if using unsalted butter

Bring the milk, butter, sugar, and salt if using to a simmer stirring often. Bring to a boil and boil for 2 full minutes stirring often. Remove the pan from the heat and stir in the chocolate chips until smooth.

For Matte Fudge Topping: Spread the hot icing over the brownies with a spatula until even. Cool completely to set.

For Shiny Glaze Topping: Pour the hot icing onto the brownies. Roll icing around the brownies by tilting the pan to coat, but do not spread with a spatula. Cool completely to set.