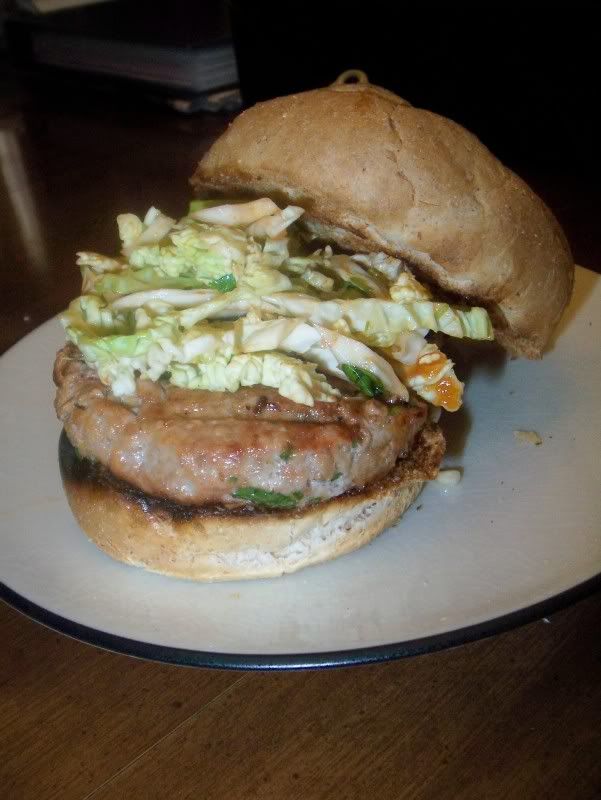 As much as I love a good burger, sometimes the classic beef patty can use a little 'pick me up.' When I first thought of suggesting a burger with an Asian flair, I thought it was going to be a hard sell. Most of the time, when I want a burger, I want a burger. A juicy, quarter-pound of beef with Worcestershire sauce, salt and pepper grilled over hot coals to perfection. To my surprise, however, the idea was well-received, and our burgers got a one way ticket to Asia.

I am familiar with cilantro, fresh ginger, lemon, soy sauce and sriracha being in some classically asian dishes, but I have to admit I scratched my head for a bit when I saw apple in the recipe. I did think for a short second that I'd omit it, because it seemed like such a strange addition to the burger. But, in a moment of culinary derring-do, I decided to go for it, and include the apple. What's the worst that could happen? After all, it wouldn't have been the first time a new recipe has landed us in a fast-food drive-through.

In the finished burger, the lemon, ginger and cilantro are the key players to its flavor. The apple didn't adversely affect the flavor as I was expecting and I feel like it is the reason we ended up with such an incredibly moist and tender burger.

One thing you need a warning about - these are delicate. There is no egg to serve as binder, and only a little bit of bread crumb. The original recipe instructed to cook the burgers in a heavy bottomed pan or cast iron skillet as a way to be a little more careful with the burger, I'm guessing. We chose to throw caution to the wind and grill ours. It takes a little bit of skill, and we still break one in half every once in a while, but it still tastes great, even if it's in a couple of pieces.

The slaw which accompanies the burger couldn't be easier. Considering how little effort is needed to make it, I'm definitely putting this in my arsenal for weeknight sides. I used my mandolin slicer to finely slice a half head of cabbage, and even that was too much for us. My picture does show the slaw on top of my burger, however, I decided to eat it as a side dish, as did my husband. I topped my burger with a little bit of fresh, chopped cilantro and a good slathering of sriracha.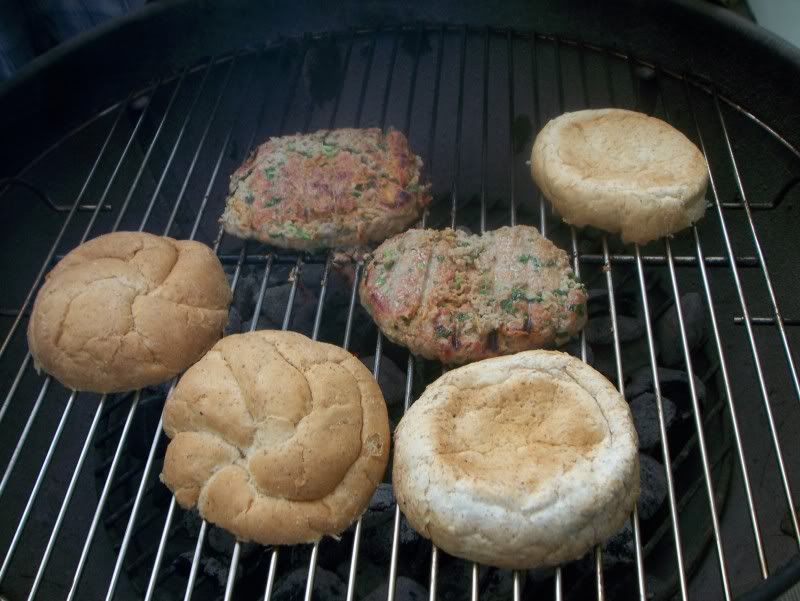 Spicy Asian Burgers
Adapted from Once Upon a Plate

Important: At least an hour before planning to cook them make patties as directed and refrigerate for at least 1 hour, up to 8 hours. *

Ingredients:
6 oz lean ground pork, chicken or turkey
1 tablespoons Panko (dry Japanese bread crumbs)
1/2 small to medium size Granny Smith apple, peeled, and very finely diced or coarsely shredded
1 tablespoon finely grated fresh ginger root ~ do not substitute (omit if unavailable)
Pinch ground pepper
2 teaspoons hot chili sauce (Sriracha), more if you like spicy
1 garlic clove, finely minced
1/2 tablespoon fresh lemon juice, and 1/2 teaspoon grated zest
2 teaspoon soy sauce
1 1/2 teaspoons scallions, thinly sliced (white and green parts)
2 tablespoons cilantro leaves (or flat leaf parsley), finely chopped


For the Slaw:
Mix together at the last minute while burgers cook as it quickly wilts)
2 cups finely shredded cabbage (lightly packed - less than half a head)
1 tablespoon cilantro leaves, chopped
1 tablespoon scallion (white and green parts), thinly sliced
2 to 3 teaspoons (or to taste) Sweet Chili Sauce

Optional Garnishes:
Additional Cilantro leaves
Chopped Cashews or Peanuts
Drizzles of dark, flavorful Sesame oil
Additional hot sauce, or sweet chili sauce

To make the patties:
Place the ground meat of choice in a medium mixing bowl. Add the remaining ingredients, mix thoroughly so ingredients are evenly distributed through the meat. Shape into two regular size burgers. Chill in refrigerator for at least 1 hour(up to 8 hours) This step is necessary to firm the patties so they hold their shape while cooking.

To cook:
Preheat a heavy frying pan (well seasoned cast iron works great) over medium heat until hot (or use your grill like we did, just be careful!). Add about 1 tablespoon vegetable oil. Add meat patties to hot oil (don't crowd). Cook for 6 to 7 minutes per side (depending upon how thick the burgers are), turning once, until meat is thoroughly cooked. Remove to a plate and allow to rest for 5 minutes; keep warm by tenting loosely with foil.