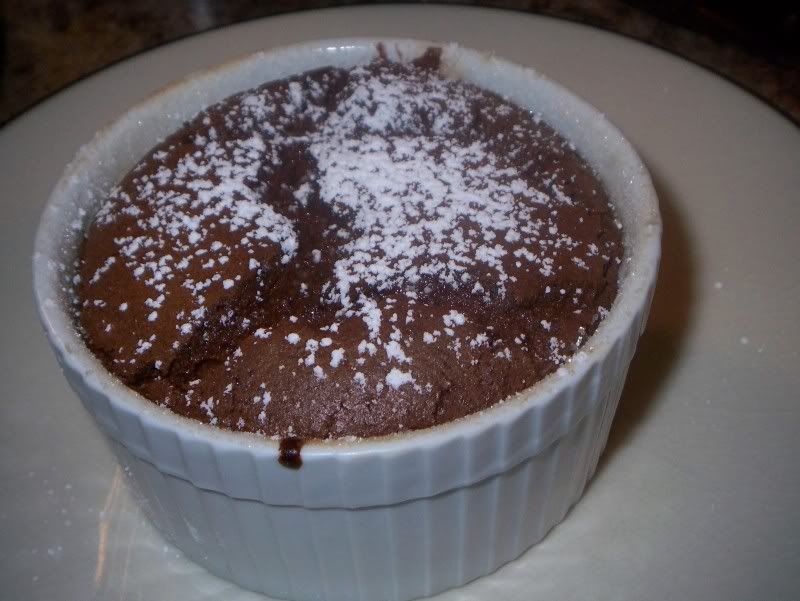 Souffle always sounds so exotic. Like one of those desserts you only get when you're in an expensive restaurant. I've only had maybe two or three in my life, but that didn't stop me wanting to try it for myself. All-in-all, I think it was an ok recipe, but I think I had two flaws – 1. I didn't have the classic 'molten center.' They're really hard to tell when they are finished, so I'm pretty sure mine baked a little too long. 2. I didn't get the huge "pouf" over my ramekins because mine were 50% larger than the ones specified in the recipe. I may have also overbeaten my eggs slightly.

It was actually fun to turn on the light and watch these puppies puff up in the oven. Even though they didn't bloom over the tops of the ramekins, the amount of rise was still rather astonishing. It actually rises fast enough that you can see it moving! They climb the sides of the ramekins ever so steadily until they finally set up.

While it was a successful souffle, it wasn't what I'd call a 'home run' in the flavor department. So because of that, and because I think I still need to work on my technique a bit, you can count on another souffle coming out of my kitchen eventually.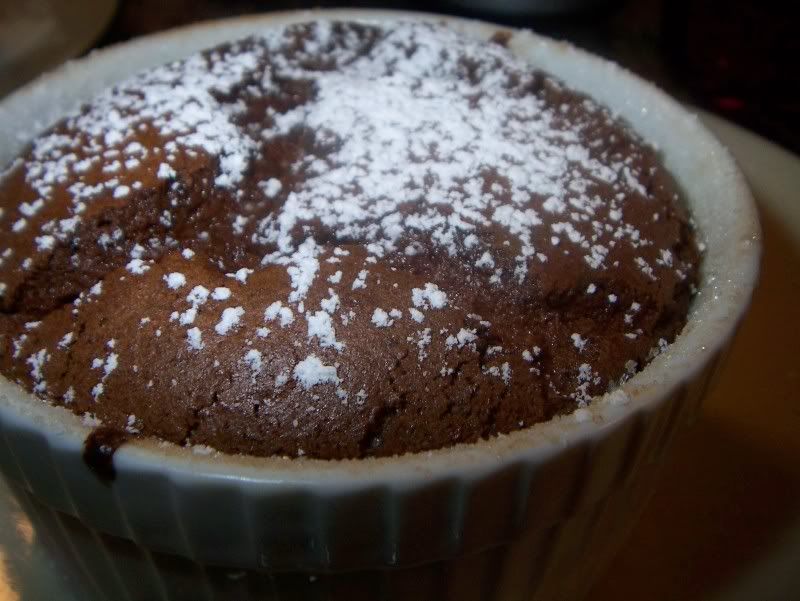 Bittersweet Chocolate Souffle


Makes 4

15 g flour
100 g bittersweet chocolate
15 g butter, plus more for greasing ramekins
2 egg yolks
4 egg whites
125 ml milk
15 g sugar, plus more for coating ramekins
1 tsp vanilla extract
10 ml rum
Confectioners sugar

Preheat oven to 400 degrees F.

Coat 4 (6-ounce) ramekins with butter, and sprinkle with granulated sugar.

Over a bain marie, melt chocolate over low heat. Do not stir until melted. In a pan, heat flour and butter until mixture thickens. Add the milk and whisk for about two minutes. Remove the mixture from heat and add to melted chocolate. Gradually stir in vanilla, rum and egg yolks, one at a time. Spoon chocolate mixture into a large bowl; cool.

Place egg whites in a large bowl; beat with a mixer at high speed until foamy. Gradually add 1/4 cup granulated sugar and cream of tartar, beating mixture until stiff peaks form. Gently stir one-fourth of egg white mixture into chocolate mixture; gently fold in remaining egg white mixture. Spoon into prepared ramekins.

Reduce the heat to 375°F and bake for 10-12 minutes or until puffy and set. Sprinkle with confectioners' sugar.

Makes 4 individual soufflés