A couple years back, when my parents were visiting me in Chicago, we decided to go to the farmers market near my apartment. Here we found a place called
Pappardelle's
that sells nothing but pasta. There must have been thirty different kinds of flavor-infused pasta, from dark chocolate linguine to sweet potato orzo. I don't even remember what we bought (I think it was a linguine that had sun-dried tomato in it), but I do remember it being such a wonderful change of pace from a traditional pasta. I also remember it was somewhat pricey for a pound of pasta compared to what you can get in the grocery store but, on the rare occasion I wouldd buy it, it was worth the splurge.

Since moving, I haven't been able to go back to that Farmer's Market, so my pasta has only been coming from the grocery store shelves. Last week, however, I ventured into the new
French Market
at the Metra station to discover that Pappardelle's has a distributor there. After perusing their choices, and trying a sample or two, I finally decided on a Wild Habanero Radiatori and a Chive shell.

The Habanero was too unique to pass up. Since the husband and I both enjoy spicy foods, I doubted it would overwhelm us. I did notice that even the dry pasta had a noticeable heat to it, so I was really looking forward to using it in a dish.

The recipe we finally decided on is supposed to highlight the pasta – complimenting it without overwhelming it. It's actually a variation on a pasta we make many nights for our "Pasta Tuesdays." Because Wild Habanero Radiatori is most likely not something in your pantry, I'm giving the recipe for the typical dish we make, and just highlight my adaptations in red.

And for the record, this pasta was hot! Not tongue-blistering, but it definitely smacks you in the face when you take a first bite. And, the more you eat, the more the heat accumulates. Unfortunately, we can't afford to have this pasta all the time, but every once in a while I might bring home a meal's worth to give us a little more variety. I'm looking forward to using the shells I purchased in the near future!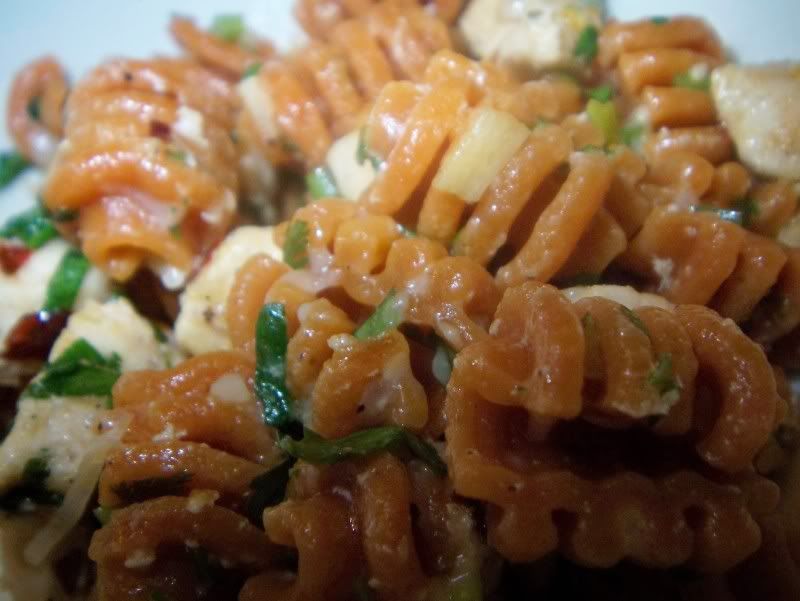 "Fired Up" Lemon Pasta with Chicken
Adapted from The Neelys Easy Lemon Pasta with Chicken from FoodNetwork.com
http://www.foodnetwork.com/recipes/down-home-with-the-neelys/easy-lemon-pasta-with-chicken-recipe/index.html

4 oz pasta (we used Pappardelle's Wild Habanero Radiatori)
1 large chicken breast, chopped (or ¼ lb shrimp)
Salt and freshly ground black pepper
3 cloves garlic, sliced
2 teaspoon red pepper flakes
1 tablespoon olive oil
2 tablespoons roughly chopped fresh parsley, for garnish (I used cilantro for this dish because it's what we had on hand and we hoped it would have a slight cooling effect when coupled with such a spicy noodle )
1 lemon, juiced
2 Tbsp grated Parmesan

Cook the pasta in a large pot of boiling salted water, until al dente. Drain well. (My pasta cooked in boiling water for 6 minutes.)

Season chicken with salt and pepper. Heat a large grill pan over medium high and add chicken. Sauté until cooked through. Remove to plate.

Add the garlic and red pepper flakes to a saute pan with 1 tablespoon of olive oil and sauté until fragrant. Add the cooked pasta and turn heat off. Mix all together.

Remove pasta to a large bowl. Add chicken to the warm pasta and season with salt and pepper. Sprinkle in chopped parsley. Add the lemon juice and mix. Before serving top with Parmesan.