With a few days to go before the Super Bowl, I wanted to share a recipe that will please any guest at your Super Bowl party, football lover or not. Step aside, churros. Move out of the way, nachos. When it comes to foods fit for game day, the soft pretzel wins my heart over every single time. But stuffing the soft, bite-sized nuggets with ham and cheddar – that sends me over the moon.

I think a lot of my soft pretzel love is due to the fact that they are so versatile. They can be eaten plain, savory or sweet, or be dipped in pretty much anything your heart desires. And when you're at the stadium, you just ring it around your finger and still carry two or three drinks back to your seat.

In Baltimore, a popular appetizer is a king-sized soft pretzel, smothered in crab dip, covered in cheese and then baked until hot and melty. I have gotten that as my dinner on more than one occasion. Even now, the pretzel world is expanding into stuffed pretzels, proving that there are even more options than ever. One of the more well-known brands I've seen are Kim and Scott's http://www.kimandscotts.com/ stuffed pretzels. They have both sweet and savory varieties of stuffed pretzels, from chocolate pretzels stuffed with fudge, cinnamon-sugar topped pretzels stuffed with apple pie filling, and cheese-topped jalapeño-cheese stuffed pretzels.

Hands down, my favorite pretzel is traditional German Bavarian pretzels, which are difficult to find outside of Oktoberfest celebrations here in the US. The pretzels in German beer gardens are the best I've ever had. Instead of trying to replicate a perfect plain pretzel, I figured I would spice things up a bit. I decided to make my usual pretzel dough, stuff them with ham and cheese and make little nuggets out of them. They are a perfect, portable appetizer, suitable for hot or room-temperature consumption.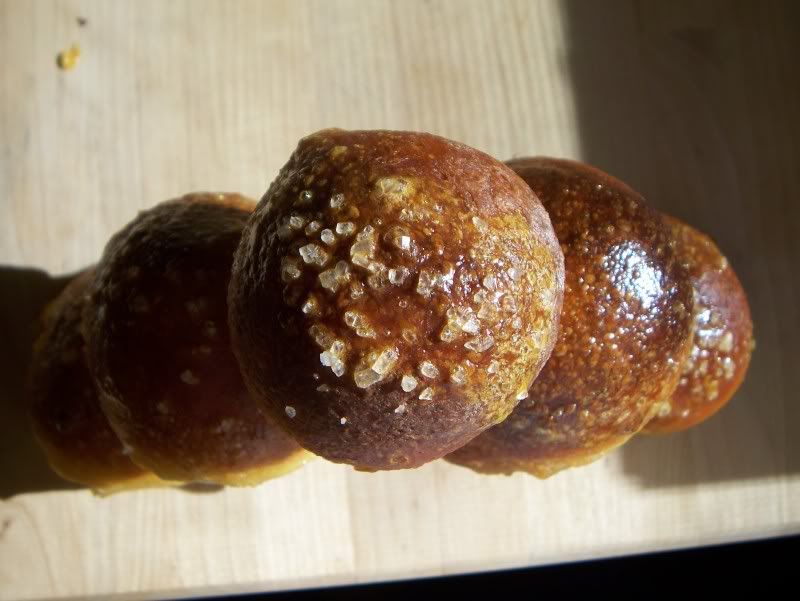 I also decided to have some fun and make an actual pretzel-shaped pretzel as well as one stuffed with ham and cheddar, in the style of those Kim and Scott's pretzels – just to see what would happen. The regular one was easy to roll into a tube and then create the pretzel knot. The stuffed one was a little more complicated, but was definitely worth the wow-factor.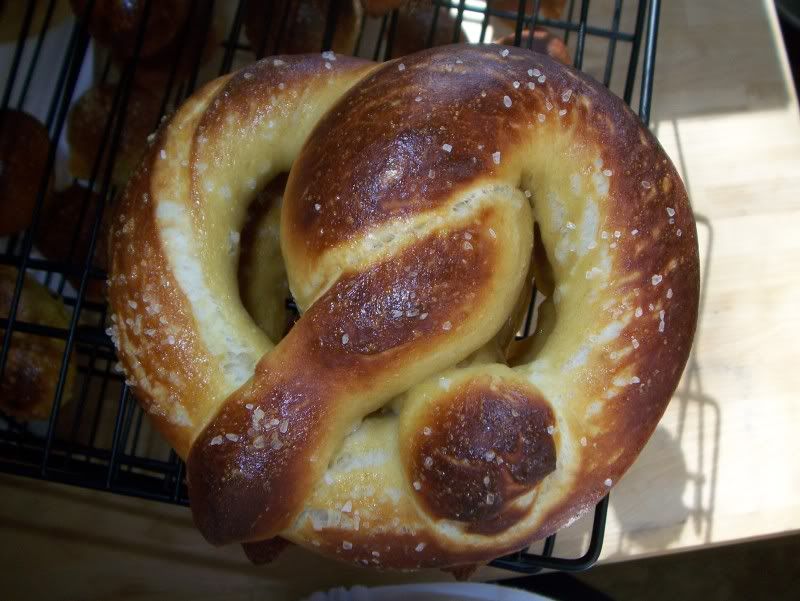 These were fantastic. The outside could have had a little bit of a thicker crust, but it was not a fatal flaw. I did notice, though, that the longer pretzels sat at room temperature, the more of the salt seemed to dissolve into the outer skin. When eating the pretzel, it would have the correct level of saltiness, but it was missing the crunch that the pretzel salt brings. Which means I will either be investing in some pretzel salt, or eating the pretzels faster. Probably eating them faster, knowing me.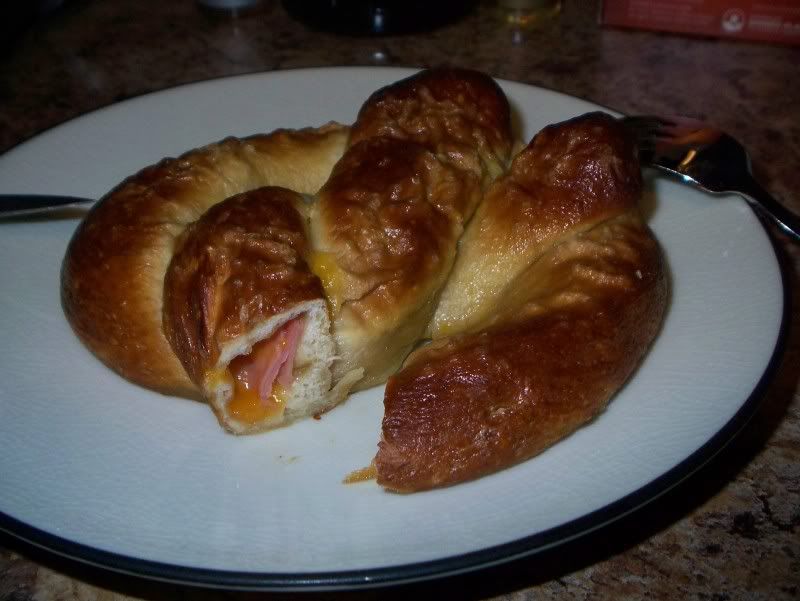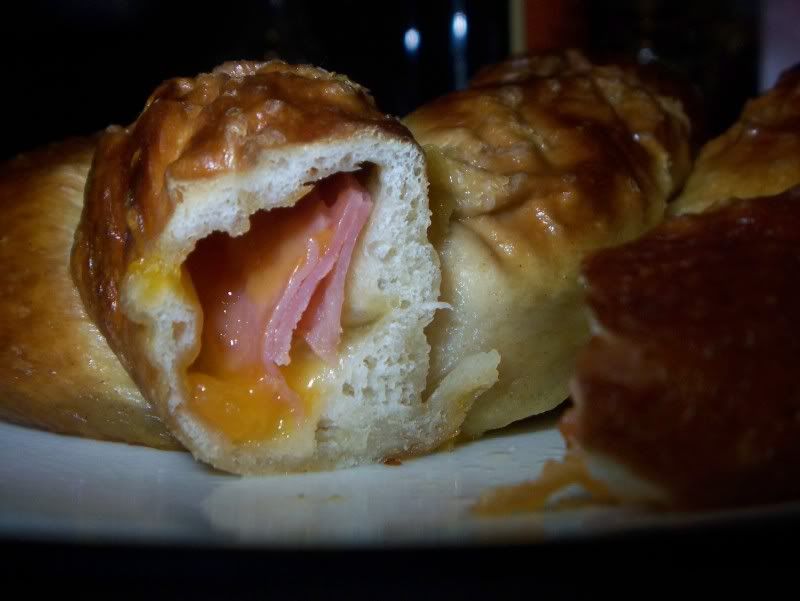 Ham and Cheddar Stuffed Pretzels

Pretzel Dough Recipe from Alton Brown via FoodNetwork.com
About 5 dozen pretzel bites or 8 regular pretzels (or be crazy and do a combination of both!)

My adaptations to this basic recipe are in italics.

Pretzel Dough
1 1/2 cups warm (110 to 115 degrees F) water
1 tablespoon sugar
2 teaspoons kosher salt
1 package active dry yeast
22 ounces all-purpose flour, approximately 4 1/2 cups
2 ounces unsalted butter, melted
Vegetable oil, for pan
10 cups water
2/3 cup baking soda
1 large egg yolk beaten with 1 tablespoon water
Pretzel salt

Filling
8 oz cheddar, shredded
8 oz deli ham, cut into small pieces or pulled apart


Combine the water, sugar and kosher salt in the bowl of a stand mixer and sprinkle the yeast on top. Allow to sit for 5 minutes or until the mixture begins to foam. Add the flour and butter and, using the dough hook attachment, mix on low speed until well combined. Change to medium speed and knead until the dough is smooth and pulls away from the side of the bowl, approximately 4 to 5 minutes. Remove the dough from the bowl, clean the bowl and then oil it well with vegetable oil. Return the dough to the bowl, cover with plastic wrap and sit in a warm place for approximately 50 to 55 minutes or until the dough has doubled in size.

Preheat the oven to 450 degrees F. Line 2 half-sheet pans with parchment paper and lightly brush with the vegetable oil. Set aside.

Bring the 10 cups of water and the baking soda to a rolling boil in an 8-quart saucepan or roasting pan.

In the meantime, turn the dough out onto a slightly oiled work surface and divide into 8 equal pieces.


For the individual pretzels, roll one of your eight pieces into a rope about 24 inches long. Twist into a pretzel shape, set aside. To stuff the pretzel, roll one of your eight pieces into a rope about 24 inches long, and then flattened out to about an inch wide. Run 1 oz of cheese and 1 oz of ham up the middle of the flattened dough, and then pinch the dough shut around the filling, trying to remove as much excess air as possible from the inside. Then the dough can be carefully knotted into the classic pretzel shape. Make a U-shape with the rope, holding the ends of the rope, cross them over each other and press onto the bottom of the U in order to form the shape of a pretzel. Place onto the parchment-lined half sheet pan.

For the nuggets, divide each of the eight pieces into another eight pieces. Make each piece into a small circle, about one to 1-1/4 inches in diameter. Also, try to make the outer edge of the nugget a little thinner than the center of the disk, since you'll be gathering it. Put about 1-2 tsp of cheese and the same amount of ham in the center of the disk. A small pinch will do, be careful not to overfill the nugget or else it will be hard to pinch shut and will ooze cheese everywhere when it boils and then bakes. Gather the edges of the circle and pinch shut into a ball shape.

Place the pretzels into the boiling water, 1 by 1, for 30 seconds. This gets a little complicated with the nuggets, but do the best you can. I did batches of three to four nuggets at a time. Remove them from the water using a large flat spatula. Return to the half sheet pan, brush the top of each pretzel with the beaten egg yolk and water mixture and sprinkle with the pretzel salt. Bake until dark golden brown in color, approximately 12 to 14 minutes. Transfer to a cooling rack for at least 5 minutes before serving.