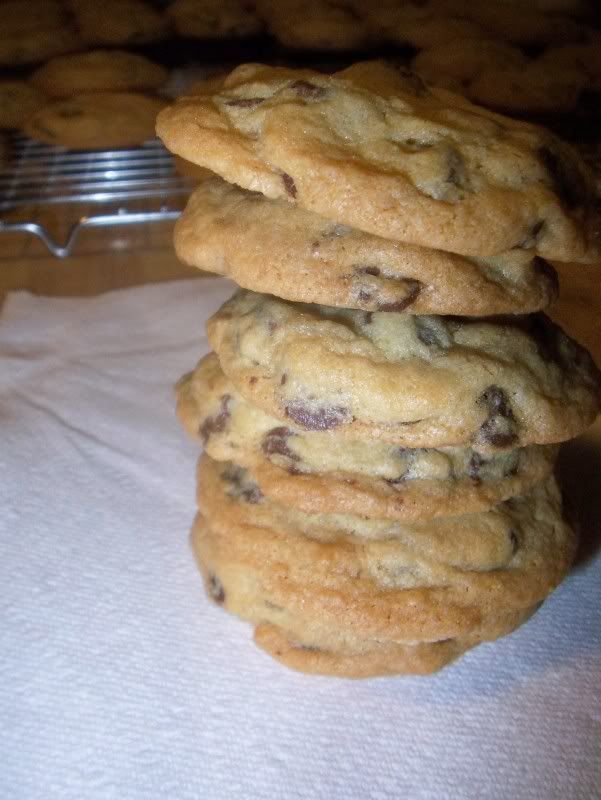 Happy Month-a-versary!!

(ok, I promise this won't be a trend, but it gave me one small milestone to celebrate so far)



No matter what, sometimes the best foods are the ones that make you nostalgic. Take the humble chocolate chip cookie. I've seen so many different recipes for chocolate chip cookies (all of which I want to try!); some that include dried fruit, some with oats, some with melted butter and some with pudding mixes. And while I'm sure they are all delicious, nothing yet has topped the recipe on the back of the Nestle Tollhouse chocolate chip bags for these classic cookies.

Slightly chewy, never gooey, these are the cookies I turn to when life gets me down. The smell wafting through the house brings me back to my childhood and the many memories I have of my mom (and dad!) and I working together to turn out a batch of cookies.

These cookies are fantastic fresh out of the oven, perfectly soft with the chocolate chips still molten inside. I love them the morning after they're baked (and don't think I don't eat these for breakfast when they're around). They chocolate sets up, and the cookies themselves are slightly chewy when you first take a bite, and then nearly melt in your mouth leaving behind the faintest residual flavors of the brown sugar and butter.

Online the recipe says it yields 60 cookies. I like my cookies a little larger, using my cookie scoop, decreasing my yield to approximately 40. I also omitted the nuts in the recipe, but if you want to add them, go ahead – I've included a link to the original recipe.


Nestle Tollhouse Chocolate Chip Cookies
Source


Ingredients
2 1/4 cups all-purpose flour
1 teaspoon baking soda
1 teaspoon salt
1 cup (2 sticks) butter, softened
3/4 cup granulated sugar
3/4 cup packed brown sugar
1 teaspoon vanilla extract
2 large eggs
2 cups (12-oz. pkg.) Semi-Sweet Chocolate Chips
1 cup chopped nuts (optional)

Directions
PREHEAT oven to 375° F.

COMBINE flour, baking soda and salt in small bowl. Beat butter, granulated sugar, brown sugar and vanilla extract in large mixer bowl until creamy. Add eggs, one at a time, beating well after each addition. Gradually beat in flour mixture. Stir in morsels and nuts. Drop by rounded tablespoon onto ungreased baking sheets.

BAKE for 9 to 11 minutes or until golden brown. Cool on baking sheets for 2 minutes; remove to wire racks to cool completely.