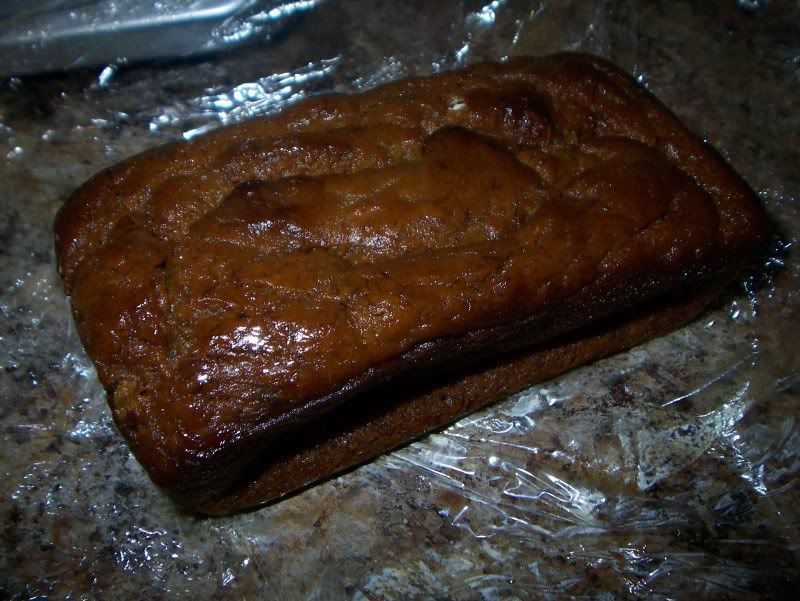 When autumn and winter roll around, it's finally acceptable to crave foods containing baked apples, nutmeg, cinnamon and, my favorite, pumpkin. After the canned pumpkin shortage last year, I may have gotten a little excited over seeing the first cans of pumpkin appearing on our store shelves. I may have been excited enough to buy over 100 ounces of pumpkin (that would be over six pounds). While I wasn't ready for pumpkin pie, I wanted to use one of my smaller cans of pumpkin as soon as possible. I pulled out some banana mash I had frozen a long time ago, the remnants of brown, spotted bananas too soft to eat fresh, and decided I'd make a pumpkin banana bread. There are a few recipes out in cyberspace, so I figured one of them must be worth trying.

This recipe called for two mashed bananas, but because my bananas were already mashed, I don't exactly recall how many were in there. I guessed and put in one and a half cups of mash. The batter itself was very loose, but smelled amazing, with the addition of the pumpkin and spices, it really brought an autumnal scent to the kitchen.

The bread itself puffed up nicely when it baked, but then sank as soon as it came out of the oven. It didn't surprise me, considering the batter was fairly wet, and I was pretty inexact when it came to the addition of the banana mash. The finished consistency was somewhat akin to a bread pudding – it was dense and moist, less like bread and set more like a silky pumpkin pie texture. Both the banana and pumpkin flavors are present in each bite, and they work surprisingly well together.

I would definitely make this again, and if I didn't mess up the recipe beyond repair with my initial tweaking, I'm curious what other tweaks I'll make next time to improve the end product even more.


Pumpkin Banana Bread
From
Allrecipes.com


Ingredients
2 ripe bananas, mashed
2 eggs
1/3 cup vegetable oil
1 1/3 cups canned pumpkin puree
1/2 cup honey
1/2 cup white sugar
2 1/2 cups all-purpose flour
1 teaspoon baking powder
1 teaspoon baking soda
1/2 teaspoon salt
2 teaspoons pumpkin pie spice
1 teaspoon ground cinnamon
3/4 cup raisins (optional)
1/2 cup walnut pieces (optional)
Directions
1.Preheat oven to 350 degrees F (175 degrees C). Grease an 9x5 inch loaf pan.
2.In a large bowl, stir together the mashed banana, eggs, oil, pumpkin, honey and sugar. Combine the flour, baking powder, baking soda, salt, pie spice and cinnamon, stir into the banana mixture until just combined. Fold in the raisins and walnuts if desired. Pour batter into the prepared pan.
3.Bake at 350 degrees F (175 degrees C) for 45 minutes, or until a toothpick inserted into the center of the loaf comes out clean. Cool loaf in the pan for 10 minutes before moving to a wire rack to cool completely.