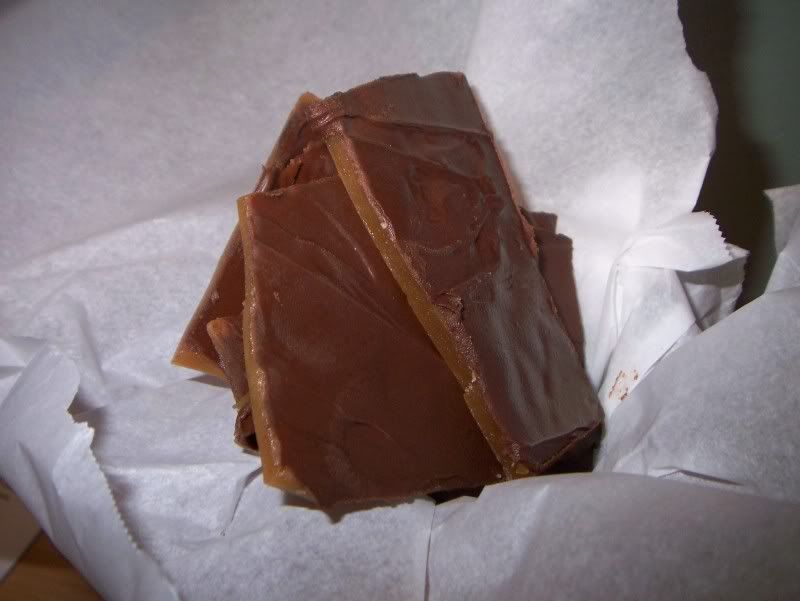 Side note: Engineer and an Oven is now on Facebook! Stop by and say hi! If you like what you are seeing here, please be sure to 'Like' my page and share it with your friends!

You can find me here:
Engineer and an Oven


Thanks!


Now back to your regularly scheduled program.

Cooking sugar seems to be a bit of a complicated thing for me. Ever since we got our new range, I always miscalculate how high the heat on our stovetop actually is compared to what I would expect based on my old oven. Paula's recipe says to cook the sugar mixture over medium-high heat until it reached 300 to 310 degrees F. In under ten minutes, my medium-high heat scorched my sugar mixture around the edges, and rendered my first batch inedible. Don't think for a minute I didn't try to salvage the mixture. I hate letting effort go to waste, so I figured I could still coat it with chocolate and it would mostly hide the burnt taste. I will go on record saying that was a flop, and not only had I wasted some butter and sugar by burning it, I now wasted a good bit of chocolate trying to hide it. Into the trash that batch went, and back to the stovetop I headed.

This time, I let the mixture boil on medium-low heat and, and while it took much longer for the mixture to come to temperature, I had no scorching or burnt edges. After pouring it out, spread it quickly, before it begins to set.

I like mine thin, so I spread it on a large parchment sheet. So thin in places that the mat would show through. After it set for a little bit, but was still warm, I sprinkled chocolate chips on top and let them sit until mostly melted. Then I just spread the melted chocolate on top of the toffee.

The fun part is after it all cools, you get to just break it apart. No muss, no fuss. I figured now would be a good time for quality control, and I was thrilled with the results. The toffee was sweet and buttery, and broke apart but still had a melt-in-your-mouth quality about it. The chocolate just sent it over the top. I love it, too , because it has so few ingredients, and they are ingredients I always have lying around in my pantry. Nothing exotic, just simple, delicious and decadent. Works for me!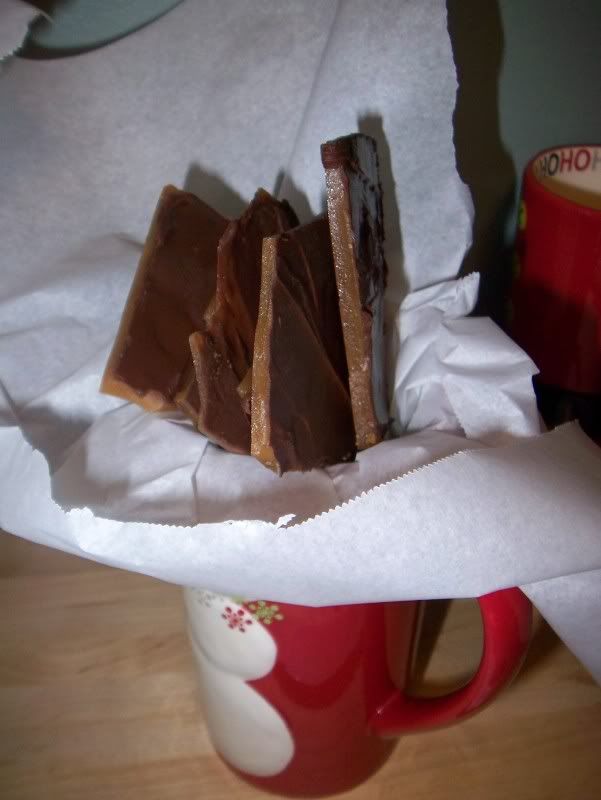 English Toffee
From
Paula Deen
via the Food Network

Ingredients
14 tablespoons (1 stick, plus 6 tablespoons) butter
1 cup sugar
2 tablespoons cold water
1/2 cup chopped pecans (I omitted in my recipe)
1 teaspoon pure vanilla extract
Dash salt
1 (6-ounce) bag semisweet chocolate chips or thin chocolate bars
Directions
Generously butter a cookie sheet.

Directions
Put butter, sugar, and water in a heavy pan or skillet over medium-high heat.

Bring to a bubbling boil, stirring constantly with a wooden spoon, about 10 minutes. Remove spoon from pan, and cook to a very brittle stage (300 degrees to 310 degrees F on a candy thermometer). Or, make a cold water test: candy will separate into hard, brittle threads when dropped in cold water.

Remove from heat and add nuts to mixture. Add vanilla and salt. Pour onto prepared cookie sheet and spread to 1/4-inch thickness.

Cool slightly, top with chocolate chips or chocolate bars, and spread as it melts. Cool completely and break into pieces. Store in an airtight container.

Linked up to: