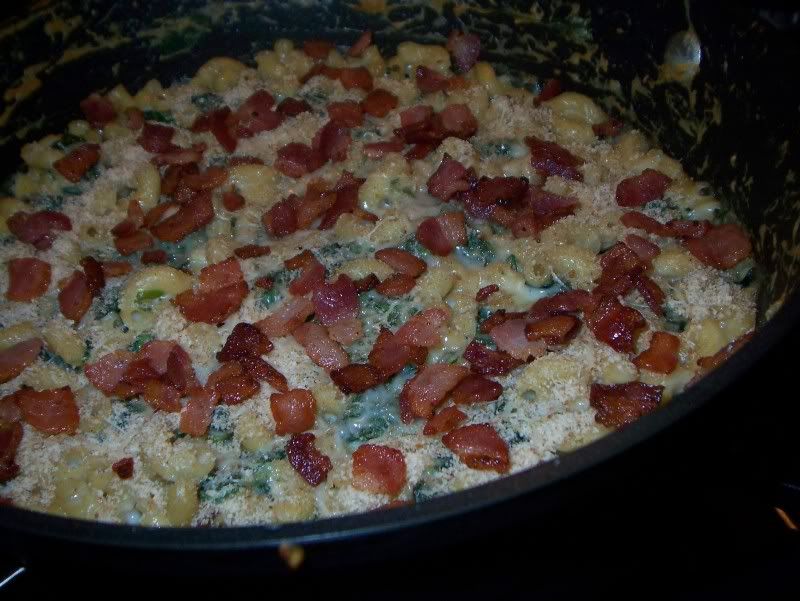 Holy Cow, I'm at my 100th post! Is it just me, or is that exciting? I figured for this occasion, I'd share a classic comfort food, jazzed up and blinged out. Ok, no bling, but this is definitely a nice spin on a classic macaroni and cheese.

Mac and Cheese night at our house is either a really good thing or a really bad thing. The past few attempts have yielded one of two results – a cheese sauce that otherwise tasted fine but curdled because I used fat free half-and-half, or a beautiful sauce and not-so-good flavors.

We have a restaurant by us that has a 'make your own mac and cheese' menu, where you can choose your add-ins, and it is mixed up fresh for you. My husband and I compromised between his highly carnivorous diet and my more omnivorous one and ordered mac and cheese with bacon and spinach. It was so good - creamy and velvety, with just the right hit of saltiness to cut through the richness of the cheese. I hoped that one day I could make macaroni and cheese that was this good. Unfortunately for me, the odds aren't really in my favor when it comes to this American classic.

It wasn't until a few nights ago that the hubby and I were trying to decide what to make for dinner, and I suggested macaroni and cheese. After what I think may have been a small nervous twitch in his eye, he actually agreed. I saw this recipe a while ago, put it in my 'to make' binder and forgot about it. While flipping through my recipes, the combination of the spinach and smoked gouda caught my eye. I realized that with the addition of some bacon, it would be very similar to the dish we enjoyed so much at the restaurant.

As fearful as I was about screwing up, this recipe seemed almost foolproof. This time, the roux worked beautifully, the sauce thickened up as expected and the flavors of this mac and cheese were out of this world. The spinach added a little bite to the recipe, and I used baby spinach so that the bitterness wasn't too overwhelming, but was sturdy enough to stand up to the richness of the cheese sauce.

And how did it compare to the original version? My husband said it was a hundred times better than what we got at the restaurant.

What a sweetheart. He's definitely a keeper!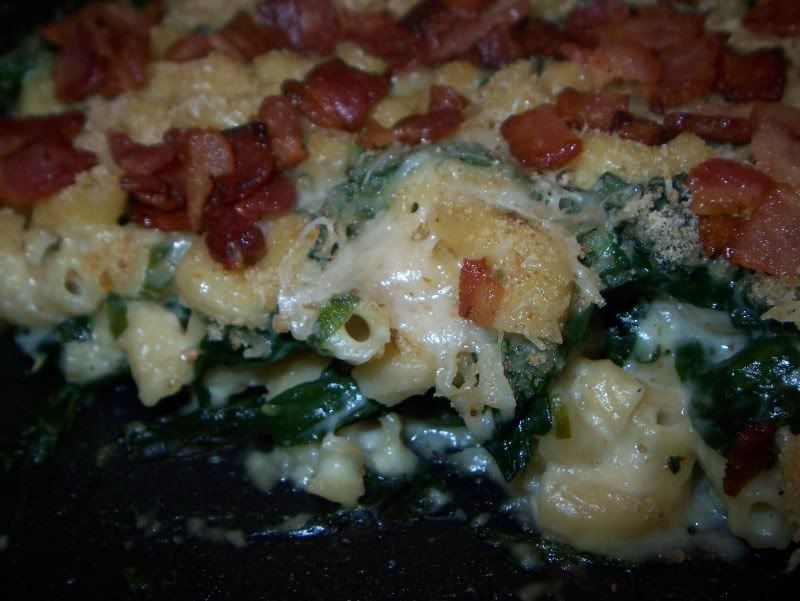 Spinach and Bacon Mac N Cheese
Adapted slightly from
Culinary in the Desert


Ingredients
1/2 c bread crumbs
1/4 cup thinly sliced green onions
2 garlic cloves, minced
2 tablespoons all-purpose flour
2 cups fat-free milk
1/2 teaspoon salt
1/4 teaspoon black pepper
1/2 cup (2 ounces) shredded smoked Gouda cheese
1/3 cup (about 1 1/2 ounces) grated fresh Parmesan cheese
Three strips of thick cut bacon, chopped
5 cups coarsely chopped fresh spinach
4 cups hot cooked elbow macaroni (about 2 cups uncooked)
Tabasco Sauce

Directions
Preheat oven to 350

Dice bacon into small pieces, cook in large saucepan until crispy. Scoop bacon out of pan with slotted spoon onto paper towels and set aside.
Keep saucepan (with the rendered bacon fat) over medium heat. Add onions and garlic; cook 1 minute. Add flour; cook 1 minute, stirring constantly. Gradually add milk, salt, and pepper, stirring constantly with a whisk until blended. Bring to a boil; cook until thick (about 2 minutes). Add cheeses; stir until melted. Add spinach, bacon and macaroni to cheese sauce, stirring until well blended.

Spoon mixture into a 2-quart baking dish coated with cooking spray. Sprinkle with breadcrumbs. Bake at 350° for 15 minutes or until bubbly. Garnish with Tabasco sauce, if desired.
4 servings