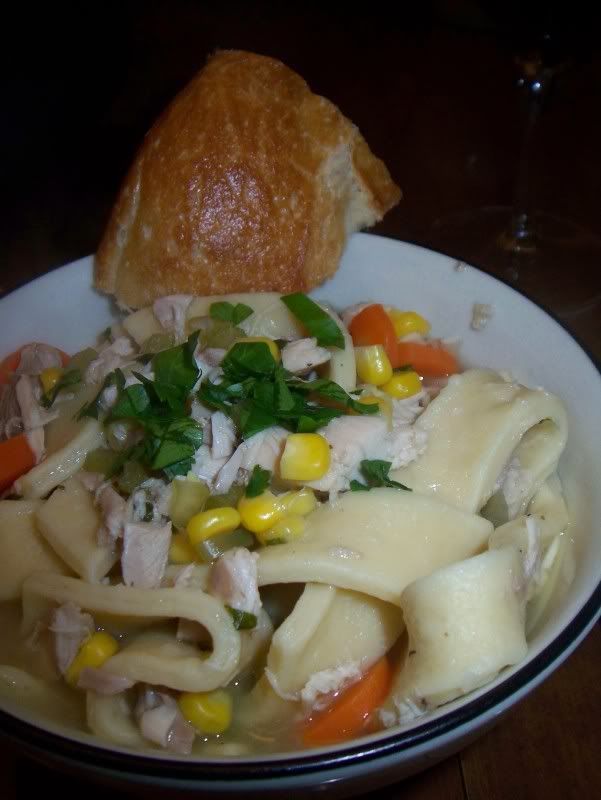 Bob Evans used to be one of my favorite places to get chicken noodle soup, mainly because their soup had 'dumpling noodles' that I love so much. Imagine my utter disappointment when I went to Bob Evans with my family and there was no chicken noodle soup on the menu! Oh, the horror!

I have no idea why, but that soup has always been the standard by which I compare all other chicken noodle soups. Sure, the Lipton brand chicken soup with noodles was fun to suck up with a straw, but nothing can compare to delicious, dense, hearty noodles, which are apparently difficult to find in canned soup nowadays.

I saw this noodle recipe on Dine and Dish recently, and knew I had to try it. The soup base was a basic chicken stock with some veggies thrown in for good measure, but the star of this soup was the noodles. It was so much fun to make these, and I was absolutely delighted when I took my first bite. The noodles reminded me of a fat piece of pasta, which provided a nice substance to this soup. Because of the noodles, this soup was easily a meal, not a side dish.

The noodles are so easy, you won't believe it. Mix, knead, roll, cut, boil. I can't wait to make these again!

Homestyle Chicken Noodle Soup
From my kitchen
Serves 4-6

Ingredients
1 approximately 6 lb whole chicken
Enough water to cover chicken in pot
Carrots, chopped (use your judgement, but I believe we used about 4 carrots)
Celery, chopped (see above, I think we used about 3 stalks of celery)
Five cloves of garlic, finely minced
~1 c Corn (you can use fresh, but I used frozen because that's what we had on hand)
2 Bay leaves
2 tsp Poultry seasoning
Dash Salt
Dash pepper

Rinse your chicken and put in large stew pot. Put just enough water in the pot to cover chicken with about one-quarter to one-half inch of water. Add bay leaves. Bring water to simmer (not boiling!), and let simmer, covered, for two to three hours, or until chicken is cooked through. Begin testing the chicken at two hours by trying to break the meat apart with a fork. If it shreds easily, it's done. If you get some resistance, put the lid back on and let sit another 30 minutes before trying again.

Removed chicken from pot and let cool slightly. Get the meat off the chicken and chop up whatever you want to end up in the soup. For mine, I ended up reserving an entire breast off the chicken for later use, and the rest of the meat went into the soup, light and dark. Set aside.

Strain any fat that has floated up to the surface of the stock. We ended up getting approximately a half-cup off, but were surprised how little fat was in ours. You may have more or less depending on your chicken. Remove bay leaves.

Add poultry seasoning, carrots, garlic and celery to stock. Let simmer for 30 minutes, or until veggies are soft. Taste and season as necessary with salt and pepper. While veggies are simmering, begin making your noodles.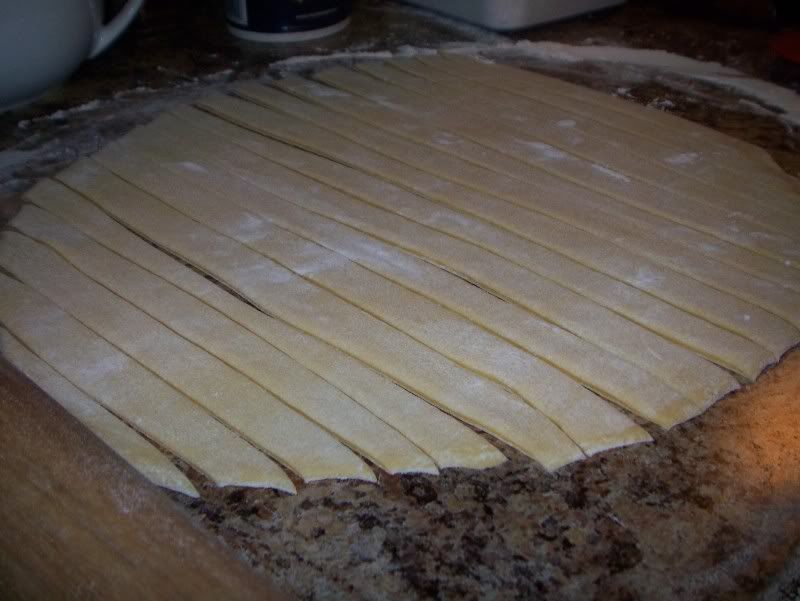 For the Noodles
Noodle recipe from
Dine and Dish


Ingredients
Eggs
1 Tsp Salt
Flour

This is where you can customize the recipe for how large or small of a group you are serving. For every 1/2 cup of flour you will need 1 egg. So, to serve my family of 6, I use 4 eggs and 2 cups of flour. (I used 3 eggs and 1.5 cups of flour for 4 people, and it seemed like a lot! Next time I'll probably use 2 eggs and 1 cup of flour)

In a medium sized bowl, whisk your eggs. Add the salt and whisk again. Next, add the flour. Stir the mixture with a fork until flour is completely incorporated and the dough is stiff.

Flour a large bread board / cutting board heavily. Dump your dough mixture out onto the floured board. Knead additional flour into the dough. Unlike pie crust (you don't want to work pie crust too much) you want to continue to add flour to the dough until it is thick and smooth in texture. Just work with it and use your instincts.

Roll out the dough (again… make sure your board is well floured so your noodles won't stick) until very thin. Once your dough is rolled out, using a pizza cutter, slice your dough into thin vertical strips. Make a couple of slices horizontally until your noodles are a desired size.

Return your pot of broth and water to a boil. Once boiling, add your noodles to the pot, one at a time, stirring so they don't stick together(I pretty much dumped all mine in at once). Once all of your noodles are in the pot, reduce the heat, add your chicken pieces back to the pot and simmer for 30 minutes. Add in corn, simmer 5 more minutes.

Serve and enjoy! Garnish with a little parsley if desired.