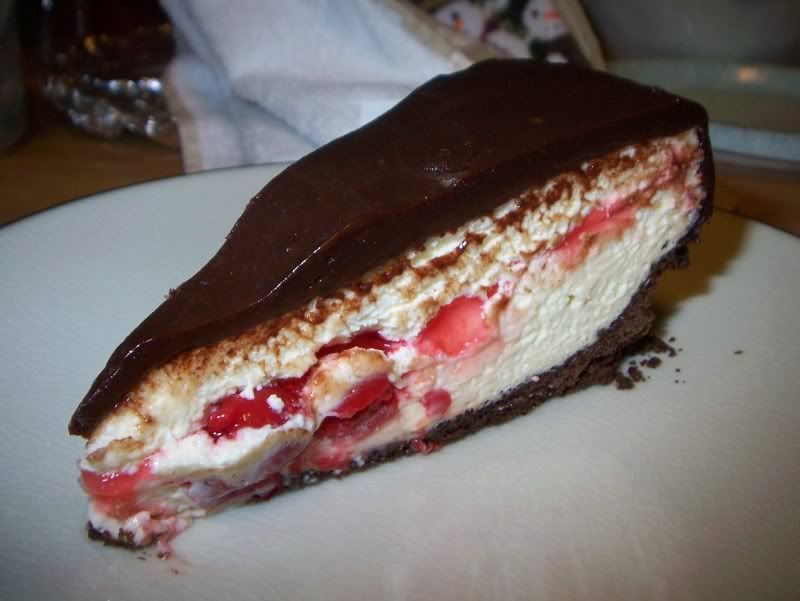 Now that we've eased our way somewhat into 2011, I have a confession to make: I am not huge on making resolutions for the new year. It's not that I don't like to set personal goals for myself, I actually do that quite often, but I like to set them on my schedule, not just because we're supposed to.

When I make an arbitrary goal 'just because that's what everyone else does for the new year' I have very little incentive to stick with it, which inevitably sets myself up for failure. Also, based on previous resolutions from years past, another problem with my goal-setting process is that I set one large, intimidating goal instead of small, attainable goals.

So this year, instead of making on lofty resolution, I'm going to try to make smaller, attainable ones. Hopefully by sharing them here, I'll feel slightly more accountable to myself.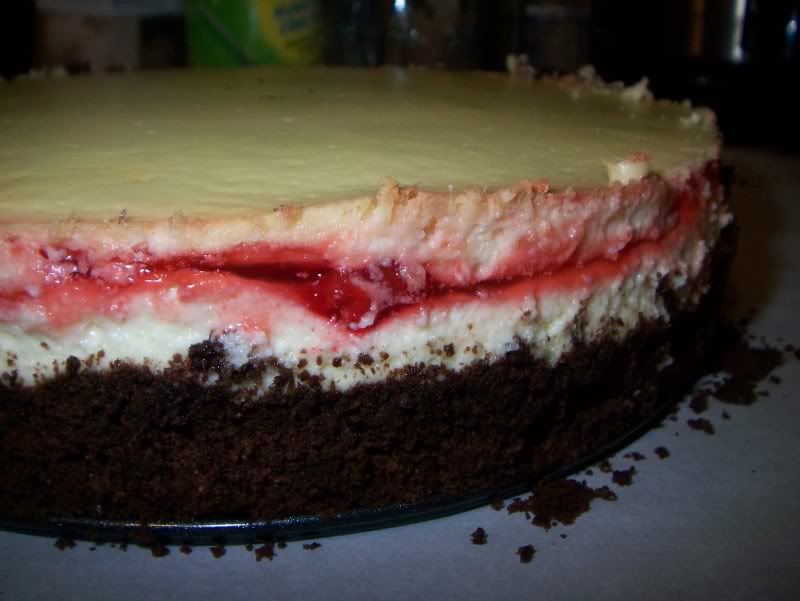 For my health, I promise to…

- get moving at least three times a week, either by walking/running on the treadmill, using my exercise band, using my exercise ball, or playing with the dog

- incorporate at least 80% of the food color 'rainbow' into my daily diet, focusing on the three groups typically missing – red, yellow/white and blue/purple.

- focus on better choices when out to eat – get a salad instead of fries, even if it costs 99-cents extra.

- buy healthier snacks instead of chips and cookies to have available when hunger hits.

- eat when I'm hungry, not when bored. If I think I'm hungry, drink 8 oz of water or green tea first, wait, and then eat.

- not deprive myself of sweets and goodies I truly crave versus mindlessly eating junk food just because it's there. For the most part, I want to have everything in moderation, including sweets, fats, salt and alcohol! (Though I'm sure there will still be the occasional over-indulgence!)

For my blog, I promise to:

- work on improve my photography skills – even if that only means trying to take pictures during daylight hours to reduce my reliance on a flash.

- try fondant on a cake at least once (if I'm really ambitious, homemade marshmallow fondant!)

- practice my decorating skills on sugar cookies with royal icing

- attempt a giveaway of some sort. I may not have a lot of readers or followers, but I appreciate the ones that I have and would like to give something back!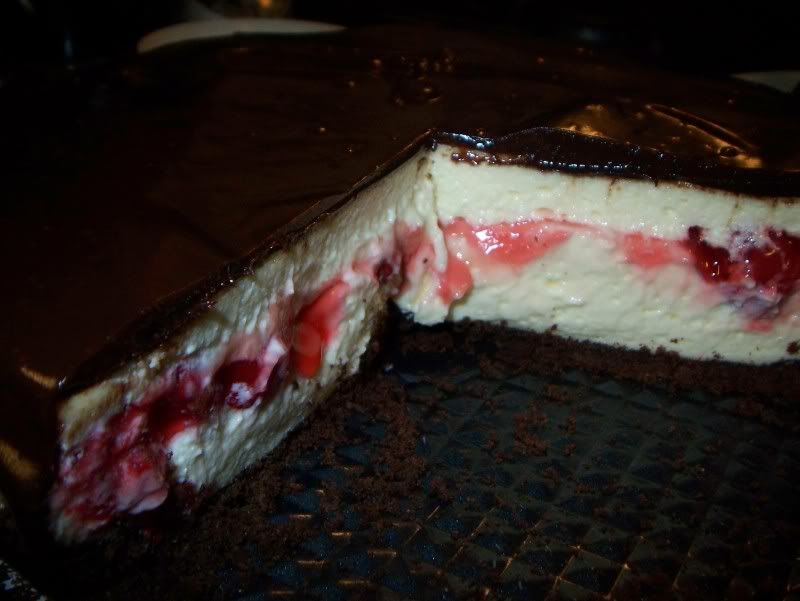 I figure I'll start with the easiest one first – not depriving myself of the things I love, just having them in moderation. Let me tell you, this cheesecake was difficult to stop eating. It was was creamy and smooth, and the sweet/sour of the cherry filling provided just the right amount of tartness to compliment the chocolate and cheesecake filling. The filling itself isn't overly-sweet, which is good, because the chocolate ganache topping is so decadent. Be sure to make this cheesecake the day before you want to eat it. We liked it well enough on the day it was made, but we all agreed that 24 hours later, the cheesecake was even better. The best thing about cheesecakes as desserts is that you can freeze the uneaten portion to save for a later date. Then I don't feel obligated to eat it just because it might go bad sitting in the fridge.

I have yet to figure out how to get a good photograph of a cheesecake. They are so darn difficult to cut cleanly!

Oh well, still tastes great even if it isn't all that pretty.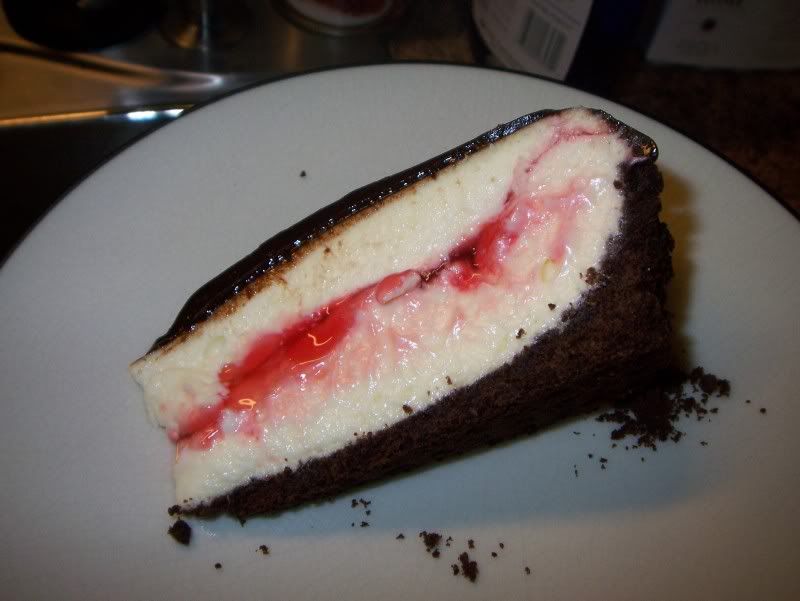 Chocolate-Cherry Cheesecake
From Pillsbury

Prep Time: 35 Minutes
Start to Finish: 5 Hours 50 Minutes

Crust
2 cups chocolate cookie crumbs
3 tablespoons butter, melted

Filling
4 packages (8 oz each) cream cheese, softened
3 eggs
3/4 cup sugar
1/2 teaspoon almond extract
1/2 cup whipping cream
1 can (21 oz) cherry pie filling (I used the one with extra fruit)

Glaze
1/2 cup whipping cream
1 cup semisweet chocolate chips (6 oz)

Heat oven to 325°F. In medium bowl, mix crust ingredients. Press in bottom and 1 inch up sides of ungreased 10-inch springform pan. Wrap springform pan in three layers of heavy-duty foil.

In large bowl, beat cream cheese with electric mixer on medium speed until smooth. Add 1 egg at a time, beating well after each addition. Beat in sugar and almond extract until smooth. Add 1/2 cup whipping cream; blend well.

Spoon 3 1/2 cups cream cheese mixture into crust-lined pan, spreading evenly. Carefully spoon 1 cup pie filling evenly over cream cheese layer (reserve remaining pie filling for topping). Spoon remaining cream cheese mixture evenly over pie filling.

Bake in water bath for 1 hour 5 minutes to 1 hour 15 minutes or until center is mostly set but still slightly wiggles. Cool in oven with door closed for 30 minutes. Remove pan from oven and cool on cooling rack 1 hour.

In 1-quart saucepan, heat 1/2 cup whipping cream to boiling over medium-high heat. Remove from heat. Stir in chocolate chips until melted.

Line cookie sheet with waxed paper. Remove side of pan. Place cheesecake on paper-lined cookie sheet. Spread glaze over cooled cheesecake, allowing some to flow down side. Refrigerate at least 3 hours or overnight. Serve topped with remaining pie filling.

Linked to: