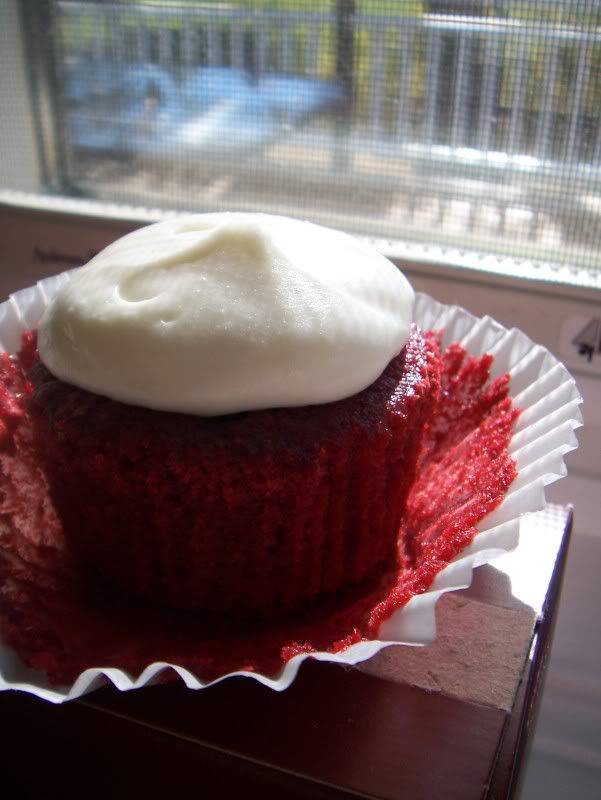 This post is in response to a specific request for a red velvet recipe - I'm always glad to do what I can!
I wish I could tell you I knew what red velvet cake was actually supposed to taste like. It does have cocoa in it, so there is a slight chocolate flavor, but there isn't enough to make it a 'chocolate' cake, and it's definitely not a white or yellow cake – so what is it? No clue.
All I know is that, in my opinion, I've had really great ones, and really terrible ones. The good ones are moist and tender, with a uniform crumb texture and a good ratio of icing to cake – typically a cream cheese icing. The not-so-good ones were so dry that as soon as I took a bite, it felt like I had cotton mouth, and it was difficult to chew and swallow the cake. The icing was cloyingly sweet, and there was way too much of it on the cake – maybe in an attempt to compensate for the lackluster cake underneath? In both cases, I've had some that are just barely red, where the cocoa color was more prevalent, and some that looked like they were going to bleed out as soon as you took a bite. I have never made red velvet before, but figured a recipe with some decent reviews and feedback would be a good place to start.
I love how pretty the cupcakes are – bright red cake, stark white frosting. They really do have the "POW!" factor. They were moist and flavorful, hurting both notes of cocoa and tangy buttermilk.
Nothing will ever replace a classic chocolate cupcake with white frosting in my heart, but I think I can certainly make some space for red velvet as well!
Grandmother Paula's Red Velvet Cake
Adapted slightly from Paula Deen via FoodNetwork.com
Makes about 27 cupcakes

Cake:
2 cups sugar
1/2 pound (2 sticks) butter, at room temperature
2 eggs
2 tablespoons cocoa powder
1 ounces red food coloring
2 1/2 cups cake flour
1 teaspoon salt
1 cup buttermilk
1 teaspoon vanilla extract
1/2 teaspoon baking soda
1 tablespoon vinegar

Directions
Preheat oven to 350 degrees F.

In a mixing bowl, cream the sugar and butter, beat until light and fluffy. Add the eggs one at a time and mix well after each addition. Mix cocoa and food coloring together and then add to sugar mixture; mix well. Sift together flour and salt. Add flour mixture to the creamed mixture alternately with buttermilk. Blend in vanilla. In a small bowl, combine baking soda and vinegar and add to mixture. Pour batter into cupcake liners. Bake for 20 to 25 minutes, or until a toothpick inserted into the center comes out clean. Remove from heat and cool completely before frosting.

Vanilla Cream Cheese Frosting
From AllRecipes.com

1 (8 ounce) package cream cheese, softened
1/4 cup butter, softened
2 tablespoons sour cream
2 teaspoons Vanilla Extract
1 (16 ounce) box confectioners' sugar

Vanilla Cream Cheese Frosting: Beat cream cheese, softened, butter, sour cream and Vanilla Extract in large bowl until light and fluffy. Gradually beat in confectioners' sugar until smooth.