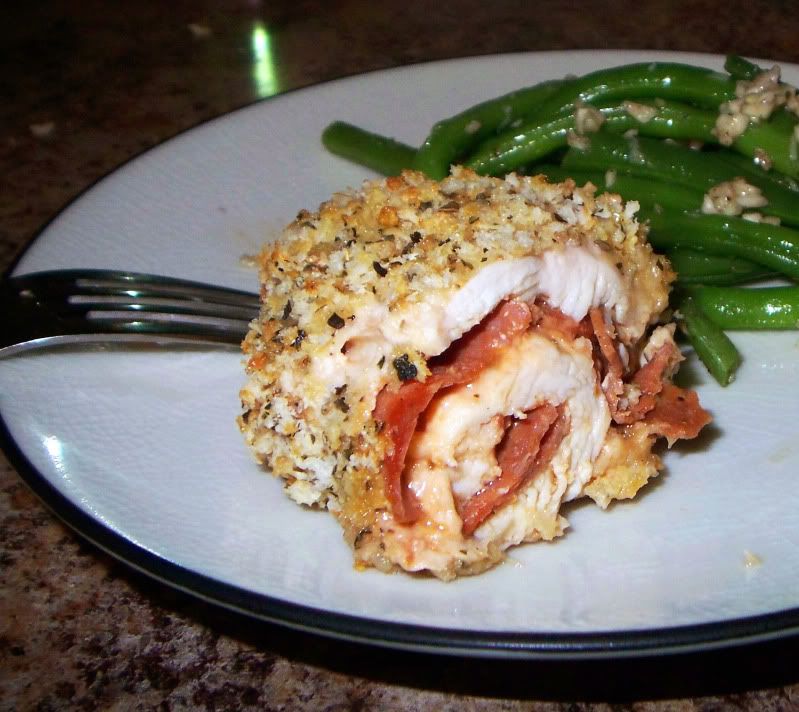 A surefire way to get out of a dinner rut is to think of some of your favorite meals, and then finding a way to use that flavor combination in a new way. One particular night, dinner ideas were impossible to come by. We wanted chicken, but couldn't figure out if we wanted lemon pepper chicken, chicken and mushroom soup with couscous, chicken cordon bleu or something totally different. I knew we had some gruyere cheese in the fridge I didn't want spoiling, so I asked if I could do a chicken roll-up in the spirit of a pizza. I no way proclaim that I am a pioneer in the kitchen in terms of the idea behind this dish, stuffing and rolling chicken is by no means a new idea, but I am very happy how this turned out, and it was something out of the norm for us.

And it actually looked interesting when it came out of the oven. But the important part was it tasted good. Success in the kitchen!

A couple of tips for pounding chicken thin:
1. Make sure your chicken is totally, thoroughly and completely thawed. Pounding out partially frozen chicken will make it fall apart even easier. Believe me, I know. And falling apart chicken is really hard to roll up.
2. Put plastic wrap on your cutting board, lay down your chicken, and then put another piece of plastic wrap on top.
3. Spritz a little water on top of the plastic wrap. This reduces the friction between your mallet/pan/brick/pounding utensil and the plastic wrap so you can more easily do step 4.
4. Instead of pounding straight up and down, hit the chicken with a diagonal downward force in the direction that you want the chicken to 'stretch' – so to speak. This will gradually pound the chicken down and out, instead of making it mush beneath your mallet.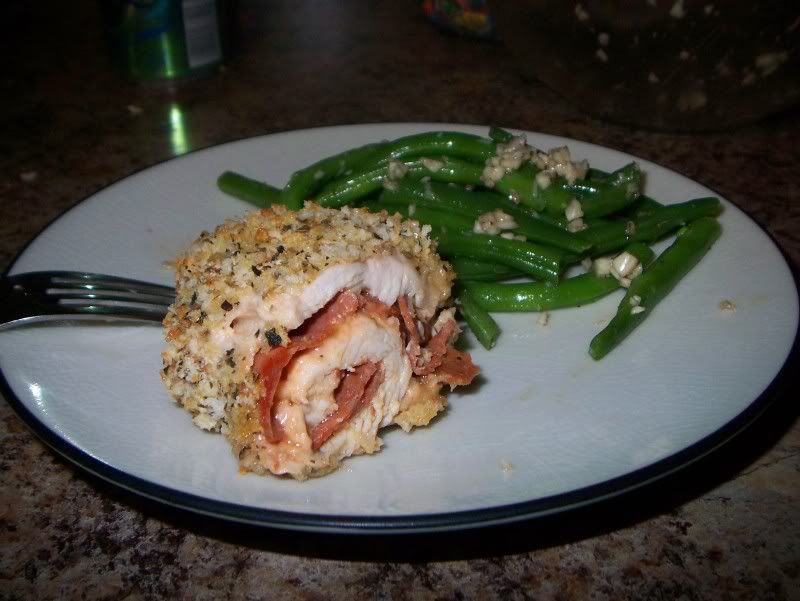 Chicken Cordon Bleu meets Pizza

Our chicken breast was large enough that with all the stuffing, it was enough to serve both of us. You can easily adjust this recipe to feed more or less.

Ingredients
1 large chicken breast, pounded to ¼ inch thick
1/4-1/3 c tomato sauce
Pepperoni
1/4-1/3 c cheese of choice – I used gruyere
1/2 c panko breadcrumbs
3 Tbsp parmesan cheese
2 tsp Italian seasoning
1/4 c flour
1 egg, lightly beaten

My chicken breast fell apart a bit when it was pounded out, so mine was terribly messy – if you try it, yours probably will be, too. But it is delicious.

Preheat oven to 350 degrees.

Lay out the flattened chicken breast out, and spread on the sauce.

Sprinkle with grated cheese of choice and top with pepperoni.

Roll chicken breast and secure with toothpicks.

Mix breadcrumbs, Italian seasoning and parmesan in a bowl. Set aside.

Dredge chicken roll in the flour, shake off excess. Dip it into egg and then coat thoroughly with parmesan/panko mixture.

Place seam side down in a baking pan and bake for 20-25 minutes or until cooked through