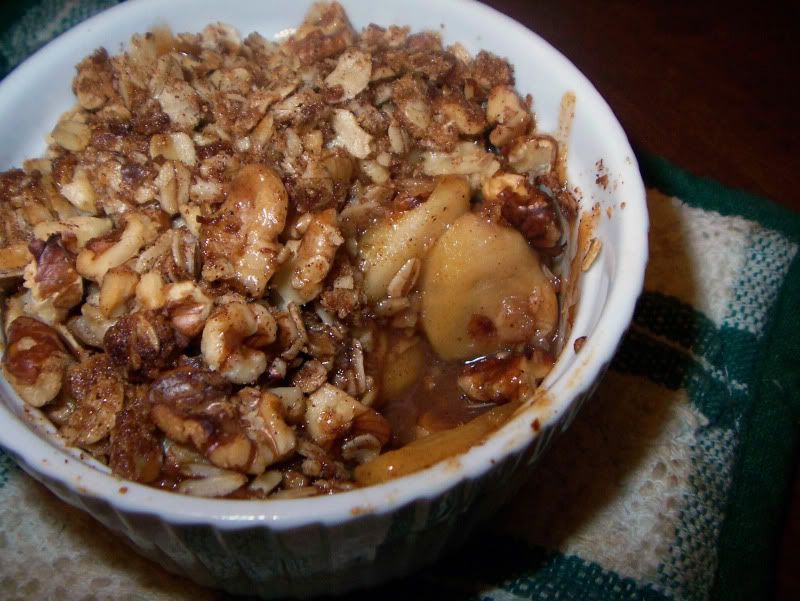 Happy New Year Everyone!!! I hope everyone had a wonderful time ringing in the new year!

Even though the holidays are over, the cold is still hanging around, most likely will until April. This is when I start wishing for the warmer weather, and that someone would shovel our sidewalk and driveway for us. It's days like this where I just feel like I need something that is, for lack of a better word, "swagoonchy." For everyone that's not inside my head, that would be sweet, warm, gooey, and crunchy. This caramel apple crisp satisfied this craving, and I'm sure if you were just craving something simple and delicious for dessert, this would work as well.

The combination of caramel, cinnamon, nutmeg and apples resembles an apple pie, but this is so much easier to make. And the ramekins help with portion control (because I'd be the one finishing an entire pan of this stuff). There is a little prep-work involved in the recipe, but I made this on a work night, so I know it can be done, even on a tight schedule.

Caramel Apple Crisp
2 Apples
8-10 caramel chews
2-3 Tbsp milk
1/4 tsp Nutmeg
1/2 tsp Cinnamon
3 Tbsp Oatmeal
1 Tbsp Butter
1 Tbsp Brown sugar

Preheat oven to 325.

In a small pot, combine milk and caramels over low heat until caramels have melted and mixed with the milk. (Alternatively, you could also do this in the microwave, at full power for 30 seconds, stir and repeat until combined.)

In another bowl, slice the apples, fairly thin. Pour in the caramel/milk mixture and stir to coat.

In a separate bowl, combine oats, brown sugar, cinnamon, nutmeg and butter. Mix until well combined.

Put apple mixture into ramekins, and top with the oatmeal/butter mixture.

Bake for 20-30 minutes, or until toasted on top and bubbly.