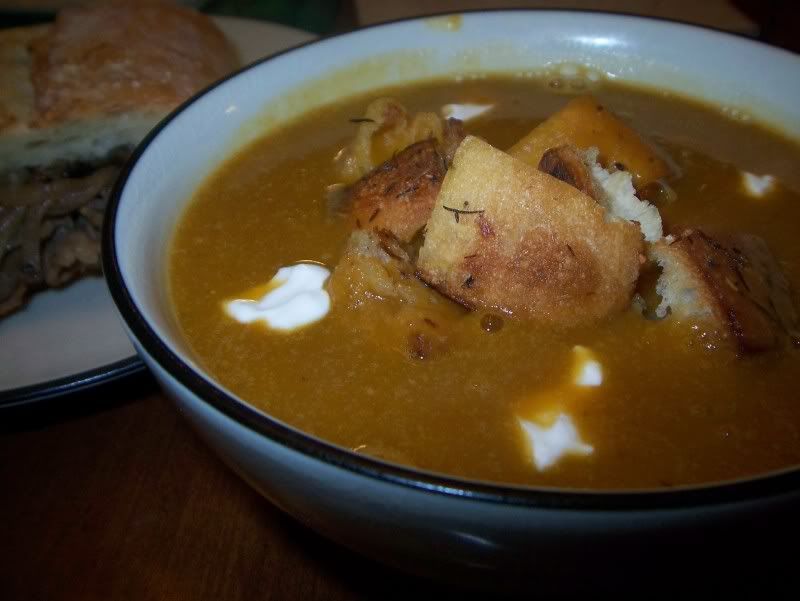 Every year, thanks to Thanksgiving and Christmas, I always get it in my head that food is a free-for-all. What little self-control I had around sweets completely vanishes when I spy Thanksgiving leftovers in the fridge at midnight, or plate of Christmas cookies magically appears on the table in front of me. Even the normally healthier foods in my diet get in on the trend. Sweet potatoes, typically eaten plain the rest of the year, now must absolutely have marshmallows and brown sugar to be considered appropriate for my plate.

These seasonal foods make such a short appearance every year that I feel the need to stuff myself to the brim in hopes that it will tide me over until next year. And by the looks of the scale, it works.

Thankfully, with all of the sweets, cookies, stuffings, gravies, and treats, I have one respite – butternut squash. I love that I can get all the flavors of the season in a healthy yet satisfying dish (and I can eat as much as I want without feeling too guilty – ok, we're still working on the self-control part, I guess).

I still had one butternut squash lying around from a few weeks ago when they were on sale. With my other squash, I made butternut squash and shrimp risotto and toasted the seeds as a little snack. This time I was craving soup. A feel-good-warms-you-from-the-inside-out-without-making-me-feel-guilty-about-eating-the-whole-pot kind of soup.

As I mentioned a little bit ago, I was adopted by a veteran blogger, who runs Hopie's Kitchen. There I found a recipe for a butternut chickpea soup with thyme croutons that I just had to try. I adjusted the recipe only slightly, and that was simply because I had a whole butternut squash to use versus the half of one called for in the recipe. I also used homemade turkey stock we had in our freezer so that I can finally say we used it up! It turned the soup a beautiful auburn color, too, because the homemade stock is so much darker than chicken stock. A bowl of this just screams autumn to me.

This soup was like a warm hug, or wearing a snuggie. It is very filling, more than I'd expect, and the croutons with a hint of thyme provides a perfect crunch to the silky smooth soup.

After all the cookie, candy and cake recipes I posted these past two weeks, I figured I owed it to myself - and to you - to provide at least one recipe for something that is good, and good for you! Here's the way to start your New Year off, right!


Butternut-Chickpea Soup with Thyme Croutons
Adapted From
Hopie's Kitchen


The following recipe is the original, my notes are in italics.

Ingredients
1 Tbsp olive oil
1 large onion, chopped used a small sweet onion
3 garlic cloves, chopped used five because I was making a little more soup with a whole squash instead of half
1 tsp ground cumin omitted because apparently I haven't restocked my pantry recently, I should get on that
1 tsp ground coriander
a pinch of nutmeg
a pinch of cayenne
1/2 butternut squash, peeled, seeded and cubed used one medium butternut squash
5 cups chicken or vegetable stock (more or less depending on how thick you want it) I probably used a little more, I didn't measure exactly because the stock was previously frozen and I just dumped it all in the pot, but the ratio was perfect, not too thick, not too lose
1 (425ml) can of chickpeas, drained I think my can was 16 ounces
Heavy cream I used sour cream

For the croutons:
1 cup bread cut into cubes (a little stale is perfect) I used ciabbata
1 Tbsp shortening (Butter or olive oil is good too.)
1 tsp fresh thyme, minced

Heat the olive oil in a large pot and soften the onions for about 5 minutes. Add the garlic and cook another few minutes. Add the cumin, coriander, nutmeg and cayenne and stir well for 1 minute. Add the cubes of butternut squash and pour in the stock. Bring to a boil, cover, lower the heat and simmer until the squash is tender (about 20 minutes).

In the meantime, heat the shortening for the croutons in a frying pan. When hot, sprinkle in the thyme and then the bread. Stir well and cook on medium-high, stirring occasionally, until the pieces of bread start to brown. Remove from heat and set aside.

When the squash is tender, add the chickpeas to the soup and heat through. Blend the soup. Serve with a dollop of heavy cream in each bowl and a sprinkling of croutons.