I really do understand why people think of fruitcakes as doorstops. This one is no exception. It is not a light cake - literally and calorically. This cake must have weighed 5 pounds, and it cost a small fortune to send one of them halfway across the country. But you know what? This one is worth picking up from in front of the door and actually enjoying. This is by far the BEST fruitcake I have ever come across, with dried fruit, warm holiday spices and the fact it requires being bathed in bourbon anywhere from several days to several weeks before serving. It packs a punch.

My dad loves fruitcake and rations his so that he can enjoy it throughout the year. My mom, who rarely eats it is now eating small pieces of my dad's rations, and he's getting sad that he's ahead of schedule with his fruitcake consumption. This is going to be a yearly favorite in my family. And I'll make sure to make my family extra this year so that they don't have to worry about their rations.

We're lucky enough to have a Trader Joe's nearby, and between there and our local grocery store, we can find all the dried fruits for this recipe at a relatively low cost, including the candied ginger, which I've heard can be pretty pricey in other stores.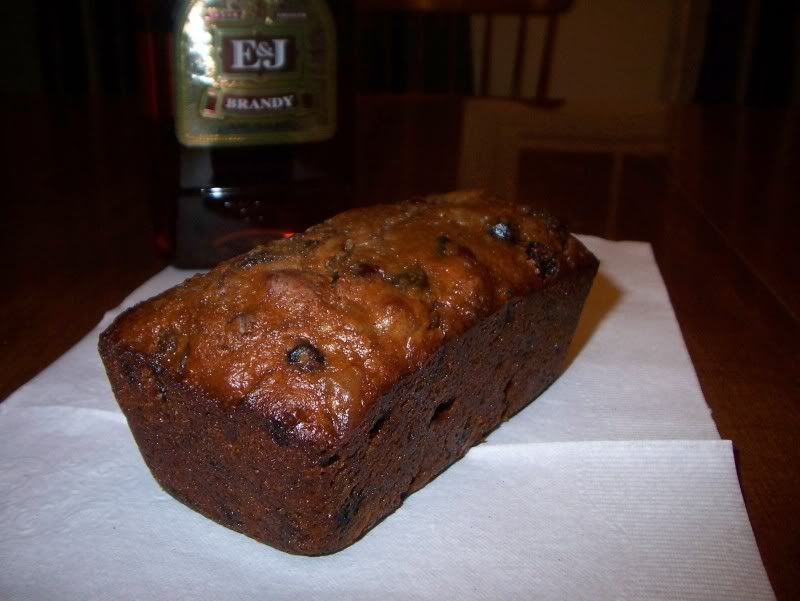 There are a lot of ingredients to this cake as well, which can make it a little intimidating. But this one is worth it. The ingredients for the most part are interchangeable. Don't like currants? Try dried pineapple, or any other dried fruit your heart desires. If you can't find any of the dried fruit listed in the recipe, you can easily adjust the amounts of the ones you do have to compensate for the missing ingredient. Change out the alcohol for vanilla rum, or dark rum. Use walnuts or hazelnuts instead of pecans, or omit the nuts completely, if you prefer.

And the best part is you can make it weeks before the holidays! I baked mine on November 21, over a month before Christmas. My one big loaf and seven mini loaves have just been hanging out in my kitchen, getting basted every few days with brandy since being baked. If you do not have a 10-inch loaf pan, you can make two standard-sizes loaves filled 2/3 of the way full, one 10-inch bundt, or six mini loaves – perfect for gift-giving!

Even the biggest fruitcake haters should give this recipe a try. The cake might change your mind, and if nothing else, the alcohol in this cake will definitely fill your holidays with a little more cheer.


Curious about what I've made already? Check out:

White Trash
Quick Mix Spritz Cookies
Peppermint Icicle Candy
Spiced Pecans and Praline Candy
Fresh Orange Spritz Cookies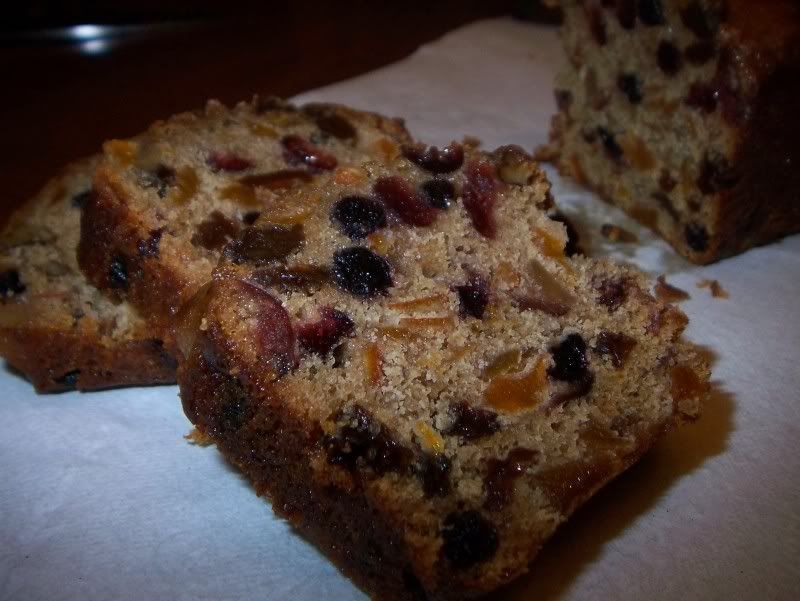 Free Range Fruitake
From Alton Brown via
FoodNetwork.com


Ingredients
1 cup golden raisins
1 cup currants
1/2 cup sun dried cranberries
1/2 cup sun dried blueberries
1/2 cup sun dried cherries
1/2 cup dried apricots, chopped
Zest of one lemon, chopped coarsely
Zest of one orange, chopped coarsely
1/4 cup candied ginger, chopped
1 cup gold rum (I used brandy instead)
1 cup sugar
5 ounces unsalted butter (1 1/4 sticks)
1 cup unfiltered apple juice
4 whole cloves, ground (between 1/4 and 1/2 tsp)
6 allspice berries, ground (about ¾ tsp allspice)
1 teaspoon ground cinnamon
1 teaspoon ground ginger
1 3/4 cups all purpose flour
1 1/2 teaspoons salt
1 teaspoon baking soda
1 teaspoon baking powder
2 eggs
1/4 to 1/2 cup toasted pecans, broken
Brandy for basting and/or spritzing

Directions
Combine dried fruits, candied ginger and both zests. Add rum (I used brandy) and macerate overnight, or microwave for 5 minutes to re-hydrate fruit.

Place fruit and liquid in a non-reactive pot with the sugar, butter, apple juice and spices. Bring mixture to a boil stirring often, then reduce heat and simmer for 5 to 10 minutes. Remove from heat and cool for at least 15 minutes. (Batter can be completed up to this point, then covered and refrigerated for up to 2 days. Bring to room temperature before completing cake.)

Heat oven to 325 degrees.

Combine dry ingredients and sift into fruit mixture. Quickly bring batter together with a large wooden spoon, then stir in eggs one at a time until completely integrated, then fold in nuts. Spoon into a 10-inch non-stick loaf pan and bake for 1 hour (40 minutes for mini loaves). I also erred on the side of caution and used Pam for baking to grease my pans. The recipe doesn't mention greasing the pans, but I figured it's better safe than sorry.. Check for doneness by inserting toothpick into the middle of the cake. If it comes out clean, it's done. If not, bake another 10 minutes, and check again. My large loaf took about an hour and twenty minutes to bake all the way, and I used a wooden skewer to test for doneness, since a toothpick doesn't reach all the way to the middle of the cake, which is the part that would be undercooked and gummy.

Remove cake from oven and place on cooling rack or trivet. Baste or spritz top with brandy and allow to cool completely before turning out from pan.

When cake is completely cooled, seal in a tight sealing, food safe container. Every 2 to 3 days, feel the cake and if dry, spritz with brandy. The cake's flavor will enhance considerably over the next two weeks. If you decide to give the cake as a gift, be sure to tell the recipient that they are very lucky indeed.