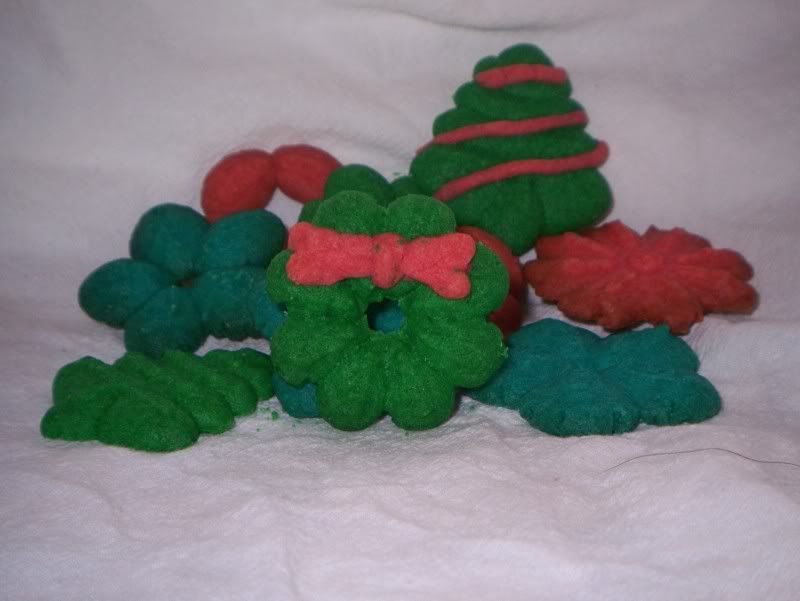 I am really not sure who brought the spritz cookie tradition to our family, but I can remember making and eating these cookies for as long as I have celebrated Christmas. My parents would mix up a batch of the dough, and divide it in half, and give my brother and I each a portion of dough to color however we pleased. We usually ended up with neon blue and pink wreaths, Christmas trees and what I think were supposed to be reindeer, but they always ended up looking like amoebas with extremities.

The spritz gun we always used in my family was a metal canister with a twist-on top and bottom. The bottom held the shape disk, and the bottom was a twist-top handle that extruded the dough. My new spritz gun looks more like a caulking gun than something used to make cookies, but I love that is has a pump handle instead of the twist-top. And the clear plastic canister makes it easy to see how much dough is left in the press, so you don't run out of dough mid-cookie. My new spritz press has a lot of disks, it doesn't include the reindeer disk - I wish it did, for nostalgia's sake. It does include disks that our old press doesn't have, including disks to make mini-cookies, which I think is fantastic.

Though you do need to buy the press to make the cookies, the process is super simple. The dough comes together quickly and easily, and short of putting too much dough or too little dough on the cookie sheet, these are pretty much fool-proof. I love experimenting with all the shapes, and, in the true form of my family, we have blue spritz cookies this year,as well.

Curious about what I've made already? Check out:

White Trash
Quick Mix Spritz Cookies
From Family Recipe

2 1/4 c sifted flour
3/4 c granulated sugar
1/2 tsp salt
1/4 tsp baking powder
1 c shortening
1 egg
1 tsp vanilla (I use 1/2 tsp vanilla, 1/2 tsp almond)

Preheat oven to 375.
Sift dry ingredients.
Cut shortening into dry mix.
Measure egg in meauring cup, add water if less than 1/4 c of liquid.
Add egg and extracts, mix well.
Roll into logs and put in cookie press.
Press out shapes onto ungreased cookie sheet.
Bake for 10-12 minutes, or until slightly brown.