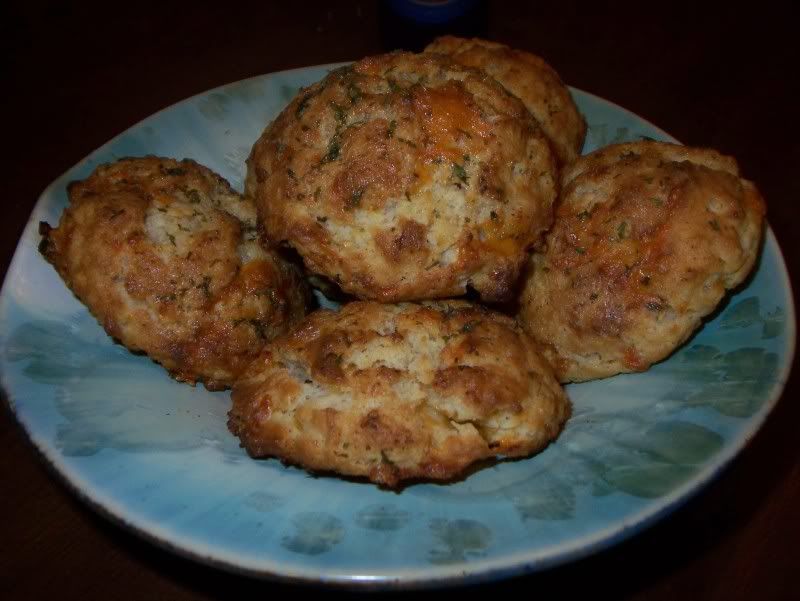 A good biscuit is a thing of beauty. It can be a vehicle for sausage gravy or a delivery system for your favorite jam. You can stick a sausage patty inside for a sandwich or plop it on top of chicken stew to make quick dumplings. But the best biscuit is the one that can stand on its own, with only a smear of butter.

I'm guilty of serving my fair share of hockey puck biscuits, especially the first few times after I vehemently swore off of Bisquick for my recipes. I do not know why I feel better about making biscuits without Bisquick, but I think it is mostly attributed to the fact that I use it so infrequently that a box hits its expiration date before I can use half of it. I hate wasting things, so I decided to start making things like pancakes and biscuits from scratch, without the help of Bisquick.

I've made cutout biscuits that could probably be used in the NFL, and I've made drop biscuits that were so strangely wet that the bottoms burnt before the inside lost its gumminess. I put the biscuit recipe search off to the side after having to eat several sub-par biscuits.

One evening, my husband came home after a really long day, and I wanted to make something special for him. I know he loves Red Lobster's Cheddar Bay biscuits, so I ventured back into the biscuit world again to find a recipe that would be similar to that one.

I landed on this recipe, and am thrilled that I did. While outside was slightly crisp with a crunch - not quite identical to the Red Lobster counterparts - these were definitely winners nonetheless. The outside, though different than the authentic cheddar bay biscuits was delicious, the buttery topping added a nice punch of flavor. The inside of these biscuits are the things dreams are made of - tender, soft, cheesy and light as air inside. Perfection.



While I may keep looking for another Cheddar Bay biscuit recipe, I will definitely be keeping this cheddar cheese biscuit in my repertoire. I may also try leaving out all the cheese and spices and see what this biscuit would be like topped with some sausage gravy. It would be a vast improvement from my last few attempts.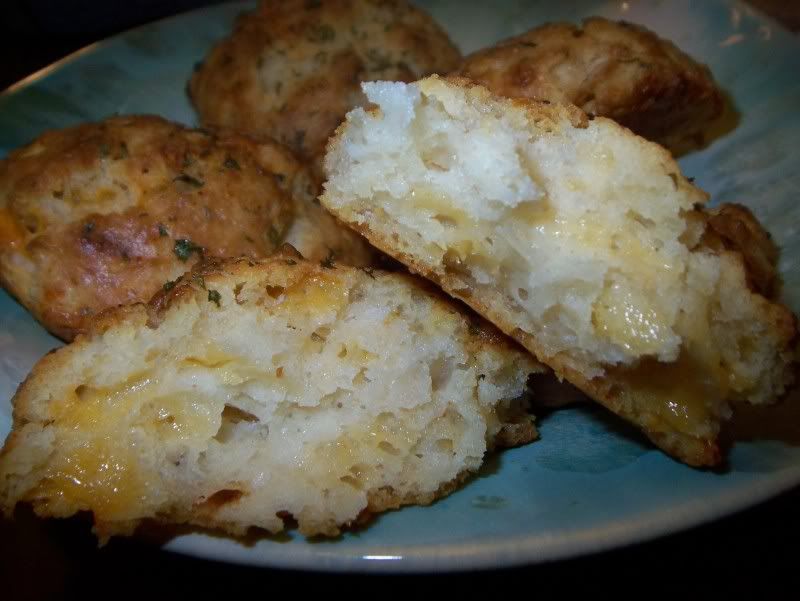 The Ultimate Cheddar Bay Biscuits
From
Chickens in the Road


Biscuits
2 1/2 cups all-purpose flour
1 tablespoon baking powder
2 teaspoons sugar
1/2 teaspoon cream of tartar
1/4 teaspoon salt
1/4 teaspoon ground cayenne pepper
1/2 teaspoon garlic powder
1/2 cup butter, softened
1 1/4 cups grated cheddar cheese
1/2 cup sour cream
1 1/4 cups milk
Note: If using a baking mix, replace first 5 ingredients with 2 1/2 cups baking mix.
Place first 5 ingredients (or 2 1/2 cups baking mix) in a large bowl. Add cayenne pepper and garlic powder.

Work in the butter with a pastry cutter. Stir in cheese then add sour cream and milk. Scoop biscuit dough out by big spoonfuls and place in a greased 9 x 13 casserole pan. (Or other type of pan with an edge to it–if you use a flat baking sheet, butter sauce will spill down into your oven. Ask me how I know that……)

Topping
6 tablespoons butter, melted
1 teaspoon garlic powder
1 teaspoon parsley
dash of salt
Melt butter. Stir in garlic powder, parsley, and a dash of salt. Spoon half of topping over unbaked biscuits.
Bake at 450 degrees for 25 minutes.* After removing biscuits from the oven, spoon the rest of the topping over them.

*Your baking time may vary! I make 20 biscuits from this recipe. If you make your biscuits smaller or larger, it will change your baking time.