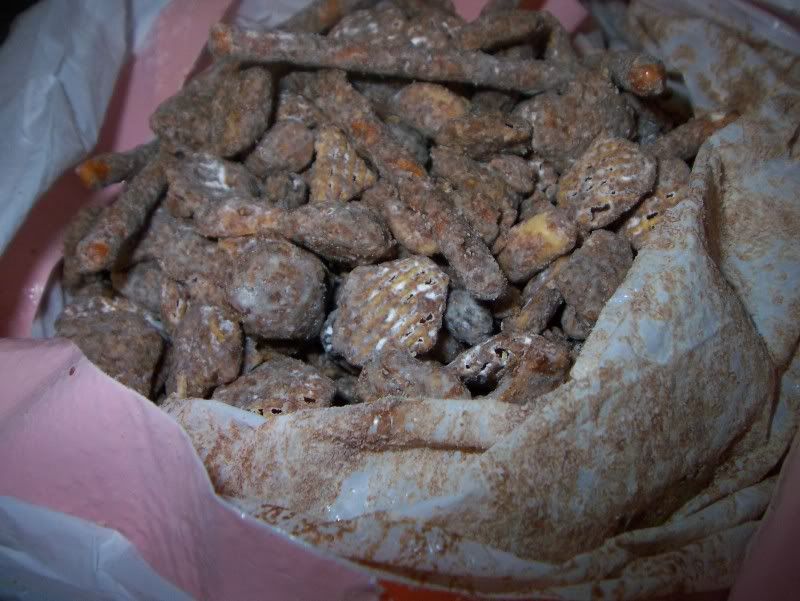 It seems like I'm a little late to the Christmas baking bandwagon. I feel like I've been seeing cookie and candy recipes since mid-November. Better late than never, right?

Every time I make Christmas treats, I try to balance our family favorites with new recipes for holiday goodies that I've had my eye on. I am also very calculating when it comes to planning my menu, I want a wide variety of different flavors, textures and appearances. I have a very ambitious list for this season, but I am ready to crank out some holiday treats!

My baking agenda this holiday season, in no particular order:

My Grandmother's Paper Thin Sugar cookies - Family Favorite
Orange Spritz Cookie Sandwiches with Chocolate - New recipe this year
Classic Almond/Vanilla Spritz Cookies - Family Favorite
Peppermint Icicles - New Recipe this year
Chocolate and peppermint fudge - New recipe this year
Two for one: Spiced Pecans and Pecan Pralines - Family favorite and New Recipe
White Trash (or Puppy Chow, or Monkey Munch – whatever you call it) - Family Favorite
Chewy Molasses Ginger Spice Cookies - New recipe this year
Fruitcake - Family Favorite
Seven-Layer Cookies - New recipe this year

It's an ambitious list for me, but I'm excited to fill my kitchen (and cookie jar!) with some Holiday cheer!

This year, I wanted to start off with the cookie that really screams "Christmas" to me: White Trash!

I hope no one finds the recipe title offensive - you'll have to pardon my family's vernacular. It wasn't until recently that I realized that not everyone (read as: practically no one) knows this recipe by the name of "White Trash." I was talking with some friends about our holiday baking plans, and I had mentioned making this, and initially I could not figure out why it had elicited such a strange response when I mentioned it. I always thought 'it's white, and it comes out of a trash bag," so the name always made sense. Meanwhile, it seems like everyone else has a very different definition of that term. I have tried to catch myself when I say it, and exchange it for a better phrase – I've heard variations called Monkey Munch, Puppy Chow, Reindeer Food and Nuts N' Bolts – but I just can't break the habit.

I finally looked it up, and lo-and-behold, other people do make stuff called "White Trash" – though it apparently means different things to different people. I've seen recipes with M&M's, Chex cereal, pretzels and white chocolate to versions much more similar to what my family makes with milk chocolate, peanut butter and pretzels.

I love this recipe for the holidays because it is so fun. You actually do use a trash bag to mix everything together with the powdered sugar. So I would urge against odor-shield or any of those bags that have special additives that might get on your treats. This is definitely a fun recipe to do with kids, they can pour the ingredients into the bag, and once the top of the bag is tied off, they can shake it around gently until everything is coated.

After coating everything, I move it to gallon Ziploc bags to let the chocolate set up in the freezer. I think this transfer is my favorite part, because that's when I discover the couple pieces that didn't separate while being shaken, so you end up with a huge chocolate chunk of cereal, peanuts and raisins. As any kind-hearted person would do, I did everyone a favor and ate it right then and there. That way no one could fight over it later. While you can pull it out of the freezer after an hour or so, I leave most of it in there until we need it, so it stays super fresh. You could also keep it in the refrigerator as well.



White Trash
(Or if you don't like that name, you can call it 'Blizzard Bites.')
Recipe from my Aunt, 7/2/1990

1 box Crispix Cereal
1 – 12 oz can peanuts (I got the lightly salted cocktail peanuts)
2 c pretzel sticks
1 - 1 lb box 10x sugar, sifted
½ box raisins
1 stick margarine
1 c peanut butter
1 – 12 oz package semisweet chocolate chips

Mix dry ingredients (minus sugar) in large container. Melt margarine, chips and peanut butter and pour over mixture. Pour confectioners' sugar in garbage bag, dump in dry mixture and shake. Put in freezer for an hour or so.
Remove and store in fridge in Tupperware container.