Sam's club is a fantastic place to pick up specialty baking supplies in bulk. I get Nestle and Ghiradelli chocolate chips, fruits and, one of my favorite bulk-store buy: pecans. Because I needed pecans for my cheesecake as well as my fruitcakes, it was easier and cheaper to buy the two-pound bag that Sam's club carried than the ones at my local grocery store, even if both those recipes didn't need a total of two pounds of pecans between them.
Usually in my family, leftover pecans during the holidays are turned into spiced nuts, something we have had around for as long as I can remember. These little bites were dangerous, let me tell you. It starts with one. Then you decide you should eat a second. After that, you reach in for a handful. Next thing you know, you've got two handfuls, shoving them in your mouth as fast as you can chew, if you chew them at all.
The pecans get nice and toasted while they bake, and the spiced sugar coating gets slightly crunchy on the outside. The aromas wafting around in the kitchen while these bake are heavenly.
My mom used to make these by the boatload when my brother and I were in school. We would give them to our bus drivers, crossing guards, teachers and neighbors. The pecans are a nice twist on gifting a batch of more traditional Christmas cookies, and were so portable (all you need is a bit of cellophane and a twist tie) that my mom could send us off with half a dozen bags of them and not worry whether we would break them to smithereens before reaching their intended recipients.
I had wanted to make them for when my family came to visit for the holidays, but my mom beat me to it! And because they travel well, I know when she brings them, they will be just as good as if they had originated from my oven. Nonetheless, I wanted to share this recipe with you because it's been a family favorite of ours, maybe it will become on for you, too!
But now, I had a decision to make. What do I do with my spare pecans?
Instead of making the spiced nuts as originally planned, I decided to take a different route and attempt making pralines for the first time. A while ago, I bought a small pot just for my candy-making, so I can clip on my candy thermometer with no fear of scratching the pot. I've only used my candy thermometer and pot a couple of times since I bought them, but figured I will justify my purchase by using them again, now.
Pralines vary by geography, but they all refer to nuts being cooked in a sugar mixture of some sort. While some are more like a maple sugar hard candy with nuts, some are a soft, semi-chewy and caramel-y candy with a higher nut-to-candy ratio. I'm aiming for the latter. And that's why the candy thermometer comes in so handy.
The longer the sugar mixture boils, the more water evaporates from your pot. As the ratio of water to sugar decreases due to evaporation, the boiling point of the sugar mixtures as a whole increases. So, essentially what you're measuring with the candy thermometer is the percentage of water that has boiled out of your sugar mixture. There isn't a huge temperature difference between the soft ball stage (235-240 degrees F), firm ball (245-250 degrees F) and hard ball stage (250-265 degrees F), but the end results are very different both in texture and hardness. I also know that it is difficult to tell how hot your mixture is just by counting how many minutes it's been boiling. I've been on the losing end of that equation before – both undercooking and overcooking my sugar mixtures. A cheap candy thermometer will be your best friend.
This recipe sets up quickly, so I would refrain from making a double batch. If you want more pralines, start from scratch and make another batch. Or else you might be eating a gigantic praline that solidified itself to the bottom of your pot.
Curious about what I've made already? Check out:
White Trash
Quick Mix Spritz Cookies
Peppermint Icicle Candy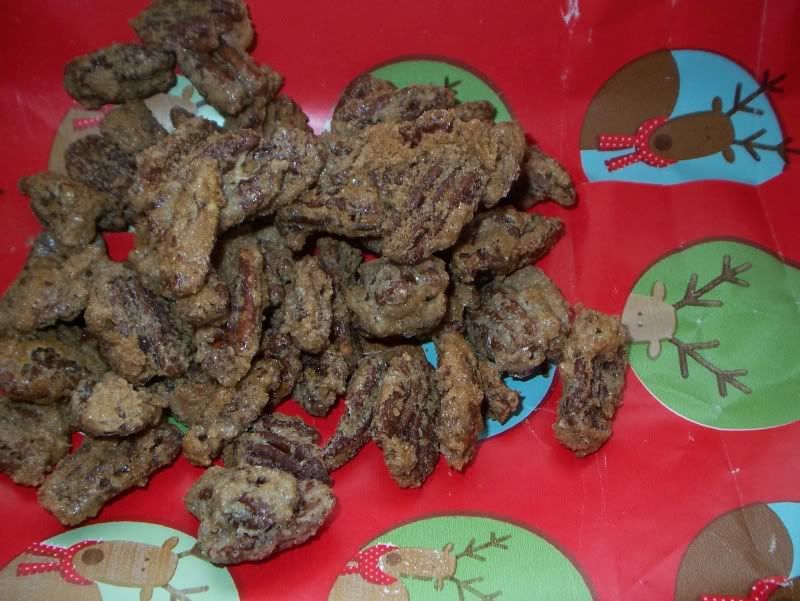 Spiced Pecans
Family Recipe

1 egg white, slightly beaten with fork
1/2 c brown sugar
1/2 c white sugar
1 tsp cinnamon
1/4 tsp nutmeg
1 lb of pecan halves

Preheat oven to 300 degrees.
Put nuts in egg white, stir gently until all nuts are coated.
Put dry ingredients in gallon zip-top bag.
Dump in nuts and shake until coated with dry mixture.
Spread in single layer on cookie sheet.
Bake for 30 minutes, turning once.



Pralines
From Paula Deen via FoodNetwork.com
My notes are in italics

1 1/2 cups sugar
1 1/2 cups packed light brown sugar
1/8 teaspoon salt
3 tablespoons dark corn syrup (I substituted a mixture of 3 parts light corn syrup to 1 part unsulphered molasses – I made 4 tbsp of mixture – 3 tbsp light corn syrup, 1 tbsp molasses - but only used 3 for the recipe)
1 cup evaporated milk
2 tablespoons butter
1 teaspoon pure vanilla extract
1 1/2 cups pecan halves, toasted, if desired at 275 degrees for 25 minutes

Directions
Butter the sides of a heavy 2-quart saucepan. Put the sugars, salt, corn syrup, milk, and butter in saucepan. Over medium heat, stir mixture constantly with a wooden spoon until sugars have dissolved and mixture comes to a boil. Continue to cook to a soft ball stage, approximately 236 degrees F on a candy thermometer. (If you do a cold water test, drizzle a drop of candy into a glass of cold water, the ball of candy will flatten between your fingers when you take it out of the water.) Remove from heat and allow it to cool for 10 minutes.

Add the vanilla and nuts, and beat with a spoon by hand for approximately 2 minutes or until candy is slightly thick and begins to lose its gloss. Quickly drop heaping tablespoons onto waxed paper. If the candy becomes stiff, add a few drops of hot water.