I didn't get to do my usual Christmas baking last year because we were on vacation in Thailand. I managed to eat more than my fair share of goodies there, even if they aren't what is considered traditional American holiday treats. But, this did mean that my newly-acquired spritz cookie press has been sitting idle since I got it last Christmas. I already made one batch of
Spritz Cookies,
I wanted to get double-use out of my cookie press this year. Wilton has a lot of great recipes to use with their products, and this cookie press is no expectation. There are not only several variations of the spritz cookie available, but they also developed several savory cracker-like recipes to be used with the press as well.
This orange spritz cookie recipe caught my eye, and I thought this would be great turned into a sandwich cookie with a chocolate filling. I have only ever made the almond/vanilla spritz cookie recipe posted above, so I felt a little daring using a whole new recipe in my cookie press for the first time ever. New recipes scare me a little bit, too, because I am always fearful that I will spend all the time prepping a recipe that turns out to be a failure in the end.
Putting the dough together, my worries calmed a little. It felt as a spritz cookie dough should feel and the orange zest and juice radiated a fresh, citrusy aroma in the kitchen. While they were good, the chocolate sent it over the top. The sweetness of the chocolate and the slight citrusy tang of the cookie is a winning combination. My cookie press will definitely be seeing this recipe again. It's perfect for anytime, not just the holidays, which means my cookie press will not be simply gathering dust the other eleven months of the year this time.
Curious about what I've made already? Check out:
White Trash
Quick Mix Spritz Cookies
Peppermint Icicle Candy
Spiced Pecans and Pralines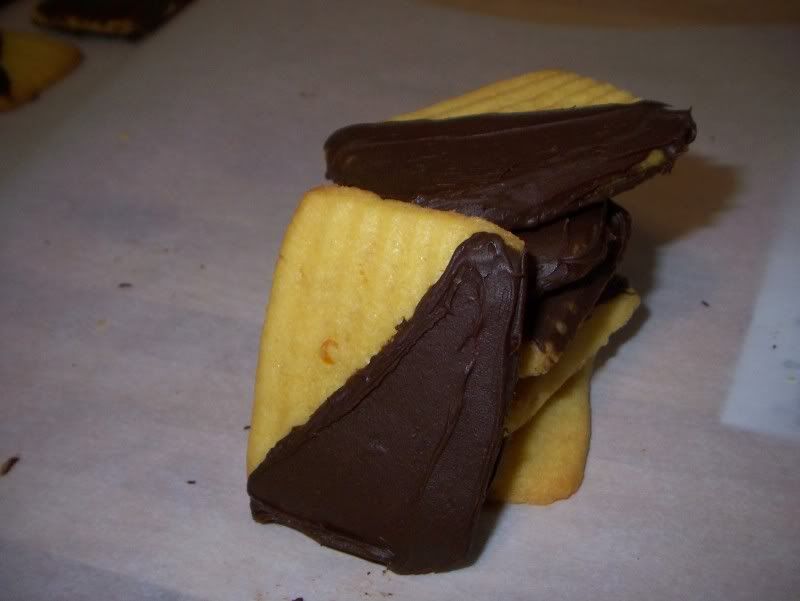 Fresh Orange Spritz Cookies
Adapted slightly from Wilton.com

Ingredients:
1 cup butter , softened
1 cup granulated sugar
1 egg yolk
2 tablespoons orange juice
2 1/4 cups all-purpose flour
1 tablespoon orange rind , finely chopped
1/4 cup pecans , finely chopped (optional – I left out)
Dash of orange food coloring, if desired

Makes: About 5 dozen cookies.

Instructions

Preheat oven to 350.

In mixer bowl, cream butter and sugar. Beat in egg and orange juice.

Mix in flour, orange rind and optional pecans.

Mix just until combined, add food coloring, if using. Dough should be soft but not sticky.

Shape dough into small logs and place in Cookie Master Plus.

Using desired disk, press shapes onto ungreased cookie sheet.

Bake 10-12 minutes or until edges are lightly browned.

Cool 2 minutes on cookie sheet on rack.

Remove from cookie sheet and cool completely on rack.

The filling was simple tempered chocolate. Simple as in only one ingredient, but tempering chocolate is a delicate process. This is my first try at doing this, but it was pretty straight forward. I got the instructions here. You could probably easily just sandwich the cookies with plain melted chocolate, but having dipped cookies before and ending up with blooming chocolate, I wanted to give tempering a try. It's a simple process, but definitely time consuming. If you want to avoid blooming chocolate, you can try chocolate candy melts sold at most craft stores. Either way, it's a winner.