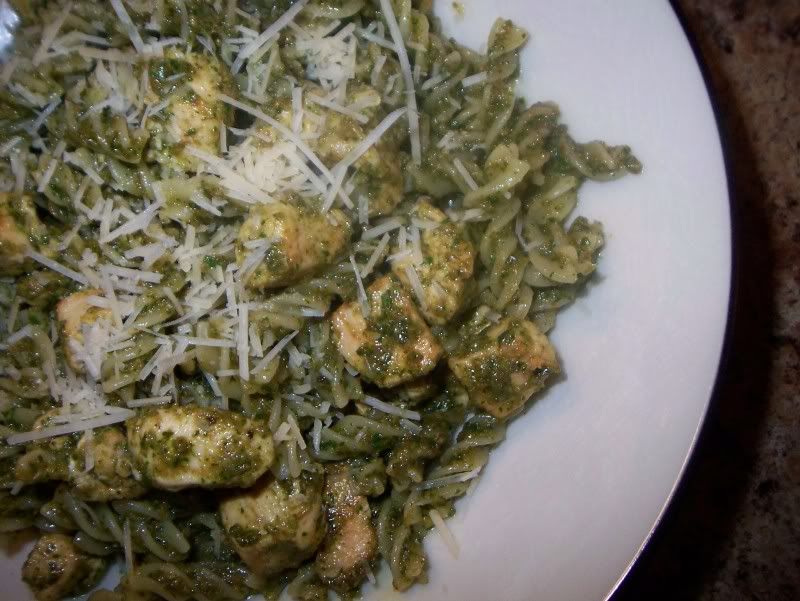 It wasn't until a few years ago I really started enjoying pesto. I don't know whether I just never gave it a chance when I was younger or if I was traumatized by a bad batch but, either way, I was missing out. I would never order pesto on any menu, and I'd avoid sandwiches with that as a condiment just because of some unknown and unfounded aversion. I don't even know how I got into eating it again, but I am so glad that I finally opened my mind (and my mouth) to pesto.
One of the most unlikely places we had great pesto was on our honeymoon in St. Lucia. They had an incredible buffet and one of their options was a "made to order" pasta station. Pick a pasta and a sauce, and they'll whip it out for you. My husband had a craving for pesto, so he ordered and watched them work. They cooked the pasta, added the meat and then did something I'd never seen before - they added the pesto to the saute pan and cooked it all together prior to serving. We sat down to our meals and it was only then we realized that cooking the pesto with everything else was genius. Cooking the sauce at the end mellows out the raw garlic flavor and ensures the parmesan melts, homogenizing all the flavors into one beautiful dish. This step is especially good for us because even though we adore garlic, the bite raw garlic possesses can still be overwhelming.
Once we got back from the honeymoon, it didn't take long for me to decide I wanted to try making my own pesto. Without a food processor, my only two options were using a blender or doing it by hand. I learned the hard way that the blender was not a good way for me to make pesto. The blade spun and spun, but the basil leaves would never drop low enough in the blender to chop. I always had to use too much olive oil and would end up with a broken sauce instead of a nice emulsion. I also learned that toasting the pine nuts in a small skillet versus trying to toast them in the oven was definitely the way to go. I had much more control over the pine nuts coloring evenly and the process went so much faster than it had when I tried the oven method.
You may notice that even though the recipe calls for lots of veggies, they are strangely absent from the posted pictures. That was my fault. The last time I made the recipe, I did have all the veggies in it, but this time we simply hadn't gone to the store to pick them up, therefore it turned into simply a chicken pesto dish. The beauty of pesto is in it's versatility. I know several people who are allergic to nuts, and simply leave them out, while others don't have the love of garlic that my family has. Simple enough, just dial back the amount of garlic. And best of all - it's easy. Few dishes come together in such a short period of time with such big flavors.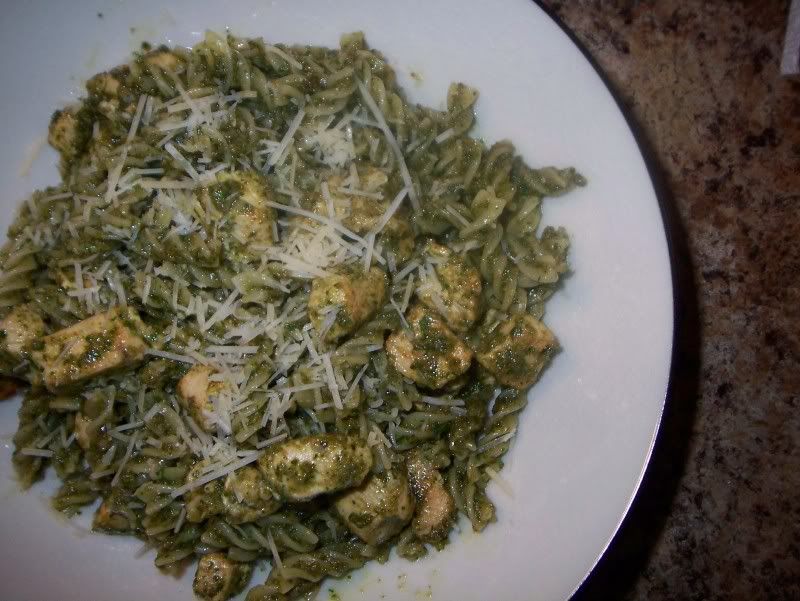 Fresh Chicken and Veggie Pesto Pasta
Serves 2
1 boneless skinless chicken breasts, cut into bite size pieces
1/2 small zucchini
1/2 green pepper
1 tomato
4 oz. whole wheat pasta
For the pesto:
1 cups fresh basil
3 Tbsp toasted pine nuts
4 cloves garlic
2 Tbsp Parmesan cheese, grated or shredded
salt and pepper, to taste
1/3 c cup olive oil

Toast pine nuts in a saute pan over low heat until aromatic and browned. Set aside.
Put basil in food processor and pulse until chopped. Add pine nuts, parmesan, garlic, salt and pepper to food processor, pulsing until pine nuts are chopped and everything is well combined. Slowly drizzle the oil in while the processor is on. (You can decide if you want the full amount of oil in yours. The consistency of pesto is a personal preference, I prefer more of a paste thickness so I always add less oil than the recipe calls for.) For a thinner sauce, you can add more olive oil or a little water.
Cook pasta in salted boiling water. While the pasta cooks, saute the chicken in a pan with 1 T. olive oil until browned and done, about 5-8 minutes, depending on the size of the pieces. Remove the chicken from the pan and add the cut up zucchini, squash and pepper. Saute until crisp tender, about 5 minutes.
Drain pasta. In a large pot over low heat, combine the pasta, chicken, sauteed veggies and pesto. Cook for about 5 minutes while stir together until well combined. Add a bit of water if you pesto seems too. Add cut up tomato, stir to combine, plate and serve. Garnish with parmesan, if desired.